0434728 FUEL PUMP ASSY. EVINRUDE
BE10EEDD, BE15EEDS, E10EEOE, E10EERB, E10EETM, E15EEOD, E15EERE, E15EETB, HE15KCLN, SE10RPB
FUEL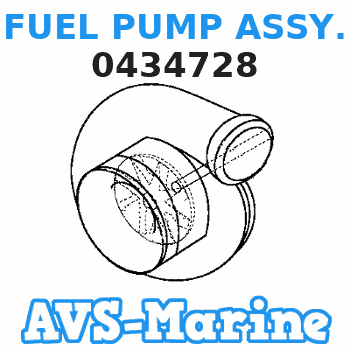 Buy
FUEL PUMP ASSY. 0434728 EVINRUDE
genuine, new aftermarket parts with delivery
You can buy parts:
As an associate, we earn commssions on qualifying purchases through the links below
438562 fuel pump for Johnson Evinrude OMC BRP 9.9,15HP Boat Motor Replaces # 0438562 438562 0434728 434728
【Compatible Models】Fits for Johnson Evinrude OMC BRP 9.9 hp 15 hp || 【OE PAERT NUMBEER 】 434728, 438562, 18-7351, 878869, 9-35351 || 【PREMIUM QAULITY】High-quality. Made of quality materials for reliable service, exact equivalent part meets the original manufacturer's specifications and features || 【EASY INSTALLATION 】 This fuel pump is a direct replacement and can be installed directly. It matches the original equipment well || 【PACKAGE INCLUDES】 1 Fuel Pump and 1 Gasket as pictured. || 【NOTICE & WARRANTY】To choose your fuel pump, we kindly advise you to confirm your own fuel pump's :(1) brand,(2) OEM number, (3) the engine date to be matched by the pump and (4) HP from the manufacturer before the purchase!We guarantee all products passed strict tests before selling on Amazon. welcome guide, our worry-free 12-month warranty, and friendly customer service.
Fremnily Compatible with Fuel Pump For Johnson Evinrude OMC BRP Boat Motor 9.9hp 15hp Replaces 0438562 438562 0434728 434728
Fremnily Compatible with Fits for Johnson Evinrude OMC BRP 9.9 hp 15 hp. || Fremnily Compatible with Replaces part number: 434728, 438562, 18-7351, 878869, 9-35351. || Fremnily Compatible with High-quality. Made of quality materials for reliable service, exact equivalent part meets the original manufacturer's specifications and features. || Fremnily Compatible with A year's warranty. For any reason you're not completely satisfied, you can ask for a replacement or full refund. || Accessories list: All products and accessories are shown in the pictures, if you have other additional requirements, please contact the customer service staff by email
JETUNIT 0434728 0438562 Fuel Pump For Johnson Evinrude 9.9 10 15 HP Outboard Sireea 18-7351 1993-2007
✅【OEM】For 434728,438562 || ✅【Replace】For Johnson Evinrude Fuel Pump || ✅【Note】Check manufacturer's recommended part numbers to ensure a proper fit For your application || ✅【Warranty】1-year warranty protects you after your purchase || ✅【Service】If you have a problem,We will take every step to assist you,Contact us and we will respond within 24 hours
BRP EVINRUDE entire parts catalog list:
BE10EEDD, BE10ELEDD, BE10REDD, BE10RELEDD, BE10RLEDD, BE10SELEDD, E10EEDD, E10ELEDD, E10REDD, E10RELEDD, E10RLEDD, E10SELEDD
1996
BE15EEDS, BE15ELEDS, BE15REDS, BE15RLEDS, E15EEDS, E15ELEDS, E15REDS, E15RELEDS, E15RLEDS, SE15BAEDC
1996
E10EEOE, E10ELEOE, E10RELEOE, E10REOE, E10RLEOE, E10SELEOE
1995
E10EERB, E10ELERB, E10RELERB, E10RERB, E10RLERB, E10SELERB
1994
E10EETM, E10ELETM, E10RELETM, E10RETM, E10RLETM, E10SELETM, TE10RELETM
1993
E15EEOD, E15ELEOD, E15RELEOD, E15REOD, E15RLEOD
1995
E15EERE, E15ELERE, E15RELERE, E15RERE, E15RLERE
1994
E15EETB, E15ELETB, E15RELETB, E15RETB, E15RLETB
1993
HE15KCLN, HE15KCN, SE15RPG, SE15RPLG
1996
SE10RPB, SE10RPLB
1996
Parts fuel EVINRUDE: