5001593 IMPELLER & CAM ASSY. - X EVINRUDE
DE150CXAAA, DE150CXAAC, DE150CXINS, DE150PXAAA, DE150PXAAC, DE150PXINS, DE200CXAAA, DE200CXAAC, DE200HXAAA, DE200HXAAC, DE200HXAAD, DE200PXAAA, DE200PXAAC, DE200XCAAA, DE200XCAAC, DE200XCAAD, DE225CXAAA, DE225CXAAC, DE225CXAAD, DE225CXINS, DE225PXAAA
IMPELLER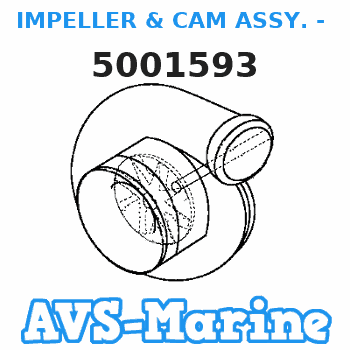 Buy
IMPELLER & CAM ASSY. - X 5001593 EVINRUDE
genuine, new aftermarket parts with delivery
You can buy parts:
BODAO 435821/5001593/395864 Boat Engine Water Pump Impeller Key Oring for Johnson/Evinrude 85-300HP Outboard Motor
Water Pump Impeller Dimensions : 【OD】3.47 inch 【Thickness】1.23 inch【Shaft Size】0.90 inch, Blades 6. Because of manual measurement, the data error ±0.02in.Neoprene Water Pump Impeller with Plastic Hub as Pictures Showed, Please see the pictures. || This Water Pump Impeller fits Johnson Evinrude 85-300HP Outboard Motor OEM P/N 435821 5001593 395864. Check your Boat Motor Part Number before Purchase. Please Message us if you are not sure. || Original standard, direct replacement for the old or broken water pump impeller. || To ensure this Impeller is suitable for your boat motor, It is VERY IMPORTANT to check your outboard Model or S/N before purchase. || You can leave us message e.g. your Boat Engine Model, Serial Number, Horsepower or Year if you are not comfirmed this Water Pump Impeller fits Your Outboard Boat Motor or not. Were pleasure to help you.
OMGParts Impeller for Johnson/Evinrude/OMC Outboard 0389289 0391538 0394534 0395864 0397131 0435748 0435821 0439948 5001593 Sierra 18-3059 20HP-300HP 2,4-Stroke 2,3,4,6,8-Cyl 1979-2019
✅【Replace】For Johnson Omc Impeller || ✅【Size】OD: 3.510 Bore: 0.880 Thickness: 1 OBLONG Blades: 6 || ✅【Service】Please refer the products detials page or contact our customer service team For specific || ✅【Part Number】For 389289,391538,394534,395864,397131,435748,435821,439948,5001593,18-3059
MARKGOO 5001593 Water Pump Impeller Kit for Evinrude Johnson OMC BRP Outboard 85-300 HP Boat Motor Engine Parts Replacement 435821 777816 397131 435748 395864 394534 391538 389289 Sierra 18-3059
Water pump impeller replacement for evinrude johnson omc outboard 85HP 90HP 100HP 115HP 120HP 125HP 130HP 135HP 140HP 150HP 175HP 200HP 225HP 235HP V4 V6 V8 boat motor engine parts cooling system. More detailed information please see description below. || Water pump impeller dimensions measured that shaft size 22.4 mm, overall diameter 89 mm, thickness 31.9 mm, Blades 6. Water pump impeller is made with neoprene and brass as pictures showed, Please see the pictures. || Water pump impeller fits evinrude johnson omc outboard motors OEM P/N 5001593, 0435821, 0777816, 0397131, 0435748, 0395864, 0394534, 0391538, 0389289 sierra 18-3059. Check your outboard motor part number before purchase. Please message us if you are not sure. || Compatible with Sierra Marine 18-3059, GLM Marine 89570, Mallory Marine 9-45206, CEF 500308, Redline RL3059, OBR Red Rhino JE-218, SEI Marine 96-305-03E, 96-305-03. This water pump impeller makes repair and maintenance of water pumps easy. Professional installation is suggestion. || To find the right water pump impeller for your outboard, it is VERY IMPORTANT to verify outboard model or serial number before purchase. You can leave us message e.g. your outboard engine parts model, serial number, horsepower or year if you are not comfirmed this water pump impeller fits your outboard motor or not. We're pleasure to help you.
BRP EVINRUDE entire parts catalog list:
DE150CXAAA, DE150CXAAB
2012
DE150CXAAC
2012
DE150CXINS
2012
DE150PXAAA, DE150PXAAB
2012
DE150PXAAC
2012
DE150PXINS
2012
DE200CXAAA, DE200CXAAB
2012
DE200CXAAC
2012
DE200HXAAA, DE200HXAAB
2012
DE200HXAAC
2012
DE200HXAAD
2012
DE200PXAAA, DE200PXAAB
2012
DE200PXAAC
2012
DE200XCAAA, DE200XCAAB
2012
DE200XCAAC
2012
DE200XCAAD
2012
DE225CXAAA, DE225CXAAB
2012
DE225CXAAC
2012
DE225CXAAD
2012
DE225CXINS
2012
DE225PXAAA, DE225PXAAB
2012
DE225PXAAC
2012
DE225PXAAD
2012
DE225PXINS
2012
DE250CXAAA, DE250CXAAB, DE250CZAAA, DE250CZAAB
2012
DE250CXAAC, DE250CZAAC
2012
DE250CXAAD, DE250CZAAD
2012
DE250CXISF, DE250CXISS, DE250CZISF, DE250CZISS
2010
DE250PXAAA, DE250PXAAB, DE250PZAAA, DE250PZAAB
2012
DE250PXAAC, DE250PZAAC
2012
DE250PXAAD, DE250PZAAD
2012
DE250PXISF, DE250PXISS, DE250PZISF, DE250PZISS
2010
DE300CXAAA, DE300CXAAB, DE300CZAAA, DE300CZAAB
2012
DE300CXAAC, DE300CZAAC
2012
DE300CXAAD, DE300CZAAD
2012
DE300CXIIC
2011
DE300CXINR, DE300CZINR
2012
DE300CXISF, DE300CXISG, DE300CXISS, DE300CZISF, DE300CZISG, DE300CZISS
2010
DE300CZIIC
2011
DE300PXAAA, DE300PXAAB, DE300PZAAA, DE300PZAAB
2012
DE300PXAAC, DE300PZAAC
2012
DE300PXAAD, DE300PZAAD
2012
DE300PXIIC, DE300PZIIC
2011
DE300PXINR, DE300PZINR
2012
DE300PXISF, DE300PXISG, DE300PXISS, DE300PZISF, DE300PZISG, DE300PZISS
2010
E100FPLSOC, E100FSLSOC
2004,2005
E100FPLSRS, E100FSLSRS
2004
E115DBXAAA
2012
E115DBXABA
2012
E115DBXIIB
2011
E115DBXINE
2012
E115DBXISF, E115DBXISM
2010
E115DBXSCR
2008
E115DBXSEF
2009
E115DBXSUC
2007
E115DCXAAA
2012
E115DCXABA
2012
E115DCXIIA
2011
E115DCXINM
2012
E115DCXISF, E115DCXISR
2010
E115DCXSCS
2008
E115DCXSEF
2009
E115DHLAAA, E115DHLAAB, E115DPLAAA
2012
E115DHLABA, E115DPLABA
2012
E115DHLIIR, E115DPLIIB
2011
E115DHLINA, E115DPLINE
2012
E115DHLISC, E115DHLISF, E115DPLISF, E115DPLISM
2010
E115DHLSES
2009
E115DHXAAA, E115DHXAAB, E115DPXAAA
2012
E115DHXABA, E115DPXABA
2012
E115DHXIIR, E115DPXIIB
2011
E115DHXINA, E115DPXINE
2012
E115DHXISC, E115DHXISF, E115DPXISF, E115DPXISM
2010
E115DHXSES
2009
E115DPLSCR
2008
E115DPLSEF
2009
E115DPLSUC
2007
E115DPXSCR
2008
E115DPXSEF
2009
E115DPXSUC
2007
E115DSLAAA, E115HSLAAA
2012
E115DSLABA, E115HSLABA
2012
E115DSLIIB, E115HSLIIR
2011
E115DSLINE, E115HSLINA
2012
E115DSLISF, E115DSLISM, E115HSLISC, E115HSLISF
2010
E115DSLSCR
2008
E115DSLSEF
2009
E115DSLSUC
2007
E115FPLSDS
2006
E115FPLSNF, E115FPXSNF
2002
E115FPLSOD, E115FSLSOD
2004,2005
E115FPLSRE, E115FSLSRE
2004
E115FPLSSH, E115FPLSSR, E115FPXSSH, E115FPXSSR, E115FSLSSH, E115FSLSSR, RE115FLSSSH, RE115FLSSSR, RE115FPLSSH, RE115FPLSSR, RE115FSSSH, RE115FSSSR, RE115FXSSH, RE115FXSSR
2000
E115FPLSTB, E115FPXSTB, E115FSLSTB
2003
E115FPXSDS
2006
E115FPXSOD
2004,2005
E115FPXSRE
2004
E115FSLSDS
2006
E115HSLSES
2009
E130DCXAAA, E130DCXAAB
2012
E130DCXABA
2012
E130DCXIIR
2011
E130DCXINA
2012
E130DCXISC, E130DCXISF
2010
E130DCXSES
2009
E130DPLAAA, E130DPLAAB
2012
E130DPLABA
2012
E130DPLIIR
2011
E130DPLINA
2012
E130DPLISC, E130DPLISF
2010
E130DPLSES
2009
E130DPXAAA, E130DPXAAB
2012
Parts impeller EVINRUDE:
0435959 IMPELLER HOUSING, Gearcase
BE115ELEDR, BE115ELEUA, BE115GLECM, BE130TLECE, BE130TLEDM, BE130TLEUB, BE150ELECD, BE150ELEDB, BE150ELEUC, BE175EXECD, BE175EXEDB, BE175EXEUC, BE200CXECM, BE200CXEDR, BE200CXEUA, BE225CXECS, BE225CXEDE, BE225CXEUD, BE250CXECB, BE250CXEDA, BE250CXEUM
5007554 *IMPELLER HOUSING
E115DBXAAA, E115DBXABA, E115DBXIIB, E115DBXINE, E115DBXISF, E115DCXAAA, E115DCXABA, E115DCXIIA, E115DCXINM, E115DCXISF, E115DHLAAA, E115DHLABA, E115DHLIIR, E115DHLINA, E115DHLISC, E115DHLSES, E115DHXAAA, E115DHXABA, E115DHXIIR, E115DHXINA, E115DHXISC
5007968 *IMPELLER HOUSING
DE150CXAAA, DE150CXAAC, DE150CXINS, DE150PXAAA, DE150PXAAC, DE150PXINS, DE200CXAAA, DE200CXAAC, DE200HXAAA, DE200HXAAC, DE200HXAAD, DE200PXAAA, DE200PXAAC, DE200XCAAA, DE200XCAAC, DE200XCAAD, DE225CXAAA, DE225CXAAC, DE225CXAAD, DE225CXINS, DE225PXAAA