5004429 RESERVOIR & PUMP EVINRUDE
E200FCXSNF, E200FCXSOE, E200FCXSRB, E200FCXSTM, E200FHLSOR, E200FHLSRC, E200FPLSNF, E200FPLSOE, E200FPLSRB, E200FPLSTM, E225FCXSNF, E225FCXSOE, E225FCXSRB, E225FCXSTM, E225FHLSOB, E225FHLSRM, E225FHLSTA, E225FPLSOE, E225FPLSRB, E250FCXSNF, E250FCXSOB
RESERVOIR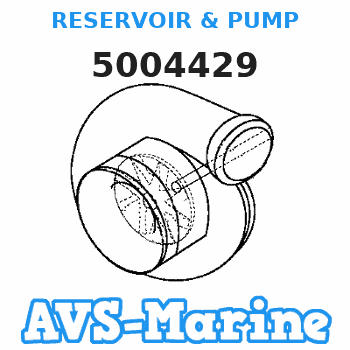 Buy
RESERVOIR & PUMP 5004429 EVINRUDE
genuine, new aftermarket parts with delivery
You can buy parts:
As an associate, we earn commssions on qualifying purchases through the links below
5004429 Fuel Pump Vapor Separator Assy VST 200-250HP Compatible with Johnson EVINRUDE FICHT

Fuel Pump Assy Replacement for 5004429 439347 5004428 Fit for Johnson Evinrude, OMC, BRP Vapor Separator
Fitment: Fit for 2001-2005 Johnson, Evinrude 75-175 HP outboard motors. || Replaces part numbers:5004428, 0439347, 439347, 5000800. || The Fuel Pump have made of high-quality material for long-lasting durability, convenient to use. || Note: This item is a replacement part. Please make sure the images are the same with what you want. If not, please do not purchase it even your model is in the described list! || Every product has quality inspection before leaving the factory.Customer satisfaction is our tireless pursuit.We will show you a sincere attitude and satisfactory solution.
BRP EVINRUDE entire parts catalog list:
E200FCXSNF
2002
E200FCXSOE
2004,2005
E200FCXSRB
2004
E200FCXSTM, E200FHLSTS
2003
E200FHLSOR
2004,2005
E200FHLSRC
2004
E200FPLSNF, E200FPXSNF
2002
E200FPLSOE, E200FPXSOE, E200FSLSOE
2004,2005
E200FPLSRB, E200FPXSRB, E200FSLSRB
2004
E200FPLSTM, E200FPXSTM, E200FSLSTM
2003
E225FCXSNF, E225FCZSNF, E225FHLSNF, E225FPLSNF, E225FPXSNF, E225FPZSNF
2002
E225FCXSOE, E225FCZSOE
2004,2005
E225FCXSRB, E225FCZSRB
2004
E225FCXSTM, E225FCZSTM, E225FPLSTM, E225FPXSTM, E225FPZSTM
2003
E225FHLSOB, E225FHXSOC
2004,2005
E225FHLSRM, E225FHXSRS
2004
E225FHLSTA
2003
E225FPLSOE, E225FPXSOE, E225FPZSOE
2004,2005
E225FPLSRB, E225FPXSRB, E225FPZSRB
2004
E250FCXSNF, E250FCZSNF, E250FPZSNF
2002
E250FCXSOB, E250FCZSOB
2004,2005
E250FCXSRM, E250FCZSRM
2004
E250FCXSTA, E250FCZSTA, E250FPLSTR, E250FPXSTA, E250FPZSTA
2003
E250FPLSOM, E250FPXSOB, E250FPZSOB
2004,2005
E250FPLSRA, E250FPXSRM, E250FPZSRM
2004
E250FPXSNF
2002
Parts reservoir EVINRUDE:
0435341 RESERVOIR & CAP AY.
BE115ELEDR, BE115ELEUA, BE115GLECM, BE115TLEDA, BE130TLECE, BE130TLEDM, BE130TLEUB, BE150ELECD, BE150ELEDB, BE150ELEUC, BE175EXECD, BE175EXEDB, BE175EXEUC, BE200CXECM, BE200CXEDR, BE200CXEUA, BE225CXECS, BE225CXEDE, BE225CXEUD, BE50DTLEDC, BE50DTLEUR