5006063 RESERVOIR & PUMP, FUEL EVINRUDE
DE200HXAAA, DE200HXAAC, DE200HXAAD, DE200XCAAA, DE200XCAAC, DE200XCAAD, DE225CXAAA, DE225CXAAC, DE225CXAAD, DE225CXINS, DE225PXAAA, DE225PXAAC, DE225PXAAD, DE225PXINS, DE250CXAAA, DE250CXAAC, DE250CXAAD, DE250CXISF, DE250PXAAA, DE250PXAAC, DE250PXAAD
RESERVOIR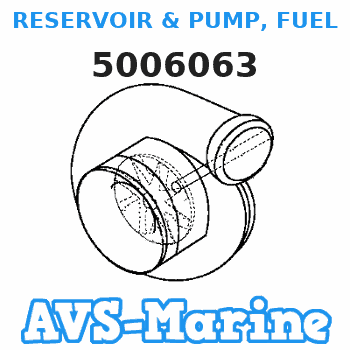 Buy
RESERVOIR & PUMP, FUEL 5006063 EVINRUDE
genuine, new aftermarket parts with delivery
You can buy parts:
As an associate, we earn commssions on qualifying purchases through the links below
Fuel Pump ONLY for Vapor Separator Replaces part number 5006063
Availability: We have over 500,000 parts available to you! || Your Source For: Marine and Powersport Parts! || We Are: Grove Distribution || Brand: Aftermarket
Marine Outboard Electric Fuel Pump 5006063,Fits for Johnson Evinrude 40 50 55 60 65 75 90 200 225 250 300 HP E-TEC 3.3L 3.4L Replace 5009033 5010821 5009118 5009026 5010818 5006063
[Compatible]: Electric Fuel Pump is specifically designed to fit various Johnson and Evinrude models, including 40, 50, 55, 60, 65, 75, 90, 200, 225, 250, and 300 HP E-TEC engines with 3.3L and 3.4L displacement. || [Replace OE]: Replaces OEM part numbers 5009033, 5010821, 5009118, 5009026, 5010818, and 5006063, ensuring a direct and reliable replacement for your marine outboard electric fuel pump. || [High Quality]: Crafted from premium materials and engineered to meet or exceed OEM specifications, this marine fuel pump offers exceptional durability, long-lasting performance, and resistance to harsh marine conditions. || [Function]: The electric fuel pump is a critical component of your marine outboard engine, providing a consistent and reliable fuel supply to ensure smooth and efficient operation during boating adventures. || [Installation]:Direct replacement the worn original parts. Only requires a couple of minutes of your time. Watching a video on the Internet is helpful.
JDMON Marine Outboard Electric Fuel Pump Compatible with Johnson Evinrude 40 50 55 60 65 75 90 200 225 250 300 HP E-TEC 3.3L 3.4L 2005-2014, Replacement for 5006063, 5009033, 5010821, 5009118, 5009026
High Strength Metal Structure: Our electric fuel pump comes with aluminum alloy housing, make sure enough return flow, not easy to leak oil, enhanced engine performance || Applicable Models: Our Electric fuel pump is replacement for Johnson/Evinrude 40 50 55 60 65 75 90 200 225 250 300 HP E-TEC 3.3L 3.4L 2005 2006 2007 2008 2009 2010 2011 2012 2013 2014c || Replacement Part Number: Replacement for 5006063, 5009033, 5010821, 5009118, 5009026, 5010818. Each Fuel Pump is thoroughly tested to make sure OE fit || Easy Installation: Our Fuel Pump is same quality as OEM, directly replaces the original and equal the original quality. No assembly required and easy to install in 10 minutes || Same Quality as OEM: Directly replaces the fuel pump and equal the original quality. No assembly required and easy to install in 10 minutes
BRP EVINRUDE entire parts catalog list:
DE200HXAAA, DE200HXAAB
2012
DE200HXAAC
2012
DE200HXAAD
2012
DE200XCAAA, DE200XCAAB
2012
DE200XCAAC
2012
DE200XCAAD
2012
DE225CXAAA, DE225CXAAB
2012
DE225CXAAC
2012
DE225CXAAD
2012
DE225CXINS
2012
DE225PXAAA, DE225PXAAB
2012
DE225PXAAC
2012
DE225PXAAD
2012
DE225PXINS
2012
DE250CXAAA, DE250CXAAB, DE250CZAAA, DE250CZAAB
2012
DE250CXAAC, DE250CZAAC
2012
DE250CXAAD, DE250CZAAD
2012
DE250CXISF, DE250CXISS, DE250CZISF, DE250CZISS
2010
DE250PXAAA, DE250PXAAB, DE250PZAAA, DE250PZAAB
2012
DE250PXAAC, DE250PZAAC
2012
DE250PXAAD, DE250PZAAD
2012
DE250PXISF, DE250PXISS, DE250PZISF, DE250PZISS
2010
DE300CXAAA, DE300CXAAB, DE300CZAAA, DE300CZAAB
2012
DE300CXAAC, DE300CZAAC
2012
DE300CXAAD, DE300CZAAD
2012
DE300CXIIC
2011
DE300CXINR, DE300CZINR
2012
DE300CXISF, DE300CXISG, DE300CXISS, DE300CZISF, DE300CZISG, DE300CZISS
2010
DE300CZIIC
2011
DE300PXAAA, DE300PXAAB, DE300PZAAA, DE300PZAAB
2012
DE300PXAAC, DE300PZAAC
2012
DE300PXAAD, DE300PZAAD
2012
DE300PXIIC, DE300PZIIC
2011
DE300PXINR, DE300PZINR
2012
DE300PXISF, DE300PXISG, DE300PXISS, DE300PZISF, DE300PZISG, DE300PZISS
2010
E200DCXSOC
2004,2005
E200DHLAAA, E200DHLAAB
2012
E200DHLAAC
2012
E200DHLAAD
2012
E200DHLSCF
2008
E200DHLSCG
2008
E200DHLSCH
2008
E200DHLSCM
2008
E200DHLSDF
2006
E200DHLSEB
2009
E200DHLSOC
2004,2005
E200DHLSOG
2004,2005
E200DHLSUA
2007
E200DHLSUG
2007
E200DHXAAA, E200DHXAAB, E200HSLAAA, E200HSLAAB
2012
E200DHXAAC, E200HSLAAC
2012
E200DHXAAD, E200HSLAAD
2012
E200DHXSCF
2008
E200DHXSCG
2008
E200DHXSCH
2008
E200DHXSCR
2008
E200DHXSDS
2006
E200DHXSEA, E200HVLSEC
2009
E200DHXSUC
2007
E200DPLSOC, E200DPXSOC, E200DSLSOC
2004,2005
E200HCXAAA, E200HCXAAB
2012
E200HCXAAC
2012
E200HCXAAD
2012
E200HCXSCF
2008
E200HCXSCG
2008
E200HCXSCH
2008
E200HCXSCR
2008
E200HCXSDS
2006
E200HCXSEA
2009
E200HCXSUC
2007
E200HSLSCF
2008
E200HSLSCG
2008
E200HSLSCH
2008
E200HSLSCR
2008
E200HSLSDS
2006
E200HSLSEA
2009
E200HSLSUC
2007
E200HVLSCF
2008
E200HVLSCG
2008
E200HVLSCH
2008
E200HVLSCS
2008
E225DCXAAA, E225DCXAAB
2012
E225DCXAAC
2012
E225DCXAAD
2012
E225DCXIID, E225DCZIID
2011
E225DCXINS, E225DCZINS
2012
E225DCXISE, E225DCXISF, E225DCZISE, E225DCZISF
2010
E225DCXSCF, E225DCZSCF
2008
E225DCXSCG, E225DCZSCG
2008
E225DCXSCH, E225DCZSCH
2008
E225DCXSCM, E225DCZSCM
2008
E225DCXSDR, E225DCZSDR
2006
E225DCXSEB, E225DCZSEB
2009
E225DCXSOC, E225DCZSOC
2004,2005
E225DCXSUA, E225DCZSUA
2007
E225DCZSUG
2007
E225DHLAAA, E225DHLAAB, E225DHXAAA, E225DHXAAB
2012
E225DHLAAC, E225DHXAAC
2012
E225DHLAAD, E225DHXAAD
2012
E225DHLIID, E225DHXIIE, E225DPLIID
2011
E225DHLINS, E225DPLINS
2012
E225DHLISE, E225DHLISF, E225DHXISB, E225DHXISF
2010
E225DHLSCF
2008
E225DHLSCG
2008
E225DHLSCH
2008
E225DHLSCM
2008
E225DHLSDF
2006
E225DHLSEB, E225DHXSEM
2009
E225DHLSOC, E225DHXSOC
2004,2005
E225DHLSOF
2004,2005
E225DHLSOG, E225DHXSOG
2004,2005
E225DHLSUA
2007
E225DHLSUG
2007
E225DHXIND, E225DPXINS, E225DPZINS, E225HSLINM
2012
E225DHXSCA
2008
Parts reservoir EVINRUDE:
0435341 RESERVOIR & CAP AY.
BE115ELEDR, BE115ELEUA, BE115GLECM, BE115TLEDA, BE130TLECE, BE130TLEDM, BE130TLEUB, BE150ELECD, BE150ELEDB, BE150ELEUC, BE175EXECD, BE175EXEDB, BE175EXEUC, BE200CXECM, BE200CXEDR, BE200CXEUA, BE225CXECS, BE225CXEDE, BE225CXEUD, BE50DTLEDC, BE50DTLEUR