F460917-1 RELAY, STARTER Force
H0353E91A, H040312RD, H040312SD, H0407E92C, H0507A90A, H0507A90B, H0507A90C, H0507A90D, H0507A91A, H0507A91C, H0507A92A, H0507E91B, H0706A91B, H075312SD, H085LD89A, H085LD89B, H085LD89C, H090312RD, H0903E91D, H0903E91H, H0903F90B, H0903F90C, H0903F91
RELAY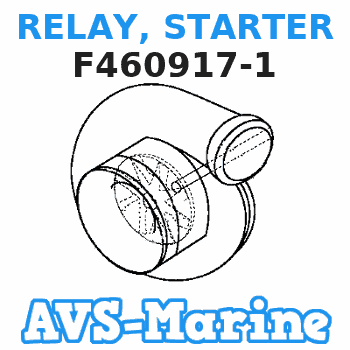 Buy
RELAY, STARTER F460917-1 Force
genuine, new aftermarket parts with delivery
You can buy parts:
As an associate, we earn commssions on qualifying purchases through the links below
Total Power Parts 240-20010 Solenoid Relay Compatible With/Replacement For Mercury Marine 89-817109A2 Rubber Mount
Specs: Solenoid - Remote, Voltage: 12, Dimension: Battery Terminal: 5/16-18, Motor Terminal: 5/16-18, Switch Terminal: 10-32, Ground Terminal: 10-32, Relay Terminal: N/A, Notes: Isolated Ground, Compatible with/Replacement for: 12 Volt, 4-Terminal, Isolated Base, Mercury Marine, Others, || Replaces OEM Numbers: ARC -MARINE: SW295, ARROWHEAD: SMR6020, ARROWHEAD (OEM): PL15-457, CHRYSLER MARINE: 460917-1, CRUSADER: 22611, R130014, EMP PARTS: 4-5835, Force: 89-F460917-1, J & N: 240-20010, Mercury MARINE: 87-803632T, 89-F460917-1, F460917-1, PLEASURECRAFT: R130014, PRESTOLITE: 15-295, 15-457, SIERRA MARINE: 18-5835 || Compatible With/Replacement For: MERCURY MARINE 120 Jet Drive - SN 0E080400 Thru 0E145579 1995-1995, 120 Powerhead - SN 0E095088 Thru 0E141088 1995-1995, 120XR Jet Drive - SN 0E145580 Thru 0E151579 All, 120XR Jet Drive - SN 0E151580 Thru 0E288445 All, 120XR Jet Drive - SN 0E288446 Thru 0E344999 All, 120XR Powerhead - SN 0E141089 Thru 0E202999 All, 120XR Powerhead - SN 0E203000 Thru 0E315904 All, 120XR Powerhead - SN 0E315905 Thru 0E341982 All, 90 Jet Drive - SN 0E021000 Thru 0E036999 1993-1993 || 1-year warranty protects you after your purchase. We're confident that our products will work flawlessly once installed in your vehicle. But in a rare case that it does not, we'll replace it anytime within one year of your order. If you have a problem, we will take every step to assist you, contact us for a replacement. || 100% New Aftermarket Solenoid - Remote built to meet OEM specifications
Chrysler Force Starter Solenoid Early Model 35-150 Hp WSM 18-5835 OEM# 89-803822T, 89-F460917-1, F460917-1, 89-817109A3
High Performace Quality OEM Style starter solenoids. || Starter solenoids meet OEM standards or higher. || PWC Engine brings Higher Quality for an awesome price!
DB Electrical SMR6020 Starter Solenoid Relay Compatible With/Replacement For Mercury Marine 87-803632T, 89-F460917-1/15-295, 15-457/22611, R130014 /89-F460917-1/12 Volt, 4-Terminal, Isolated Base
Specs: Solenoid - Remote, Voltage: 12, Dimension: Battery Terminal: 5/16-18, Motor Terminal: 5/16-18, Switch Terminal: 10-32, Ground Terminal: 10-32, Relay Terminal: N/A, Notes: Isolated Ground, Brief: 12 Volt, 4-Terminal, Isolated Base, Mercury Marine, Others, || Replaces OEM Numbers: ARCO MARINE: SW295, ARROWHEAD: SMR6020, ARROWHEAD (OEM): PL15-457, CHRYSLER MARINE: 460917-1, CRUSADER: 22611, R130014, EMP PARTS: 4-5835, Force: 89-F460917-1, J & N: 240-20010, Mercury MARINE: 87-803632T, 89-F460917-1, F460917-1, PLEASURECRAFT: R130014, PRESTOLITE: 15-295, 15-457, SIERRA MARINE: 18-5835 || Compatible With/Replacement For: MERCURY MARINE 120 Jet Drive - SN 0E080400 Thru 0E145579 1995-1995, 120 Powerhead - SN 0E095088 Thru 0E141088 1995-1995, 120XR Jet Drive - SN 0E145580 Thru 0E151579 All, 120XR Jet Drive - SN 0E151580 Thru 0E288445 All, 120XR Jet Drive - SN 0E288446 Thru 0E344999 All, 120XR Powerhead - SN 0E141089 Thru 0E202999 All, 120XR Powerhead - SN 0E203000 Thru 0E315904 All, 120XR Powerhead - SN 0E315905 Thru 0E341982 All, 90 Jet Drive - SN 0E021000 Thru 0E036999 1993-1993 || 1-year warranty protects you after your purchase. We're confident that our products will work flawlessly once installed in your vehicle. But in a rare case that it does not, we'll replace it anytime within one year of your order. If you have a problem, we will take every step to assist you, contact us for a replacement. || 100% New Aftermarket Solenoid - Remote built to meet OEM specifications
Force entire parts catalog list:
H0353E91A
1991
H040312RD
1995
H040312SD
1996,1997
H0407E92C
1992,1993,1994
H0507A90A
1990
H0507A90B
1990
H0507A90C
1990
H0507A90D
1990
H0507A91A
1991
H0507A91C
1991
H0507A92A
1992
H0507E91B
1991
H0706A91B
1991,1992,1993,1994,1995
H075312SD
1996,1997
H085LD89A
1989
H085LD89B
1989
H085LD89C
1989
H090312RD
1995
H0903E91D
1991
H0903E91H
1991,1992,1993,1994
H0903F90B
1990
H0903F90C
1990
H0903F91A
1991
H0903F91C
1991
H090412SD
1996,1997
H0906A90A
1990
H090LD90A
1990
H090LD90B
1990,1991
H090LD90C
1990
H090LD91D
1991
H1201A90A
1990,1991,1992,1993,1994
H120412RD
1995
H120412SD
1996,1997
H120LD90A
1990
H120LD90B
1990
H120LD90C
1990
H120LD91B
1991
H120LD91D
1991
H120LD92B
1992
H125LD89A
1989
H125LD89B
1989
H1501E89A
1989,1990,1991,1992,1993,1994
Parts relay Force: