821354A 2 REPAIR KIT, Water Pump Force
H040312UD
REPAIR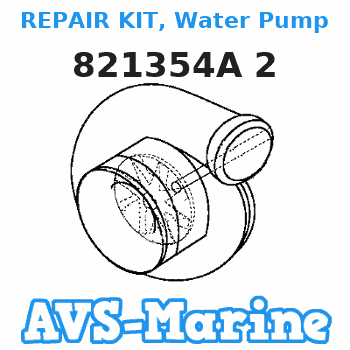 Buy
REPAIR KIT, Water Pump 821354A 2 Force
genuine, new aftermarket parts with delivery
You can buy parts:
As an associate, we earn commssions on qualifying purchases through the links below
PULJIM Water Pump Repair Kit Outboard Water Pump Impeller Kit 821354A2 Repair Fit for Mariner 30HP 40HP 45HP 50HP Engine 821354A2
1. Replacing OEM numbers for reference: 821354A2, perfectly match the outboard. || 2. GLM water pump impeller kit specially fits for MARINER/FORCE (1998Up) 25, 30, 40, 50 . P/N 12045/GL12045. || 3. Professional water pump repair kit, made of marine grade stainless steel and rubber, resistant to seawater corrosion and has a long service life. || 4. Can repair or directly replace the original damaged water pump kit, provides better pump performance for your outboard. || 5. The kit includes tube , washer, impeller, gasket, wear plate, convenient to use.
Forestity Compatible with 821354A2 Water Pump Repair Kit Replaces Mercury or Mariner 821354A2 30HP 40HP 45HP 50HP 4-Stroke Outboards
⛳Reference number: 821354A2, 821354A1,12045, QSL821354A2, 3219 || ⛳Accessories: Forestity water pump repair kit 6CE-W0078-00 is suitable for 30HP-50HP Mercury 2 and 4 stroke outboard motors. || ⛳Complete Kit includes: Water pump impeller 47-850893, 85089-3, 8508910, 850892, 850891, 8M0027792, 8M0024502 plate, wear 8213542 gasket, Seal and washer as pictures showed. || ⛳High-quality materials: preium rubber and stainless steel for maximum durability. || ⛳Features: It can provide higher flow and cooling flow to protect your engine.
F.S.P Water Pump Repair Kit Replacement for Mercury Mariner 25-50 HP Outboard - 18-4531, 821354A2
Replaces Part #'s: 821354A2, 18-4531, 821354A1, 12045, 3219 || Includes: 1x Short Seal (43023, 18-1838, 85180), 1x Long Seal (8235471, 18-1839, 85181), 2x Washer (12-866451, 18-2560, 8M0027721), 1x Key (85119) || Includes: 1x Upper Gasket (27-822189, 18-0345, 36490), 1x Lower Gasket (27-822217, 18-99155, 377-00), 1x Plate (8213542, 18-4577, 12505), 1x Impeller (47-850893, 18-3057, 89640) || For Use On: Mercury Mariner 25, 30, 40, 45, 50 HP & 50 Bigfoot Outboards 2 & 4 Stroke, 2 & 3 Cylinder (1997-2018), Force 40, 50HP Outboards (1995-1999)
Force entire parts catalog list:
H040312UD
1998,1999