815279T 5 VOLTAGE REGULATOR Force
H040312SD, H075312SD, H090412SD, H120412RD, H120412SD
VOLTAGE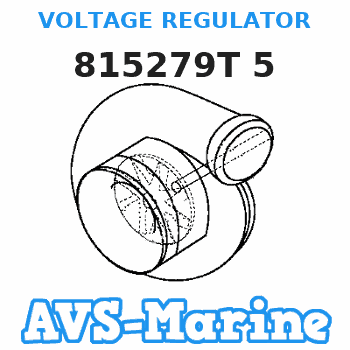 Buy
VOLTAGE REGULATOR 815279T 5 Force
genuine, new aftermarket parts with delivery
You can buy parts:
As an associate, we earn commssions on qualifying purchases through the links below
Voltage Regulator by NGHTMRE for Mercury Outboard 60HP Mariner 30-120HP Repl.#883071T 883071A
Exquisite workmanship, strong durability, long service life. || Fits Following Models for Mercury Marine 8152793, 8152795, 815279T, 8301792, 830179T, 854515, 856748, 883072, 883072T, 815279-5, 815279, 815279-1, 815279-2, 815279T2, 815279T3, 815279T4, 815279T5, 815279A1, 815279A2, 815279A3. || Part Number for 883072 883072T 854515 856748 830179-2. || PIC for 8099-6201. || After-sales service, You don't need to worry about the project. If you have any questions please do not hesitate to contact us, we will reply and help to solve the problem within 24 hours.
RMSTATOR Replacement for Mosfet Regulator Mercury Inboard 90 Carb Jet Drive Powerhead / 95 XR Powerhead / 120 XR | OEM Repl.# 817411/8152795 / 815279T3 / 815279T4 / 815279T5 / 830179A2 / 883071A1
Brand new aftermarket Mosfet voltage regulator rectifier || Direct replacement to your original unit || Higher grade of electric components || Plug-and-play, direct fit, easy installation || All product shipped are tested
RMSTATOR Replacement for Mosfet Regulator Mercury Outboard Force 90 120 HP/V-135 150 175 200 45 50 65 75 80 90 100 115 125 140 150 200 225 817411/854515 / 8152795/8174111 / 815279A2 / 815279T5
Brand new aftermarket Mosfet voltage regulator rectifier || Direct replacement to your original unit || Higher grade of electric components || Plug-and-play, direct fit, easy installation || All product shipped are tested
Force entire parts catalog list:
H040312SD
1996,1997
H075312SD
1996,1997
H090412SD
1996,1997
H120412RD
1995
H120412SD
1996,1997