31750-ZW1-003 RECTIFIER ASSY., REGULATOR (Honda Code 4899217). (20A) Honda
BF75A1 LHTA, BF75A1 LRTA, BF75A1 XRTA, BF75A2 LHTA, BF75A2 LRTA, BF75A2 XRTA, BF75A3 LHTA, BF75A3 LRTA, BF75A3 XRTA, BF75A4 LHTA, BF75A4 LRTA, BF75A4 XRTA, BF75A5 LHTA, BF75A5 LRTA, BF75A5 XRTA, BF75A6 LHTA, BF75A6 LRTA, BF75A6 XRTA, BF75AT LHTA, BF7
RECTIFIER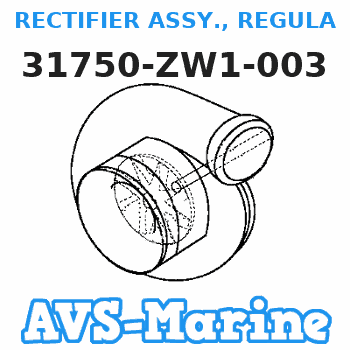 Buy
RECTIFIER ASSY., REGULATOR (Honda Code 4899217). (20A) 31750-ZW1-003 Honda
genuine, new aftermarket parts with delivery
You can buy parts:
As an associate, we earn commssions on qualifying purchases through the links below
Replacement Part for Voltage Regulator Rectifier for Honda BF75 75hp BF90 90hp 1997 1998 1999 2000 2001 2002 2003 2004 2005 2006 31750-ZW1-003
NOTE - Package included: 1pc ONLY || You Are Choosing: Item Weight: 0.42kg || Special Features: Voltage Regulator Rectifier - Specification: 2V || Model Name: 3 750-ZW -003. Please check all carefully (photos and model) and make sure it will compatible with your original one before order.
RUPON Outboard Voltage Regulator Rectifier Compatible with BF75 BF90 75hp 90hp 1997-2006 31750-ZW1-003 Durable Motorcycle Accessories Parts
-High quality and very durable || -Material: Reinforced plastic shell and metal || -The rectifier functions as a voltage stabilizer. No matter how many volts the output of the engine is, it will be 11 to 12.5 volts after passing through the rectifier. || -The rectifier can rectify the alternating current generated by the magneto into direct current, and then adjust it to about 14V for use by electric appliances on the car (including battery charging). || -Stable performance, high temperature operation, extremely fast response, brushless generator regulator
WINSIG Motorcycle Motorcycle Regulator Rectifier Fit for Honda BF75 75hp BF90 90hp 1997-2006 31750-ZW1-003 Regulator Rectifier
1.Help to dissipate excess V, improve charging capability, prevent overcharging battery. || 2.reliability, aftermarket regulator rectifier replacement, you can bring it to replace your old or broken one. || 3.Come with its heat sink fins, Suitable heat sink fin design Fit For best heat elimination || 4.Please check the size, shape and plug style,If your part number matches, then it will fit your vehicle,Please make sure this is exactly what you need. || 5.Pictures are for reference only. Please make sure that the part number matches your part number. If you are not sure, please contact us first and provide the VIN or OEM code (take a photo of the part) for inspection.
Honda entire parts catalog list:
BF75A1 LHTA
2001
BF75A1 LRTA
2001
BF75A1 XRTA
2001
BF75A2 LHTA
2002
BF75A2 LRTA
2002
BF75A2 XRTA
2002
BF75A3 LHTA
2003
BF75A3 LRTA
2003
BF75A3 XRTA
2003
BF75A4 LHTA
2004
BF75A4 LRTA
2004
BF75A4 XRTA
2004
BF75A5 LHTA
2005
BF75A5 LRTA
2005
BF75A5 XRTA
2005
BF75A6 LHTA
2006
BF75A6 LRTA
2006
BF75A6 XRTA
2006
BF75AT LHTA
1997
BF75AT LRTA
1997
BF75AT XRTA
1997
BF75AW LHTA
1998
BF75AW LRTA
1998
BF75AW XRTA
1998
BF75AX LHTA
1999
BF75AX LRTA
1999
BF75AX XRTA
1999
BF75AY LHTA
2000
BF75AY LRTA
2000
BF75AY XRTA
2000
BF90A1 JHTA
2001
BF90A1 JRTA
2001
BF90A1 LHTA
2001
BF90A1 LRTA
2001
BF90A1 XRTA
2001
BF90A2 JHTA
2002
BF90A2 JRTA
2002
BF90A2 LHTA
2002
BF90A2 LRTA
2002
BF90A2 XRTA
2002
BF90A3 JHTA
2003
BF90A3 JRTA
2003
BF90A3 LHTA
2003
BF90A3 LRTA
2003
BF90A3 XRTA
2003
BF90A4 JHTA
2004
BF90A4 JRTA
2004
BF90A4 LHTA
2004
BF90A4 LRTA
2004
BF90A4 XRTA
2004
BF90A5 JHTA
2005
BF90A5 JRTA
2005
BF90A5 LHTA
2005
BF90A5 LRTA
2005
BF90A5 XRTA
2005
BF90A6 JHTA
2006
BF90A6 JRTA
2006
BF90A6 LHTA
2006
BF90A6 LRTA
2006
BF90A6 XRTA
2006
BF90AT LHTA
1997
BF90AT LRTA
1997
BF90AT XRTA
1997
BF90AW JHTA
1998
BF90AW JRTA
1998
BF90AW LHTA
1998
BF90AW LRTA
1998
BF90AW XRTA
1998
BF90AX JHTA
1999
BF90AX JRTA
1999
BF90AX LHTA
1999
BF90AX LRTA
1999
BF90AX XRTA
1999
BF90AY JHTA
2000
BF90AY JRTA
2000
BF90AY LHTA
2000
BF90AY LRTA
2000
BF90AY XRTA
2000