06192-ZW1-000 PUMP KIT, IMPELLER (Honda Code 7452394). Honda
BF115A3 LA, BF115A3 LCA, BF115A3 XA, BF115A3 XCA, BF115A4 LA, BF115A4 LCA, BF115A4 XA, BF115A4 XCA, BF115A5 LA, BF115A5 LCA, BF115A5 XA, BF115A5 XCA, BF115A6 LA, BF115A6 LCA, BF115A6 XA, BF115A6 XCA, BF115AK0 LA, BF115AK0 XA, BF130A3 LA, BF130A3 LCA,
PUMP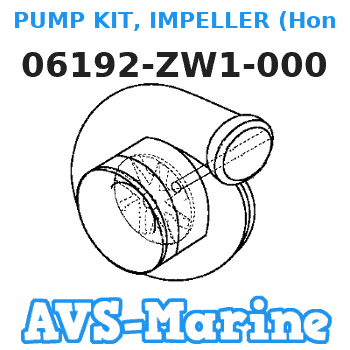 Buy
PUMP KIT, IMPELLER (Honda Code 7452394). 06192-ZW1-000 Honda
genuine, new aftermarket parts with delivery
You can buy parts:
As an associate, we earn commssions on qualifying purchases through the links below
DONCK Boat Accessories Marine Hardware Water Pump Impeller Kit Rebuild Set 06192-ZW1-000 Replacement for Honda Outboard
●Made of stainless steel alloy, long service life, sturdy and durable || ●Can be used in sea water for a long time without being affected by sea water || ●Easy to install, suitable for most ships and yachts || ●Used for repair and modification of yachts, ships, kayaks, canoes || ●If you have any questions, you can contact us at any time, we will reply to you within 0-8 hours and solve it for you
balikha for 06192-ZW1-000 Water Impeller Service Kit for BF75 BF90 BF115 BF130 New
The practical shape is worth having, and it will provide a and experience for your ship. || Fits: for BF115/130, BF75/90 AX and later || It replaces part number # 06192-ZW1-000. || and high quality. || Water pump repair kit for a Outboard.
Aramox Stainless Steel Water Pump Impeller Repair Kit Replacement for 75 90 115 130 HP Outboard OE:06192‑ZW1‑000
Applicable model: Water pump repair kit is applicable for 75/90/115/130 HP Outboard, for Sierra outboards 18-3283. || The replacement OEM number for reference: 06192-ZW1-000. || Premium quality: Made of excellent aluminum alloy, rubber and nylon materials, in line with strict quality inspections, high hardness, wear resistance, not easy to aging, and good seawater corrosion resistance, ensuring long-term use. || Stable performance: The impeller is specially designed for super performance and has high stability and reliability. || Products include: The kit includes full power plus neoprene impeller, O-ring, key, gasket, which can meet your needs and is convenient for you to use.
Honda entire parts catalog list:
BF115A3 LA
2003
BF115A3 LCA
2003
BF115A3 XA
2003
BF115A3 XCA
2003
BF115A4 LA
2004
BF115A4 LCA
2004
BF115A4 XA
2004
BF115A4 XCA
2004
BF115A5 LA
2005
BF115A5 LCA
2005
BF115A5 XA
2005
BF115A5 XCA
2005
BF115A6 LA
2006
BF115A6 LCA
2006
BF115A6 XA
2006
BF115A6 XCA
2006
BF115AK0 LA
2007
BF115AK0 XA
2007
BF130A3 LA
2003
BF130A3 LCA
2003
BF130A3 XA
2003
BF130A3 XCA
2003
BF130A4 LA
2004
BF130A4 LCA
2004
BF130A4 XA
2004
BF130A4 XCA
2004
BF75A3 LHTA
2003
BF75A3 LRTA
2003
BF75A3 XRTA
2003
BF75A4 LHTA
2004
BF75A4 LRTA
2004
BF75A4 XRTA
2004
BF75A5 LHTA
2005
BF75A5 LRTA
2005
BF75A5 XRTA
2005
BF75A6 LHTA
2006
BF75A6 LRTA
2006
BF75A6 XRTA
2006
BF75DK0 LHTA
2007
BF75DK0 LRTA
2007
BF75DK2 LRTA
2007
BF90A3 JHTA
2003
BF90A3 JRTA
2003
BF90A3 LHTA
2003
BF90A3 LRTA
2003
BF90A3 XRTA
2003
BF90A4 JHTA
2004
BF90A4 JRTA
2004
BF90A4 LHTA
2004
BF90A4 LRTA
2004
BF90A4 XRTA
2004
BF90A5 JHTA
2005
BF90A5 JRTA
2005
BF90A5 LHTA
2005
BF90A5 LRTA
2005
BF90A5 XRTA
2005
BF90A6 JHTA
2006
BF90A6 JRTA
2006
BF90A6 LHTA
2006
BF90A6 LRTA
2006
BF90A6 XRTA
2006
BF90DK0 LHTA
2007
BF90DK0 LRTA
2007
BF90DK0 XRTA
2007
BF90DK2 LRTA
2007
BF90DK2 XRTA
2007
Parts pump Honda: