06192-ZW9-A30 PUMP KIT, IMPELLER (Honda Code 7452352). Honda
BF15D3 LGA, BF15D3 LHA, BF15D3 LHGA, BF15D3 LHSA, BF15D3 LHTA, BF15D3 LRA, BF15D3 LRTA, BF15D3 SHA, BF15D3 SHGA, BF15D3 SHSA, BF15D3 SHTA, BF15D3 SRTA, BF15D3 XHA, BF15D3 XHGA, BF15D4 LGA, BF15D4 LHA, BF15D4 LHGA, BF15D4 LHSA, BF15D4 LHTA, BF15D4 LRA
PUMP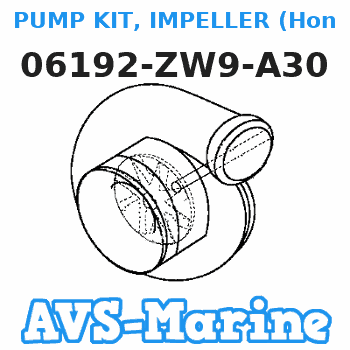 Buy
PUMP KIT, IMPELLER (Honda Code 7452352). 06192-ZW9-A30 Honda
genuine, new aftermarket parts with delivery
You can buy parts:
As an associate, we earn commssions on qualifying purchases through the links below
CITALL 4Pcs Water Pump Impeller Repair Kit 06192-ZW9-A30 Compatible for Honda Outboard Engine
Made of high quality material, durable for use. || According to the original factory specifications. || Perfect match for the original one. || Easy installation. || Stable characteristics, high reliability.
06192-ZW9-A30, OEM Neoprene Rubber Standard Rotor Service Kit Marine Water Pump Complete Repair Kit
High Quality Materials: The heavy duty water pump impeller service kit is carefully made of marine and chemical resistant metal alloy and scientifically engineered neoprene rubber for maximum durability. || Replace Part: According to the original specifications, replacement OEM number is 06192‑ZW9‑A30 for reference to assist you find exactly what you need. || Wide Application: Replacement for BFP8D 8HP All Extra Long Shaft 25in, replacement for BF15D 15HP All, replacement for BFP20D 20HP All and much more models. || High Performance: The service kit makes repair and maintenance of water pumps more easier for the impeller pushes the coolant through the engine block, and hoses to keep the engine heat away from the system. || Recommendation: It is recommended to check your impeller replacement every season, and replace it every two to three seasons to make sure engine operation.
MARKGOO 06192-ZW9-A30 Water Pump Impeller Repair Kit for Honda Outboard 8/9.9/10/15/20 HP (XL Model Driveshaft) BF10 BFP10 BF15 BFP15 BF20 BFP20 Boat Motor Parts Replacement Sierra Marine 18-3478
This water pump rebuild kit fits honda outboard 4 stroke 8HP 9.9HP 10HP 15HP 20HP boat motor engine parts model BFP8D BFP9.9D (25" Driveshaft XL Model) BF10 BFP10 BF15D, BFP15D, BF20D and BFP20D boat accessories cooling system. More detailed information please see description below. || The water pump impeller repair or service kit for honda outboard OEM p/n 06192-ZW9-A30 Sierra Marine 18-3478. it is very important to check your boat motor part number before purchase. please message us engine year, s/n and horsepower if you are not sure. || Designed for durability to provide higher flow rates and cooling flow to protect your engine, the impeller kit is to make repair and maintenance of water pumps easy. || Package included: Water Pump Impeller 18-32455 19210-ZW9-A32, Impeller Key 90752-ZW9-A30, Gasket 19232-ZW9-000 and O-ring 91301-ZG3-000 as pictures showed. || To find the correct water pump repair kit replacement for your suzuki outboard, it is VERY IMPORTANT to check your outboard model or s/n before purchase. you can leave us messages such as your boat engine model, horsepower or year if you're not sure. we 're pleasure to help you.
Honda entire parts catalog list:
BF15D3 LGA
2003
BF15D3 LHA
2003
BF15D3 LHGA
2003
BF15D3 LHSA
2003
BF15D3 LHTA
2003
BF15D3 LRA
2003
BF15D3 LRTA
2003
BF15D3 SHA
2003
BF15D3 SHGA
2003
BF15D3 SHSA
2003
BF15D3 SHTA
2003
BF15D3 SRTA
2003
BF15D3 XHA
2003
BF15D3 XHGA
2003
BF15D4 LGA
2004
BF15D4 LHA
2004
BF15D4 LHGA
2004
BF15D4 LHSA
2004
BF15D4 LHTA
2004
BF15D4 LRA
2004
BF15D4 LRTA
2004
BF15D4 SHA
2004
BF15D4 SHGA
2004
BF15D4 SHSA
2004
BF15D4 SHTA
2004
BF15D4 SRTA
2004
BF15D4 XHA
2004
BF15D4 XHGA
2004
BF15D5 LGA
2005
BF15D5 LHA
2005
BF15D5 LHGA
2005
BF15D5 LHSA
2005
BF15D5 LHTA
2005
BF15D5 LRA
2005
BF15D5 LRTA
2005
BF15D5 SHA
2005
BF15D5 SHGA
2005
BF15D5 SHSA
2005
BF15D5 SHTA
2005
BF15D5 SRTA
2005
BF15D5 XHA
2005
BF15D5 XHGA
2005
BF15D6 LHA
2006
BF15D6 LHGA
2006
BF15D6 LHSA
2006
BF15D6 LHTA
2006
BF15D6 LRA
2006
BF15D6 LRTA
2006
BF15D6 SHA
2006
BF15D6 SHGA
2006
BF15D6 SHSA
2006
BF15D6 SHTA
2006
BF15D6 SRTA
2006
BF15D6 XHA
2006
BF15D6 XHGA
2006
BF15DK0 LHA
2007
BF15DK0 LHSA
2007
BF15DK0 LHTA
2007
BF15DK0 LRTA
2007
BF15DK0 SHA
2007
BF15DK0 SHSA
2007
BF15DK0 SHTA
2007
BF15DK2 LHA
2007
BF15DK2 LHSA
2007
BF15DK2 LHTA
2007
BF15DK2 LRTA
2007
BF15DK2 SHA
2007
BF15DK2 SHSA
2007
BF15DK2 SHTA
2007
BF15DK3 LHA
2007
BF15DK3 LHSA
2007
BF15DK3 LHTA
2007
BF15DK3 LRTA
2007
BF15DK3 SHA
2007
BF15DK3 SHSA
2007
BF15DK3 SHTA
2007
BF20D3 LGA
2003
BF20D3 LHA
2003
BF20D3 LHGA
2003
BF20D3 LHSA
2003
BF20D3 LHTA
2003
BF20D3 LRA
2003
BF20D3 LRTA
2003
BF20D3 SHA
2003
BF20D3 SHGA
2003
BF20D3 SHSA
2003
BF20D3 SHTA
2003
BF20D3 SRA
2003
BF20D3 SRTA
2003
BF20D3 XHGA
2003
BF20D3 XHSA
2003
BF20D3 XHTA
2003
BF20D4 LGA
2004
BF20D4 LHA
2004
BF20D4 LHGA
2004
BF20D4 LHSA
2004
BF20D4 LHTA
2004
BF20D4 LRA
2004
BF20D4 LRTA
2004
BF20D4 SHA
2004
BF20D4 SHGA
2004
BF20D4 SHSA
2004
BF20D4 SHTA
2004
BF20D4 SRA
2004
BF20D4 SRTA
2004
BF20D4 XHGA
2004
BF20D4 XHSA
2004
BF20D4 XHTA
2004
BF20D5 LGA
2005
BF20D5 LHA
2005
BF20D5 LHGA
2005
BF20D5 LHSA
2005
BF20D5 LHTA
2005
BF20D5 LRA
2005
BF20D5 LRTA
2005
Parts pump Honda: