06192-ZY3-000 PUMP KIT, IMPELLER (Honda Code 7452402). Honda
BF175AK1 LA, BF175AK1 XA, BF175AK1 XCA, BF175AK2 LA, BF175AK2 XA, BF175AK2 XCA, BF200A2 LA, BF200A2 XA, BF200A2 XCA, BF200A2 XXA, BF200A2 XXCA, BF200A3 LA, BF200A3 XA, BF200A3 XCA, BF200A3 XXA, BF200A3 XXCA, BF200A4 LA, BF200A4 XA, BF200A4 XCA, BF200
PUMP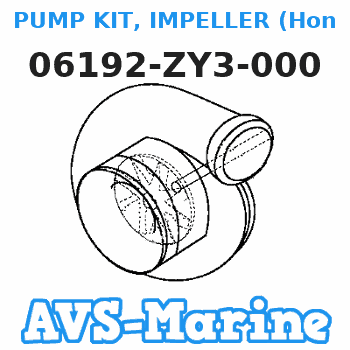 Buy
PUMP KIT, IMPELLER (Honda Code 7452402). 06192-ZY3-000 Honda
genuine, new aftermarket parts with delivery
You can buy parts:
As an associate, we earn commssions on qualifying purchases through the links below
06192-ZY3-000 Marinne Impeller Service Kit for BF175A, BF200A and BF225A 06192-ZY3-000

06192-ZY3-000 18-3285 Water Pump Impeller Repair Kit For Honda Sierra 175 200 225 HP Outboard 175HP 200HP 225HP BF175A BF200A BF225A (2002-UP)
????️■OEM#■:Replacing part numbers For Honda 06192-ZY3-000 Sierra 18-3285,perfectly match. || ????️■High Quality■:Original level of quality and durability, the impellers are manufactured from high quality rubber and will not be damaged even after long periods of immersion in salt water. || ????️■Buy With Confidence■:Highly rigid cardboard boxes and foam wool packaging ensure that your order is in mint condition before you receive it. || ????️■Inquiry Service■:Check your engine part number before you buy. If you're not sure, send us a message. We'll help you find the right part number for your engine. || ????️■Tips■:We will show more detailed information about the product on the details page below to ensure that we can help you to buy the correct replacement part.
KauKlibna Boat 06192-ZY3-000 Water Pump Impeller Service Kit For Honda BF175A BF200A BF225A 18-3285
For Honda Outboard Part Number: 06192-ZY3-000, Sierra PN:18-3285 || For Honda Outboard BF 175HP 200HP 225HP Engine || Water Pump Impeller Kit || Outboard Motors || Tip: Please confirm the replacement part number before purchase to ensure that our products are suitable for you. If you have any questions, please in time to contact our staff and we will respond to your email within 24 hours.
Honda entire parts catalog list:
BF175AK1 LA
2007
BF175AK1 XA
2007
BF175AK1 XCA
2007
BF175AK2 LA
2007
BF175AK2 XA
2007
BF175AK2 XCA
2007
BF200A2 LA
2002
BF200A2 XA
2002
BF200A2 XCA
2002
BF200A2 XXA
2002
BF200A2 XXCA
2002
BF200A3 LA
2003
BF200A3 XA
2003
BF200A3 XCA
2003
BF200A3 XXA
2003
BF200A3 XXCA
2003
BF200A4 LA
2004
BF200A4 XA
2004
BF200A4 XCA
2004
BF200A4 XXA
2004
BF200A4 XXCA
2004
BF200A5 LA
2005
BF200A5 XA
2005
BF200A5 XCA
2005
BF200A5 XXA
2005
BF200A5 XXCA
2005
BF200A6 LA
2006
BF200A6 XA
2006
BF200A6 XCA
2006
BF200A6 XXA
2006
BF200A6 XXCA
2006
BF200AK0 LA
2007
BF200AK0 XA
2007
BF200AK0 XCA
2007
BF200AK1 LA
2007
BF200AK1 XA
2007
BF200AK1 XCA
2007
BF200AK2 LA
2007
BF200AK2 XA
2007
BF200AK2 XCA
2007
BF225A2 LA
2002
BF225A2 XA
2002
BF225A2 XCA
2002
BF225A2 XXA
2002
BF225A2 XXCA
2002
BF225A3 LA
2003
BF225A3 XA
2003
BF225A3 XCA
2003
BF225A3 XXA
2003
BF225A3 XXCA
2003
BF225A4 LA
2004
BF225A4 XA
2004
BF225A4 XCA
2004
BF225A4 XXA
2004
BF225A4 XXCA
2004
BF225A5 LA
2005
BF225A5 XA
2005
BF225A5 XCA
2005
BF225A5 XXA
2005
BF225A5 XXCA
2005
BF225A6 LA
2006
BF225A6 XA
2006
BF225A6 XCA
2006
BF225A6 XXA
2006
BF225A6 XXCA
2006
BF225AK0 LA
2007
BF225AK0 XA
2007
BF225AK0 XCA
2007
BF225AK0 XXA
2007
BF225AK0 XXCA
2007
BF225AK1 LA
2007
BF225AK1 XA
2007
BF225AK1 XCA
2007
BF225AK1 XXA
2007
BF225AK1 XXCA
2007
BF225AK2 LA
2007
BF225AK2 XA
2007
BF225AK2 XCA
2007
BF225AK2 XXA
2007
BF225AK2 XXCA
2007
Parts pump Honda: