06192-ZY6-000 PUMP KIT, IMPELLER (Honda Code 7632797). Honda
BF115DK1 LA, BF115DK1 XA, BF115DK1 XCA, BF135A4 LA, BF135A4 XA, BF135A4 XCA, BF135A5 LA, BF135A5 XA, BF135A5 XCA, BF135A6 LA, BF135A6 XA, BF135A6 XCA, BF135AK0 LA, BF135AK0 XA, BF135AK0 XCA, BF135AK2 LA, BF135AK2 XA, BF135AK2 XCA, BF150A4 LA, BF150A4
PUMP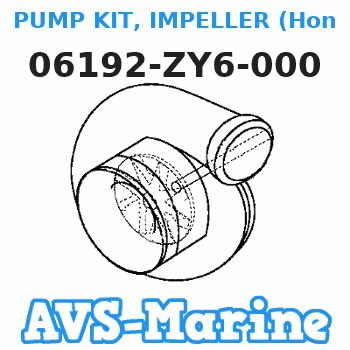 Buy
PUMP KIT, IMPELLER (Honda Code 7632797). 06192-ZY6-000 Honda
genuine, new aftermarket parts with delivery
You can buy parts:
As an associate, we earn commssions on qualifying purchases through the links below
SouthMarine Boat Engine 06192-ZY6-000 Water Pump Repair Kit for Honda Outboard Motor 115HP 135HP 150HP BF115 BF135 BF150, fit Sierra 18-3284
Engine Position: Outboard Engine 115HP 135HP 150HP BF115 BF135 BF150 || Replaces Part Number: 06192-ZY6-000 18-3284 || PACKAGE INCLUDED: 1 pc X Water Pump Impeller 19210-ZW1-B04/B03/B02, fit Sierra 18-3250 1 pc X O-ring 91356-ZW1-B00 1 pc X Key Driveshaft 90752-ZW1-B02 1 pc X Water pump Gasket 19234-ZY6-000 || NOTE: If you are unsure, please provide your engine serial number.
Tcess Compatible with Honda 06192-ZY6-000 Water Pump Impeller Repair Kit, Replacement for Honda BF115 BF135 BF150 Sierra 18-3284 06192ZY6000
💡Replaces part # Honda 06192-ZY6-000 Sierra 18-3284. || 💡For 4-Stroke Honda Outboards 115HP 135HP 150HP BF115D, BF115DK1, BF135A4, BF135A5, BF135A6, BF135AK0, BF135AK2, BF150A4, BF150A5, BF150A6, BF150AK0, BF150AK2 boat motor parts cooling system. || 💡The kit included everything shown above. || 💡 See your owner's manual or service manual for specific applications and replacement instructions. || 💡We will show more detailed information about the product on the details page below to ensure that we can help you to buy the correct replacement part.
PARTSDEPOT Water Pump Impeller Repair Kit Compatible with Honda 115/135/150HP 06192-ZY6-000 Outboard
BIN LOCATION: B11 || Manufacturer Part Number: 06192-ZY6-000 replacement || Compatible with the following engines: BF115D, DK1 BF135A4, AK2 BF150A4, AK2 || Free Fast Shipping from USA - 1 Year Warranty
Honda entire parts catalog list:
BF115DK1 LA
2007
BF115DK1 XA
2007
BF115DK1 XCA
2007
BF135A4 LA
2004
BF135A4 XA
2004
BF135A4 XCA
2004
BF135A5 LA
2005
BF135A5 XA
2005
BF135A5 XCA
2005
BF135A6 LA
2006
BF135A6 XA
2006
BF135A6 XCA
2006
BF135AK0 LA
2007
BF135AK0 XA
2007
BF135AK0 XCA
2007
BF135AK2 LA
2007
BF135AK2 XA
2007
BF135AK2 XCA
2007
BF150A4 LA
2004
BF150A4 XA
2004
BF150A4 XCA
2004
BF150A5 LA
2005
BF150A5 XA
2005
BF150A5 XCA
2005
BF150A6 LA
2006
BF150A6 XA
2006
BF150A6 XCA
2006
BF150AK0 LA
2007
BF150AK0 XA
2007
BF150AK0 XCA
2007
BF150AK2 LA
2007
BF150AK2 XA
2007
BF150AK2 XCA
2007
Parts pump Honda: