13210-PAA-A00 ROD, CONNECTING (Honda Code 5612510). Honda
BF115A1 LA, BF115A1 LCA, BF115A1 XA, BF115A1 XCA, BF115A2 LA, BF115A2 LCA, BF115A2 XA, BF115A2 XCA, BF115A3 LA, BF115A3 LCA, BF115A3 XA, BF115A3 XCA, BF115A4 LA, BF115A4 LCA, BF115A4 XA, BF115A4 XCA, BF115A5 LA, BF115A5 LCA, BF115A5 XA, BF115A5 XCA,
ROD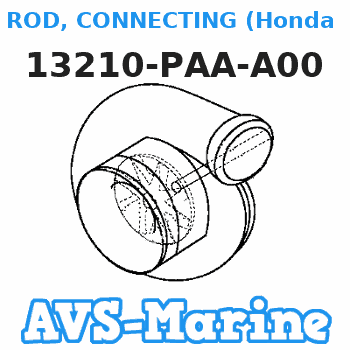 Buy
ROD, CONNECTING (Honda Code 5612510). 13210-PAA-A00 Honda
genuine, new aftermarket parts with delivery
You can buy parts:
As an associate, we earn commssions on qualifying purchases through the links below
OEM 13210-PAA-A00 Piston Rod Assy for Honda
OEM: 13210-PAA-A00 || Fitment: Honda || Quality: Made of High-quality material for long-lasting durability || Warranty: 1 year warranty, Standard Shipping 10-15 business days, Expedited Shipping 5-63 business days || Installation: Easy Installation. High Reliability.
Genuine Honda 13210-PAA-A00 Engine Connecting Rod
Accord 2D '98-'02 || Genuine OEM || Direct fit || Genuine Honda Parts 13210-PAA-A00 Connecting Rod
Honda entire parts catalog list:
BF115A1 LA
2001
BF115A1 LCA
2001
BF115A1 XA
2001
BF115A1 XCA
2001
BF115A2 LA
2002
BF115A2 LCA
2002
BF115A2 XA
2002
BF115A2 XCA
2002
BF115A3 LA
2003
BF115A3 LCA
2003
BF115A3 XA
2003
BF115A3 XCA
2003
BF115A4 LA
2004
BF115A4 LCA
2004
BF115A4 XA
2004
BF115A4 XCA
2004
BF115A5 LA
2005
BF115A5 LCA
2005
BF115A5 XA
2005
BF115A5 XCA
2005
BF115A6 LA
2006
BF115A6 LCA
2006
BF115A6 XA
2006
BF115A6 XCA
2006
BF115AK0 LA
2007
BF115AK0 XA
2007
BF115AX LA
1999
BF115AX LCA
1999
BF115AX XA
1999
BF115AX XCA
1999
BF115AY LA
2000
BF115AY LCA
2000
BF115AY XA
2000
BF115AY XCA
2000
BF130A1 LA
2001
BF130A1 LCA
2001
BF130A1 XA
2001
BF130A1 XCA
2001
BF130A2 LA
2002
BF130A2 LCA
2002
BF130A2 XA
2002
BF130A2 XCA
2002
BF130A3 LA
2003
BF130A3 LCA
2003
BF130A3 XA
2003
BF130A3 XCA
2003
BF130A4 LA
2004
BF130A4 LCA
2004
BF130A4 XA
2004
BF130A4 XCA
2004
BF130AX LA
1999
BF130AX LCA
1999
BF130AX XA
1999
BF130AX XCA
1999
BF130AY LA
2000
BF130AY LCA
2000
BF130AY XA
2000
BF130AY XCA
2000
Parts rod Honda: