12209-GB4-681 SEAL, VALVE STEM (NOK) (Honda Code 1905173). Honda
BF8D1 LHA, BF8D1 LHSA, BF8D1 LRA, BF8D1 SA, BF8D1 SHA, BF8D1 SHSA, BF8D1 SRA, BF8D2 LHA, BF8D2 LHSA, BF8D2 LRA, BF8D2 SA, BF8D2 SHA, BF8D2 SHSA, BF8D2 SRA, BF8D3 LHA, BF8D3 LHSA, BF8D3 LRA, BF8D3 SA, BF8D3 SHA, BF8D3 SHSA, BF8D3 SRA, BF8D4 LHA, BF8D4
SEAL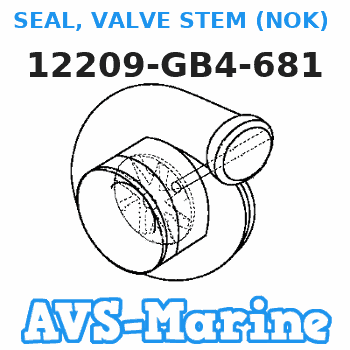 Buy
SEAL, VALVE STEM (NOK) (Honda Code 1905173). 12209-GB4-681 Honda
genuine, new aftermarket parts with delivery
You can buy parts:
As an associate, we earn commssions on qualifying purchases through the links below
Fits Honda CRF50 CRF 50 F"04-18" FKM Valve Seals - 12209-GB4-681 - Set of 2 - NEW!
Seller Notes: "QUALITY PARTS WITH AMAZING PRICES & EXCELLENT FEEDBACK! SHOP STREET SPORT INDUSTRIES (SSI) FOR ALL OF YOUR REBUILD PARTS!" || Compatible Model: CRF50F || Compatible Make: For Honda
Intake Exhaust Engine Valves Seals Kit for Honda CRF250 CRF250X 2004-2017 CRF250R 2004-2007, OEM# 14711-KRN-670 14721-KRN-670 12209-GB4-681
【Fitment】Fit for Honda Motorcycle as Following ▶ CRF250R 2004-2007 ▶ CRF250X 2004-2017 (Notice: not compatible with CRF250L/CRF250F/CRF250RX edition) || 【Feature】Using high quality steel as material, the intake and exhaust valve is anti-corrosion and high temperature resistant. With 100% tested, perfect replace for original factory part. || 【OEM#】 14711-KRN-670 14721-KRN-670 12209-GB4-681. Please check your bike OEM number before you make an order. || 【Package】Intake Valve x 2, Exhaust Valve x 2, Valve Stem Seal x 4. Not included instruction manual. || 【Service】JAVIK offer 24 hours customer service and 1 year product service. Please feel free to message if you meet any problem.
Honda 12209-GB4-681 Valve Seal Genuine Original Equipment Manufacturer (OEM) Part
New OEM Honda Seal Valve Stem || OEM Part Number: 12209-GB4-681 | Previous: 12209-GBG-900 || Item only fits specific models listed. The picture could be generic. || Message us with VIN/HULL for fast fitment verification.
Honda entire parts catalog list:
BF8D1 LHA
2001
BF8D1 LHSA
2001
BF8D1 LRA
2001
BF8D1 SA
2001
BF8D1 SHA
2001
BF8D1 SHSA
2001
BF8D1 SRA
2001
BF8D2 LHA
2002
BF8D2 LHSA
2002
BF8D2 LRA
2002
BF8D2 SA
2002
BF8D2 SHA
2002
BF8D2 SHSA
2002
BF8D2 SRA
2002
BF8D3 LHA
2003
BF8D3 LHSA
2003
BF8D3 LRA
2003
BF8D3 SA
2003
BF8D3 SHA
2003
BF8D3 SHSA
2003
BF8D3 SRA
2003
BF8D4 LHA
2004
BF8D4 LHSA
2004
BF8D4 LRA
2004
BF8D4 SHA
2004
BF8D4 SHSA
2004
BF8D5 LHA
2005
BF8D5 LHSA
2005
BF8D5 LRA
2005
BF8D5 SHA
2005
BF8D5 SHSA
2005
BF8D6 LHA
2006
BF8D6 LHSA
2006
BF8D6 LRA
2006
BF8D6 SHA
2006
BF8D6 SHSA
2006
BF8DK0 LHA
2007
BF8DK0 LHSA
2007
BF8DK0 SHA
2007
BF8DK2 LHA
2007
BF8DK2 LHSA
2007
BF8DK2 SHA
2007
BF8DK3 LHA
2007
BF8DK3 LHSA
2007
BF8DK3 SHA
2007
BF9.9D1 LHA
2001
BF9.9D1 LHSA
2001
BF9.9D1 LRA
2001
BF9.9D1 SA
2001
BF9.9D1 SHA
2001
BF9.9D1 SHSA
2001
BF9.9D1 SRA
2001
BF9.9D2 LHA
2002
BF9.9D2 LHSA
2002
BF9.9D2 LRA
2002
BF9.9D2 SA
2002
BF9.9D2 SHA
2002
BF9.9D2 SHSA
2002
BF9.9D2 SRA
2002
BF9.9D3 LHA
2003
BF9.9D3 LHSA
2003
BF9.9D3 LRA
2003
BF9.9D3 SA
2003
BF9.9D3 SHA
2003
BF9.9D3 SHSA
2003
BF9.9D3 SRA
2003
BF9.9D4 LHA
2004
BF9.9D4 LHSA
2004
BF9.9D4 LRA
2004
BF9.9D4 SHA
2004
BF9.9D4 SHSA
2004
BF9.9D4 SRTA
2004
BF9.9D5 LHA
2005
BF9.9D5 LHSA
2005
BF9.9D5 LRA
2005
BF9.9D5 SHA
2005
BF9.9D5 SHSA
2005
BF9.9D5 SRTA
2005
BF9.9D6 LHA
2006
BF9.9D6 LHSA
2006
BF9.9D6 LRA
2006
BF9.9D6 SHA
2006
BF9.9D6 SHSA
2006
BF9.9D6 SRTA
2006
BF9.9DK0 LHA
2007
BF9.9DK0 LHSA
2007
BF9.9DK0 LRA
2007
BF9.9DK0 SHA
2007
BF9.9DK0 SHSA
2007
BF9.9DK2 LHA
2007
BF9.9DK2 LHSA
2007
BF9.9DK2 LRA
2007
BF9.9DK2 SHA
2007
BF9.9DK2 SHSA
2007
BF9.9DK3 LHA
2007
BF9.9DK3 LHSA
2007
BF9.9DK3 LRA
2007
BF9.9DK3 SHA
2007
BF9.9DK3 SHSA
2007
BFP8D1 LHA
2001
BFP8D1 LHSA
2001
BFP8D1 LRA
2001
BFP8D1 XHA
2001
BFP8D1 XHSA
2001
BFP8D1 XRA
2001
BFP8D2 LHA
2002
BFP8D2 LHSA
2002
BFP8D2 LRA
2002
BFP8D2 XHA
2002
BFP8D2 XHSA
2002
BFP8D2 XRA
2002
BFP8D3 LHA
2003
BFP8D3 LHSA
2003
BFP8D3 LRA
2003
BFP8D3 XHA
2003
Parts seal Honda: