12342-PCX-004 SEAL, SPARK PLUG TUBE (NOK) (Honda Code 6231617). Honda
BF115DK1 LA, BF115DK1 XA, BF115DK1 XCA, BF135A4 LA, BF135A4 XA, BF135A4 XCA, BF135A5 LA, BF135A5 XA, BF135A5 XCA, BF135A6 LA, BF135A6 XA, BF135A6 XCA, BF135AK0 LA, BF135AK0 XA, BF135AK0 XCA, BF135AK2 LA, BF135AK2 XA, BF135AK2 XCA, BF150A4 LA, BF150A4
SEAL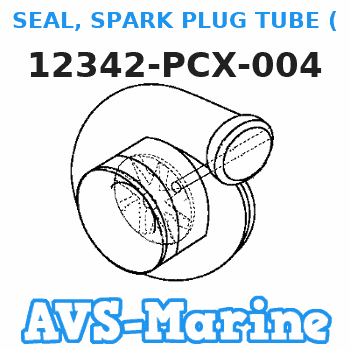 Buy
SEAL, SPARK PLUG TUBE (NOK) (Honda Code 6231617). 12342-PCX-004 Honda
genuine, new aftermarket parts with delivery
You can buy parts:
As an associate, we earn commssions on qualifying purchases through the links below
VS50614R Compatible with Engine Valve Cover Gasket & Gromets & Spark Plug Tube Seals&15815-RAA-A02 VTEC Solenoid Gasket Honda Accord,Civic,CR-V,Element,Crosstour, Acura 2.0L 2.3L 2.4L 12341-R40-A00
【Compatible with】-- 2.0L 2.3L 2.4L Honda & Acura vehicles, including 2003-2013 Honda Accord 2.4L, 2002-2015 Honda Civic Si 2.0L 2.4L, 2002-2014 Honda CR-V 2.4L, 2012-2015 Honda Crosstour 2.4L, 2003-2011 Honda Element 2.4L, 2006-2011 Acura CSX 2.0L, 2013-2015 Acura ILX 2.4L, 2007-2012 Acura RDX 2.3L, 2002-2006 Acura RSX 2.0L, 2004-2014 Acura TSX 2.4L. || 【Replace NO.】--Replace OE# VS50614R 12030-PNC-000 12030-RAA-A00 12030-RAA-A01 12341-RTA-000 12342-PCX-004 30522-PFB-007 90441-PNA-010 VS50382A || 【Weight and Size】-- As you can not touch our product before buying it,so we mark it's weight and size detail in the picture help you know it better. Pls check Description and fitment to confirm whether our item fit your car,pls let us know once you need help,we will reply you within 24hours. || 【Package Includes】--1 Valve Cover Gasket + 6 Gromets+ 8 Spark Plug Tube Seals+15815-RAA-A02 VTEC Solenoid Gaskets 3,totally 18 PCS.We find some customer's feedback from other store that they receive their gasket package leak, parts lost, so we pack our gasket with two bags to make sure our customer receive our gasket completely. || 【100% Satisfaction Guarantee】--We cherish our brand,focus on quality and customer services,each piece has been checked before shipping in good condition,If it is impacted during shipping, pls return it for a full refund or a change order within 30 days.Tips:According to Amazon's policy: if the cargo was damaged by customer and become unsaleable, customer will not get refund,so pls keep the label and package in good condition so that you can get refund successfully.
12341 PNA 000 Car Valve Cover Gasket Kit 12342 PCX 004, for Acura RSX TSX, for Honda Accord Civic CRV 2004 2005 90441 PNA 010
Material Type:Rubber & Metal || Color:Black & Silver || Manufacturer Part Number:12341-PNA-000, 90441-PNA-010, 12342-PCX-004 || Features:Easy installation. || Item Weight:0.216 kg
Gxcdizx VS50614R Engine Valve Cover Gasket for Honda Accord Civic CR-V Element Crosstour Acura CSX,ILX,RDX,RSX,TSX 2.0L 2.3L 2.4L 12341-R40-A00
➽【Compatible】for 2.0L 2.3L 2.4L Honda & Acura vehicles, including for 2003-2013 Honda Accord 2.4L, for 2002-2015 Honda Civic Si 2.0L 2.4L, for 2002-2014 Honda CR-V 2.4L, for 2012-2015 Honda Crosstour 2.4L, for 2003-2011 Honda Element 2.4L, for 2006-2011 Acura CSX 2.0L, for 2013-2015 Acura ILX 2.4L, for 2007-2012 Acura RDX 2.3L, for 2002-2006 Acura RSX 2.0L, for 2004-2014 Acura TSX 2.4L. || ➽【Replace Number】Replace OE# VS50614R 12030-PNC-000 12030-RAA-A00 12030-RAA-A01 12341-RTA-000 12342-PCX-004 30522-PFB-007 90441-PNA-010 VS50382A || ➽【Premium Quality】Quality materials & advanced technology used, meets or exceeds OEM standards. Even though this is not genuine valve cover gasket, but it works even better and lasts longer. Save yourself times and money by replacing valve cover gaskets yourself. || ➽【Replacement】- Designed to bring seal to the cylinder head and the valve cover, stops oil from leaking out and spilling onto the rest of your engine. If you have a leaking valve cover, or your engine oil is always low, or you smell burnin oil, you will need to replace your valve cover gasket. || ➽【Package Includes】1 Valve Cover Gasket + 6 Gromets+ 8 Spark Plug Tube Seals
Honda entire parts catalog list:
BF115DK1 LA
2007
BF115DK1 XA
2007
BF115DK1 XCA
2007
BF135A4 LA
2004
BF135A4 XA
2004
BF135A4 XCA
2004
BF135A5 LA
2005
BF135A5 XA
2005
BF135A5 XCA
2005
BF135A6 LA
2006
BF135A6 XA
2006
BF135A6 XCA
2006
BF135AK0 LA
2007
BF135AK0 XA
2007
BF135AK0 XCA
2007
BF135AK2 LA
2007
BF135AK2 XA
2007
BF135AK2 XCA
2007
BF150A4 LA
2004
BF150A4 XA
2004
BF150A4 XCA
2004
BF150A5 LA
2005
BF150A5 XA
2005
BF150A5 XCA
2005
BF150A6 LA
2006
BF150A6 XA
2006
BF150A6 XCA
2006
BF150AK0 LA
2007
BF150AK0 XA
2007
BF150AK0 XCA
2007
BF150AK2 LA
2007
BF150AK2 XA
2007
BF150AK2 XCA
2007
Parts seal Honda: