06192-ZV4-A00 SEE PART DETAILS - SUP; IMPELLER KIT, WATER PUMP (Honda Code 6310494). Honda
BF15A1 LA, BF15A1 LAS, BF15A1 SA, BF15A1 SAS, BF15A1 XAS, BF15A2 LA, BF15A2 LAS, BF15A2 SA, BF15A2 SAS, BF15A2 XAS, BF15AW LA, BF15AW LAS, BF15AW SA, BF15AW SAS, BF15AW XAS, BF15AX LA, BF15AX LAS, BF15AX SA, BF15AX SAS, BF15AX XAS, BF15AY LA, BF15AY
SEE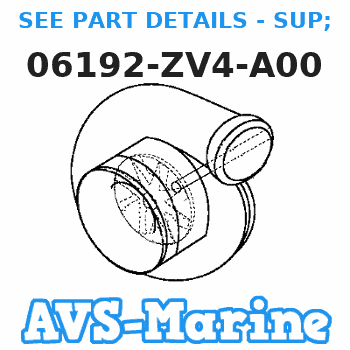 Buy
SEE PART DETAILS - SUP; IMPELLER KIT, WATER PUMP (Honda Code 6310494). 06192-ZV4-A00 Honda
genuine, new aftermarket parts with delivery
You can buy parts:
As an associate, we earn commssions on qualifying purchases through the links below
06192-ZV4-000 Water Pump Impeller Service Kit Replacement for Honda Marine Outboard 9.9 15HP BF9.9 BF15 (1999-2002) 4 Stroke Boat Motor Parts Sierra 18-3280 06192-ZV4-A00 06192ZV4000
This water pump impeller service kit for Honda Outboards 06192-ZV4-000, 06192ZV4000, 06192-ZV4-A00. Check OEM part number before purchase. please message us engine, year and horsepower if you are not sure. || Water pump repair kit replacement for Honda Outboards 9.9 HP 15 HP 4-Stroke BF9.9AX BF9.9AY BF9.9AW BF15AX BF15AY BF15AW BF15A1 BF15A2 boat motor parts cooling system. more detailed information please see description below. || Compatibale with the outboards Sierra Marine 18-3280 18-3247 06193-ZV4-000. This impeller kit makes repair and maintenance of water pumps easy. || What is included: Water Pump Impeller 19210-ZV4-651, Sierra18-3247, Seal 91252-935-004, Key Driveshaft 90752-ZV4-000, Water pump Gasket 19232-ZV4-610 as pictures showed. || To find the correct water pump impeller rebuild kits for your boat motor, it is VERY IMPORTANT to check your outboard model or s/n before purchase. you can leave us messages e.g. boat engine model, horsepower or year if you're not sure. we're pleasure to help you.
06192-ZV4-A00 18-3278 Water Pump Impeller Repair Kit for Honda Outboard Marine
Aftermarket part: Brand ITACO || For Honda Outboard Part Number: 06192-ZV4-000, Sierra PN:18-3278 (IMPT: check OEM part number before purchase!!) || For Honda Outboard BF 8HP 9.9HP 15HP A Engine || Water Pump Repair Kit (Water Pump) - Include Impeller PN: 19210-ZV4-651, Key PN: 90752-ZV4-650, Impeller Gasket PN:(19232-ZV4-010, 19232-ZV4-610)
Sierra International, 18-3280, Water Pump Service Kit
Fits : Honda BF99A/BF15A || Visit Amazon's SONAR parts finder at fit-guideseastarsolutionscom to ensure this product will fit your application || All Sierra parts qualify for and are covered under Sierra's industry leading customer satisfaction warranty
Honda entire parts catalog list:
BF15A1 LA
2001
BF15A1 LAS
2001
BF15A1 SA
2001
BF15A1 SAS
2001
BF15A1 XAS
2001
BF15A2 LA
2002
BF15A2 LAS
2002
BF15A2 SA
2002
BF15A2 SAS
2002
BF15A2 XAS
2002
BF15AW LA
1998
BF15AW LAS
1998
BF15AW SA
1998
BF15AW SAS
1998
BF15AW XAS
1998
BF15AX LA
1999
BF15AX LAS
1999
BF15AX SA
1999
BF15AX SAS
1999
BF15AX XAS
1999
BF15AY LA
2000
BF15AY LAS
2000
BF15AY SA
2000
BF15AY SAS
2000
BF15AY XAS
2000
BF9.9AW LA
1998
BF9.9AW LAS
1998
BF9.9AW SA
1998
BF9.9AW SAS
1998
BF9.9AW XA
1998
BF9.9AW XAS
1998
BF9.9AX LA
1999
BF9.9AX LAS
1999
BF9.9AX SA
1999
BF9.9AX SAS
1999
BF9.9AX XA
1999
BF9.9AX XAS
1999
BF9.9AY LA
2000
BF9.9AY LAS
2000
BF9.9AY SA
2000
BF9.9AY SAS
2000
BF9.9AY XA
2000
BF9.9AY XAS
2000
Parts see Honda: