06192-ZW2-000 SEE PART DETAILS - SUP; IMPELLER KIT, WATER PUMP (Honda Code 6315915). Honda
BF25A1 LHA, BF25A1 LHSA, BF25A1 LRSA, BF25A1 SHA, BF25A1 SHSA, BF25A1 SRSA, BF25A1 XRSA, BF25A2 LHA, BF25A2 LHSA, BF25A2 LRSA, BF25A2 SHA, BF25A2 SHSA, BF25A2 SRSA, BF25A2 XRSA, BF25AW LHA, BF25AW LHSA, BF25AW LRSA, BF25AW SHA, BF25AW SHSA, BF25AW SR
SEE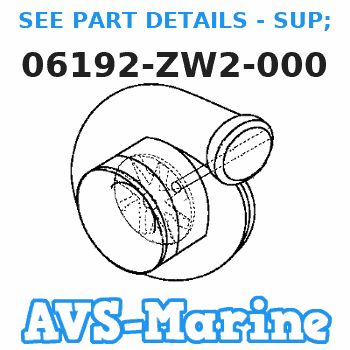 Buy
SEE PART DETAILS - SUP; IMPELLER KIT, WATER PUMP (Honda Code 6315915). 06192-ZW2-000 Honda
genuine, new aftermarket parts with delivery
You can buy parts:
As an associate, we earn commssions on qualifying purchases through the links below
06192-ZV7-000 18-3281 Water Pump Impeller Repair Kit For Honda Sierra 06192-ZW2-000 25 30 HP 4-Stroke Outboard 25HP 30HP BF25A BF25D BF30D BF30A (1998-UP)
????️■OEM#■:Replacing part numbers For Honda 06192-ZV7-000 06192-ZW2-000 Sierra 18-3281,perfectly match. || ????️■High Quality■:Original level of quality and durability, the impellers are manufactured from high quality rubber and will not be damaged even after long periods of immersion in salt water. || ????️■Buy With Confidence■:Highly rigid cardboard boxes and foam wool packaging ensure that your order is in mint condition before you receive it. || ????️■Inquiry Service■:Check your engine part number before you buy. If you're not sure, send us a message. We'll help you find the right part number for your engine. || ????️■Tips■:We will show more detailed information about the product on the details page below to ensure that we can help you to buy the correct replacement part.
06192-ZV7-000 Water Pump Impeller Repair Kit for Honda Outboard 06192-ZW2-000 Sierra 18-3281 25HP 30HP BF25A BF25D BF30A BF30D
✅【Note】Check manufacturer's recommended part numbers to ensure a proper fit For your application || ✅【Service】If you have a problem,We will take every step to assist you,Contact us and we will respond within 24 hours || ✅【Kit Includes】Impeller(19210-ZV7-003),Impeller Key(90752-ZV7-000),O-ring(91356-ZV5-000),Impeller Gasket(19233-ZV5-000),Please refer to the pic for package details. || ✅【Replace】BF25A 1998-2003 ◆BF25D 2004-UP ◆BF30A 1998-2003 ◆BF30D 2004-UP || ✅【OEM】06192-ZV7-000/06192-ZW2-000/18-3281
WINGOGO 06192-ZV7-000 Water Pump Impeller Repair Kit Replacement for Honda Outboards 4 Stroke 20 25 30 HP BF20 BF25 BF30 Boat Motor Engine Parts Sierra 18-3281 06192ZV7000 06192-ZW2-000
This water pump impeller service kit for Honda Outboards 06192-ZV7-000, 06192-ZW2-000. Check OEM part number before purchase. please message us engine, year and horsepower if you are not sure. || Water pump repair kit replacement for Honda Outboards 4-Stroke 25HP 30HP BF25A1, BF25A2, BF25A3, BF25AW, BF25AX, BF25AY, BF25A4, BF25A5, BF25A6, BF25DK0, BF25DK2, BF25DK3, BF30A1, BF30A2, BF30A3, BF30AW, BF30AX, BF30AY, BF30A4, BF30A5, BF30A6, BF30DK0, BF30DK2, BF30DK3 boat motor parts cooling system. more detailed information please see description below. || What is included: Water Pump Impeller 19210-ZV7-003, Sierra18-3249, Seal 91356-ZV5-000, Impeller Key, Driveshaft 90752-ZV7-000, Water pump Gasket 19233-ZV5-000 as pictures showed. || Designed for durability to provide higher flow rates and cooling flow to protect your engine. This impeller kit makes repair and maintenance of water pumps easy. Impeller elastomers provide improved flexibility across broad temperature ranges throughout the boating season. || To find the correct water pump impeller rebuild kits for your boat motor, it is VERY IMPORTANT to check your outboard model or s/n before purchase. you can leave us messages e.g. boat engine model, horsepower or year if you're not sure. we're pleasure to help you.
Honda entire parts catalog list:
BF25A1 LHA
2001
BF25A1 LHSA
2001
BF25A1 LRSA
2001
BF25A1 SHA
2001
BF25A1 SHSA
2001
BF25A1 SRSA
2001
BF25A1 XRSA
2001
BF25A2 LHA
2002
BF25A2 LHSA
2002
BF25A2 LRSA
2002
BF25A2 SHA
2002
BF25A2 SHSA
2002
BF25A2 SRSA
2002
BF25A2 XRSA
2002
BF25AW LHA
1998
BF25AW LHSA
1998
BF25AW LRSA
1998
BF25AW SHA
1998
BF25AW SHSA
1998
BF25AW SRSA
1998
BF25AW XRSA
1998
BF25AX LHA
1999
BF25AX LHSA
1999
BF25AX LRSA
1999
BF25AX SHA
1999
BF25AX SHSA
1999
BF25AX SRSA
1999
BF25AX XRSA
1999
BF25AY LHA
2000
BF25AY LHSA
2000
BF25AY LRSA
2000
BF25AY SHA
2000
BF25AY SHSA
2000
BF25AY SRSA
2000
BF25AY XRSA
2000
BF30A1 LHA
2001
BF30A1 LHSA
2001
BF30A1 LRSA
2001
BF30A1 SHA
2001
BF30A1 SRSA
2001
BF30A2 LHA
2002
BF30A2 LHSA
2002
BF30A2 LRSA
2002
BF30A2 SHA
2002
BF30A2 SRSA
2002
BF30AW LHA
1998
BF30AW LHSA
1998
BF30AW LRSA
1998
BF30AW SHA
1998
BF30AW SRSA
1998
BF30AX LHA
1999
BF30AX LHSA
1999
BF30AX LRSA
1999
BF30AX SHA
1999
BF30AX SRSA
1999
BF30AY LHA
2000
BF30AY LHSA
2000
BF30AY LRSA
2000
BF30AY SHA
2000
BF30AY SRSA
2000
Parts see Honda: