06193-ZV5-020 SEE PART DETAILS - PRI; PUMP KIT, IMPELLER (Honda Code 8862286). Honda
BF40A1 LHA, BF40A1 LHTA, BF40A1 LRA, BF40A1 LRTA, BF40A1 XRTA, BF40A2 LHA, BF40A2 LHTA, BF40A2 LRA, BF40A2 LRTA, BF40A2 XRTA, BF40A3 LHA, BF40A3 LHTA, BF40A3 LRA, BF40A3 LRTA, BF40A3 XRTA, BF40A4 LHA, BF40A4 LHTA, BF40A4 LRTA, BF40A5 LHA, BF40A5 LHTA
SEE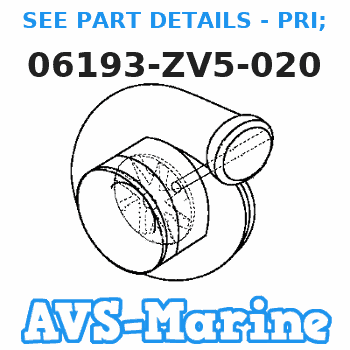 Buy
SEE PART DETAILS - PRI; PUMP KIT, IMPELLER (Honda Code 8862286). 06193-ZV5-020 Honda
genuine, new aftermarket parts with delivery
You can buy parts:
As an associate, we earn commssions on qualifying purchases through the links below
UanofCn 06193ZV5020 Water Pump lmpeller for Honda Mariner 4-Stroke BF35A BF40A BF40D BF45A BF50A and BF50D outboard Motor Marine 06193-ZV5-020
This is Honda Mariner Outboard Rubber Impeller Service Kit || Fits Honda Mariner Marine Outboard 4-Stroke BF35A BF40A BF40D BF45A BF50A and BF50D || Honda Mariner Original OEM Parrt Number 06193-ZV5-020 06193-ZV5-010 06193-ZV5-000 || All Selling UanofCn Brand Boat Parts were tested by market more than 25 years || If You Are Not Sure If the Part Fits Your Engine, Please Contact us or Send us Your Engine Model and We Will Get Back to You as soon as Possible
Forestity 06193-ZV5-020 Compatible with Honda 06193ZV5020 Water Pump Kit, for Honda Outboard BF35A BF40A BF45A BF50A BF40D BF50D
⛳Reference number: Honda 06193-ZV5-020, 06193-ZV5-010, 06193-ZV5-000. Please contact us with your serial number if you are not sure if this part is correct for your engine. || ⛳Accessories: Forestity water pump repair kit 06193-ZV5-020 compatible with honda BF35A, BF40A, BF40D, BF45A, BF50A, BF50D. || ⛳High-quality materials: preium rubber and stainless steel for maximum durability. || ⛳Features: This kit is awesome and comes with everything you will need for a complete impeller replacement came packaged well and for a great price all the parts where great quality as well. || ⛳Shipped fasted and received it sooner!
Honda entire parts catalog list:
BF40A1 LHA
2001
BF40A1 LHTA
2001
BF40A1 LRA
2001
BF40A1 LRTA
2001
BF40A1 XRTA
2001
BF40A2 LHA
2002
BF40A2 LHTA
2002
BF40A2 LRA
2002
BF40A2 LRTA
2002
BF40A2 XRTA
2002
BF40A3 LHA
2003
BF40A3 LHTA
2003
BF40A3 LRA
2003
BF40A3 LRTA
2003
BF40A3 XRTA
2003
BF40A4 LHA
2004
BF40A4 LHTA
2004
BF40A4 LRTA
2004
BF40A5 LHA
2005
BF40A5 LHTA
2005
BF40A5 LRTA
2005
BF40A6 LHA
2006
BF40A6 LHTA
2006
BF40A6 LRTA
2006
BF40AK0 LHA
2007
BF40AK0 LRTA
2007
BF40AY LHA
2000
BF40AY LHTA
2000
BF40AY LRA
2000
BF40AY LRTA
2000
BF40AY XRTA
2000
BF40DK2 LHA
2007
BF40DK2 LRTA
2007
BF50A1 LHTA
2001
BF50A1 LRA
2001
BF50A1 LRTA
2001
BF50A1 SRJA
2001
BF50A1 XRTA
2001
BF50A2 LHTA
2002
BF50A2 LRA
2002
BF50A2 LRTA
2002
BF50A2 SRJA
2002
BF50A2 XRTA
2002
BF50A3 LHTA
2003
BF50A3 LRA
2003
BF50A3 LRTA
2003
BF50A3 SRJA
2003
BF50A3 XRTA
2003
BF50A4 LHTA
2004
BF50A4 LRTA
2004
BF50A4 SRJA
2004
BF50A4 XRTA
2004
BF50A5 LHTA
2005
BF50A5 LRTA
2005
BF50A5 SRJA
2005
BF50A5 XRTA
2005
BF50A6 LHTA
2006
BF50A6 LRTA
2006
BF50A6 SRJA
2006
BF50A6 XRTA
2006
BF50AK0 LRTA
2007
BF50AK0 SRJA
2007
BF50AK0 XRTA
2007
BF50AY LHTA
2000
BF50AY LRA
2000
BF50AY LRTA
2000
BF50AY SRJA
2000
BF50AY XRTA
2000
BF50DK2 LRTA
2007
BF50DK2 XRTA
2007
Parts see Honda: