06193-ZV7-010 SEE PART DETAILS - SUP; PUMP KIT, IMPELLER (Honda Code 7452196). Honda
BF25A1 LHA, BF25A1 LHSA, BF25A1 LRSA, BF25A1 SHA, BF25A1 SHSA, BF25A1 SRSA, BF25A1 XRSA, BF25A2 LHA, BF25A2 LHSA, BF25A2 LRSA, BF25A2 SHA, BF25A2 SHSA, BF25A2 SRSA, BF25A2 XRSA, BF25A3 LHA, BF25A3 LHSA, BF25A3 LRSA, BF25A3 SHA, BF25A3 SHSA, BF25A3 SR
SEE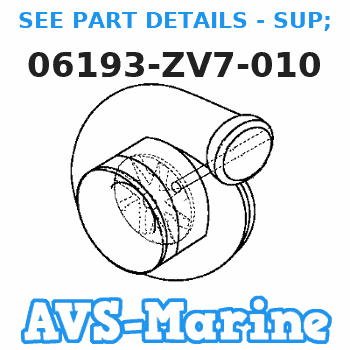 Buy
SEE PART DETAILS - SUP; PUMP KIT, IMPELLER (Honda Code 7452196). 06193-ZV7-010 Honda
genuine, new aftermarket parts with delivery
You can buy parts:
As an associate, we earn commssions on qualifying purchases through the links below
XARONF 06193-ZV7-020 Water Pump Impeller Repair Kit for Ho-nda Marine Outboard BF 25 35 HP Motor 06193-ZV7-010 18-3281
100% brand new and high quality. || Made of high quality material, durable and practical to use. || Delicate and exquisite, highly match the equipment. || Solid and durable, long service life. || Easy to install and reliable to use.
AlTurn Water Pump Impeller Kit BF25A,BF25D,BF30A,BF30D,06193-ZV7-020,06193-ZV7-010 Outboard Engines Replace
Plan starts on the date of purchase. Product breakdowns and malfunctions are covered after manufacturer's warranty. || No additional costs for repairs - parts, labor and shipping are all included. || Protection Plans are only valid for new products purchased from within the last 30 days. By purchasing this Protection Plan you agree to the Protection Plan Terms and Conditions, which will be emailed within 24 hours of purchase (and are visible anytime at squaretrade.com/terms). If you cannot find this email, please check your Spam folder. || Transferable with gifts. || Once you have received your order confirmation email, which includes your Protection Plan Terms and Conditions, you should not expect to receive any additional materials. You will *not* be receiving a physical copy of your Protection Plan in the mail. If you see a message within that says your Protection Plan order is running late or lost, you can disregard this. If you have any questions, please contact us at squaretrade.com/help or AMAZONFEEDBACK@SQUARETRADE.COM.Welcome to inquire
Honda entire parts catalog list:
BF25A1 LHA
2001
BF25A1 LHSA
2001
BF25A1 LRSA
2001
BF25A1 SHA
2001
BF25A1 SHSA
2001
BF25A1 SRSA
2001
BF25A1 XRSA
2001
BF25A2 LHA
2002
BF25A2 LHSA
2002
BF25A2 LRSA
2002
BF25A2 SHA
2002
BF25A2 SHSA
2002
BF25A2 SRSA
2002
BF25A2 XRSA
2002
BF25A3 LHA
2003
BF25A3 LHSA
2003
BF25A3 LRSA
2003
BF25A3 SHA
2003
BF25A3 SHSA
2003
BF25A3 SRSA
2003
BF25A3 XRSA
2003
BF25D4 LHA
2004
BF25D4 LHTA
2004
BF25D4 LRGA
2004
BF25D4 LRTA
2004
BF25D4 SHA
2004
BF25D4 SHGA
2004
BF25D4 SRGA
2004
BF25D4 SRTA
2004
BF25D5 LHA
2005
BF25D5 LHTA
2005
BF25D5 LRGA
2005
BF25D5 LRTA
2005
BF25D5 SHA
2005
BF25D5 SHGA
2005
BF25D5 SRGA
2005
BF25D5 SRTA
2005
BF25D6 LHA
2006
BF25D6 LHTA
2006
BF25D6 LRGA
2006
BF25D6 LRTA
2006
BF25D6 SHA
2006
BF25D6 SHGA
2006
BF25D6 SRGA
2006
BF25D6 SRTA
2006
BF25DK0 LHA
2007
BF25DK0 LRGA
2007
BF25DK0 LRTA
2007
BF25DK0 SHA
2007
BF25DK0 SHGA
2007
BF30A1 LHA
2001
BF30A1 LHSA
2001
BF30A1 LRSA
2001
BF30A1 SHA
2001
BF30A1 SRSA
2001
BF30A2 LHA
2002
BF30A2 LHSA
2002
BF30A2 LRSA
2002
BF30A2 SHA
2002
BF30A2 SRSA
2002
BF30A3 LHA
2003
BF30A3 LHSA
2003
BF30A3 LRSA
2003
BF30A3 SHA
2003
BF30A3 SRSA
2003
BF30D4 LHA
2004
BF30D4 LHTA
2004
BF30D4 LRGA
2004
BF30D4 LRTA
2004
BF30D4 SHGA
2004
BF30D4 SRTA
2004
BF30D5 LHA
2005
BF30D5 LHTA
2005
BF30D5 LRGA
2005
BF30D5 LRTA
2005
BF30D5 SHGA
2005
BF30D5 SRTA
2005
BF30D6 LHA
2006
BF30D6 LHTA
2006
BF30D6 LRGA
2006
BF30D6 LRTA
2006
BF30D6 SHGA
2006
BF30D6 SRTA
2006
BF30DK0 LHA
2007
BF30DK0 LRGA
2007
BF30DK0 LRTA
2007
BF30DK0 SRTA
2007
Parts see Honda: