06193-ZW9-020 SEE PART DETAILS - PRI; PUMP KIT, IMPELLER (Honda Code 8552978). Honda
BF8D3 LHA, BF8D3 LHSA, BF8D3 LRA, BF8D3 SA, BF8D3 SHA, BF8D3 SHSA, BF8D3 SRA, BF8D4 LHA, BF8D4 LHSA, BF8D4 LRA, BF8D4 SHA, BF8D4 SHSA, BF8D5 LHA, BF8D5 LHSA, BF8D5 LRA, BF8D5 SHA, BF8D5 SHSA, BF8D6 LHA, BF8D6 LHSA, BF8D6 LRA, BF8D6 SHA, BF8D6 SHSA, B
SEE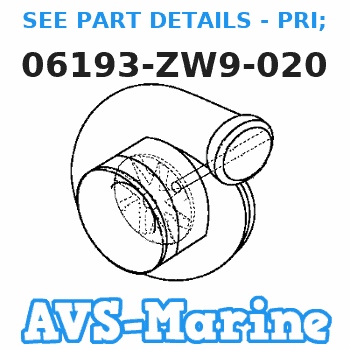 Buy
SEE PART DETAILS - PRI; PUMP KIT, IMPELLER (Honda Code 8552978). 06193-ZW9-020 Honda
genuine, new aftermarket parts with delivery
You can buy parts:
As an associate, we earn commssions on qualifying purchases through the links below
Forestity 06193ZW9020 Compatible with Honda 06193-ZW9-020 Water Pump Kit, for Honda Marine Outboard BF8D BFP8D BF9D BFP9.9D
⛳Reference number: Honda 06193-ZW9-020. Please contact us with your serial number if you are not sure if this part is correct for your engine. || ⛳Accessories: Forestity water pump repair kit 06193-ZW9-020 is suitable for honda 15" and 20" short and long shaft length BF8D BFP8D BF9.9D and BFP9.9D. Will not fit 25" extra long shaft motors. || ⛳High-quality materials: preium rubber and stainless steel for maximum durability. || ⛳Features: This kit is awesome and comes with everything you will need for a complete impeller replacement came packaged well and for a great price all the parts where great quality as well! || ⛳Shipped fasted and received it sooner.
06193-ZW9-020 Complete Water Pump Rebuild Kit for BF8D,BFP8D BF9D,BFP9.9D 06193-ZW9-020

Honda 06193-ZW9-000 Pump Kit Impeller
Genuine OEM Honda parts || 06193-ZW9-030 replaces old part number 06193-ZW9-020 || Compatible with Honda models: Compatible with Honda models: BF8D3 LHA, BF8D3 LHSA, BF8D3 LRA, BF8D3 SA, BF8D3 SHA, BF8D3 SHSA, BF8D3 SRA, BF8D4 LHA, BF8D4 LHSA, BF8D4 LRA, BF8D4 SHA, BF8D4 SHSA, BF8D5 LHA, BF8D5 LHSA, BF8D5 LRA, BF8D5 SHA, BF8D5 SHSA, BF8D6 LHA, BF8D6 LHSA, BF8D6 LRA, BF8D6 SHA, BF8D6 SHSA, BF8DK0 LHA, BF8DK0 LHSA, BF8DK0 SHA, BF8DK2 LHA, BF8DK2 LHSA, BF8DK2 SHA, BF8DK3 LHA, BF8DK3 LHSA, BF8DK3 SHA, BF9.9D3 LHA, BF9.9D3 LHSA, BF9.9D3 LRA, BF9.9D3 SA, BF9.9D3 SHA, BF9.9D3 SHSA, BF9.9D3 SRA, || BF9.9D4 LHA, BF9.9D4 LHSA, BF9.9D4 LRA, BF9.9D4 SHA, BF9.9D4 SHSA, BF9.9D4 SRTA, BF9.9D5 LHA, BF9.9D5 LHSA, BF9.9D5 LRA, BF9.9D5 SHA, BF9.9D5 SHSA, BF9.9D5 SRTA, BF9.9D6 LHA, BF9.9D6 LHSA, BF9.9D6 LRA, BF9.9D6 SHA, BF9.9D6 SHSA, BF9.9D6 SRTA, BF9.9DK0 LHA, BF9.9DK0 LHSA, BF9.9DK0 LRA, BF9.9DK0 SHA, BF9.9DK0 SHSA, BF9.9DK2 LHA, BF9.9DK2 LHSA, BF9.9DK2 LRA, BF9.9DK2 SHA, BF9.9DK2 SHSA, BF9.9DK3 LHA, BF9.9DK3 LHSA, BF9.9DK3 LRA, BF9.9DK3 SHA, BF9.9DK3 SHSA, BFP8D3 LHA, BFP8D3 LHSA, BFP8D3 LRA, || BFP8D4 LHA, BFP8D4 LHTA, BFP8D4 LRTA, BFP8D5 LHA, BFP8D5 LHTA, BFP8D5 LRTA, BFP8D6 LHA, BFP8D6 LHTA, BFP8D6 LRTA, BFP8DK0 LHA, BFP8DK0 LHTA, BFP8DK0 LRTA, BFP8DK2 LHTA, BFP8DK2 LRTA, BFP8DK3 LHTA, BFP8DK3 LRTA, BFP9.9D3 LHA, BFP9.9D3 LHSA, BFP9.9D3 LRA, BFP9.9D4 LHA, BFP9.9D4 LHTA, BFP9.9D4 LRA, BFP9.9D4 LRTA, BFP9.9D5 LHA, BFP9.9D5 LHTA || Please Note: May not fit all specs of above models listed, please consult owner's manual for proper part number identification and proper installation
Honda entire parts catalog list:
BF8D3 LHA
2003
BF8D3 LHSA
2003
BF8D3 LRA
2003
BF8D3 SA
2003
BF8D3 SHA
2003
BF8D3 SHSA
2003
BF8D3 SRA
2003
BF8D4 LHA
2004
BF8D4 LHSA
2004
BF8D4 LRA
2004
BF8D4 SHA
2004
BF8D4 SHSA
2004
BF8D5 LHA
2005
BF8D5 LHSA
2005
BF8D5 LRA
2005
BF8D5 SHA
2005
BF8D5 SHSA
2005
BF8D6 LHA
2006
BF8D6 LHSA
2006
BF8D6 LRA
2006
BF8D6 SHA
2006
BF8D6 SHSA
2006
BF8DK0 LHA
2007
BF8DK0 LHSA
2007
BF8DK0 SHA
2007
BF8DK2 LHA
2007
BF8DK2 LHSA
2007
BF8DK2 SHA
2007
BF8DK3 LHA
2007
BF8DK3 LHSA
2007
BF8DK3 SHA
2007
BF9.9D3 LHA
2003
BF9.9D3 LHSA
2003
BF9.9D3 LRA
2003
BF9.9D3 SA
2003
BF9.9D3 SHA
2003
BF9.9D3 SHSA
2003
BF9.9D3 SRA
2003
BF9.9D4 LHA
2004
BF9.9D4 LHSA
2004
BF9.9D4 LRA
2004
BF9.9D4 SHA
2004
BF9.9D4 SHSA
2004
BF9.9D4 SRTA
2004
BF9.9D5 LHA
2005
BF9.9D5 LHSA
2005
BF9.9D5 LRA
2005
BF9.9D5 SHA
2005
BF9.9D5 SHSA
2005
BF9.9D5 SRTA
2005
BF9.9D6 LHA
2006
BF9.9D6 LHSA
2006
BF9.9D6 LRA
2006
BF9.9D6 SHA
2006
BF9.9D6 SHSA
2006
BF9.9D6 SRTA
2006
BF9.9DK0 LHA
2007
BF9.9DK0 LHSA
2007
BF9.9DK0 LRA
2007
BF9.9DK0 SHA
2007
BF9.9DK0 SHSA
2007
BF9.9DK2 LHA
2007
BF9.9DK2 LHSA
2007
BF9.9DK2 LRA
2007
BF9.9DK2 SHA
2007
BF9.9DK2 SHSA
2007
BF9.9DK3 LHA
2007
BF9.9DK3 LHSA
2007
BF9.9DK3 LRA
2007
BF9.9DK3 SHA
2007
BF9.9DK3 SHSA
2007
BFP8D3 LHA
2003
BFP8D3 LHSA
2003
BFP8D3 LRA
2003
BFP8D4 LHA
2004
BFP8D4 LHTA
2004
BFP8D4 LRTA
2004
BFP8D5 LHA
2005
BFP8D5 LHTA
2005
BFP8D5 LRTA
2005
BFP8D6 LHA
2006
BFP8D6 LHTA
2006
BFP8D6 LRTA
2006
BFP8DK0 LHA
2007
BFP8DK0 LHTA
2007
BFP8DK0 LRTA
2007
BFP8DK0 XHSA
2007
BFP8DK2 LHTA
2007
BFP8DK2 LRTA
2007
BFP8DK3 LHTA
2007
BFP8DK3 LRTA
2007
BFP9.9D3 LHA
2003
BFP9.9D3 LHSA
2003
BFP9.9D3 LRA
2003
BFP9.9D4 LHA
2004
BFP9.9D4 LHTA
2004
BFP9.9D4 LRA
2004
BFP9.9D4 LRTA
2004
BFP9.9D5 LHA
2005
BFP9.9D5 LHTA
2005
BFP9.9D5 LRA
2005
BFP9.9D5 LRTA
2005
BFP9.9D6 LHA
2006
BFP9.9D6 LHTA
2006
BFP9.9D6 LRA
2006
BFP9.9D6 LRTA
2006
BFP9.9DK0 LHA
2007
BFP9.9DK0 LHTA
2007
BFP9.9DK0 LRA
2007
BFP9.9DK0 LRTA
2007
BFP9.9DK0 XHA
2007
BFP9.9DK0 XHSA
2007
BFP9.9DK0 XHTA
2007
BFP9.9DK0 XRTA
2007
BFP9.9DK2 LHTA
2007
Parts see Honda: