12342-RYE-004 SEE PART DETAILS - PRI; SEAL, SPARK PLUG TUBE (NOK) Honda
BF115AK0 LA, BF115AK0 XA, BF175AK1 LA, BF175AK1 XA, BF175AK1 XCA, BF200A2 LA, BF200A2 XA, BF200A2 XCA, BF200A2 XXA, BF200A2 XXCA, BF200A3 LA, BF200A3 XA, BF200A3 XCA, BF200A3 XXA, BF200A3 XXCA, BF200A4 LA, BF200A4 XA, BF200A4 XCA, BF200A4 XXA, BF200A
SEE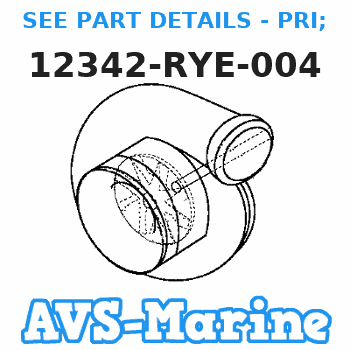 Buy
SEE PART DETAILS - PRI; SEAL, SPARK PLUG TUBE (NOK) 12342-RYE-004 Honda
genuine, new aftermarket parts with delivery
You can buy parts:
As an associate, we earn commssions on qualifying purchases through the links below
AUCERAMIC Replacement Valve Cover Gasket Set fit for 2004-2008 for ACURA TL MDX RL 03-05 for HONDA ACCORD 05-09 for HONDA ODYSSEY 3.0L 3.2L 3.5L VS50607R
FIT FOR:Valve cover gasket fit for 2003-2007 for HONDA ACCORD 3.0L, 05-09 for HONDA ODYSSEY 3.5L, 2005-2008 for HONDA PILOT 3.5L || DURABLE TO USE:Made with high quality materials for durability. || PART NO.:12341RCAA01,12341-RCA-A01, 12342RYE004,12342-RYE-004, 90442P8AA00,12030RCAA01,12030-RCA-A01, VS50607R,   VS50426,0361853  || PACKAGE INCLUDE:2X Valve Cover Gasket,6X Spark Plug Tube Seals,10X Grommets || ALL NEW MATERAIL:They are manufactured from all new materials and high quality FKM and NBR rubber
X AUTOHAUX 12341-P2F-A00 12341-P08-000 12342-RYE-004 Cylinder Head Gasket Valve Cover Gasket Replacement for Honda Civic
OE Number: 12341-P2F-A00/12341-P08-000/12342-RYE-004; Size:40x17cm / 15.75"x6.69"(L*W) || Fitment: for Honda Civic. || Good sealing performance, long service life and long durability. || Direct replacement for a proper fit and easy installation. || Good oil resistance, heat resistance and abrasion resistance.
TBK Timing Belt Kit Replacement For Honda Accord 1998 to 2002 Dx Lx Ex VP 4cyl Aisin Water Pump Koyo Bearings, Bando Drive Belts Springs and Seals
MOST INCLUSIVE KITS Everything needed to the complete the job except antifreeze and RTV sealant || REPLACEMENT AND TIME Recommended replacement interval every 105,000 miles or 84 months whichever occurs first. 3.6 Trained mechanic hours || OEM PARTS 14400-PAA-A02 Timing Belt Bando or Mitsuboshi 13405-PAA-A03, Balance Shaft Belt Bando or MitsuboshiBrand 14510-PT0-004, Timing Belt Tensioner Koyo Brand 13404-PT0-004, Balance Shaft Belt Tensioner Koyo Brand 19200-P0A-003 Water Pump Aisin Brand || SEALS AND GASKETS 12341-P0A-000, Valve Cover Gasket 12342-RYE-004, Spark Plug Tube Seals x 4 90442-P0A-000, Valve Cover Seal Washers x 5 91213-PT0-003, Camshaft Seal 91212-PAA-A01, Crankshaft Seal 91233-PT0-003 Balance Shaft Seal 06923-P0A-306 Balance Shaft Retainer || FACTORY SPRINGS 14516-P0A-000 Timing Belt Tensioner Spring 13407-P0A-000 Balance Shaft Tensioner Spring
Honda entire parts catalog list:
BF115AK0 LA
2007
BF115AK0 XA
2007
BF175AK1 LA
2007
BF175AK1 XA
2007
BF175AK1 XCA
2007
BF200A2 LA
2002
BF200A2 XA
2002
BF200A2 XCA
2002
BF200A2 XXA
2002
BF200A2 XXCA
2002
BF200A3 LA
2003
BF200A3 XA
2003
BF200A3 XCA
2003
BF200A3 XXA
2003
BF200A3 XXCA
2003
BF200A4 LA
2004
BF200A4 XA
2004
BF200A4 XCA
2004
BF200A4 XXA
2004
BF200A4 XXCA
2004
BF200A5 LA
2005
BF200A5 XA
2005
BF200A5 XCA
2005
BF200A5 XXA
2005
BF200A5 XXCA
2005
BF200A6 LA
2006
BF200A6 XA
2006
BF200A6 XCA
2006
BF200A6 XXA
2006
BF200A6 XXCA
2006
BF200AK0 LA
2007
BF200AK0 XA
2007
BF200AK0 XCA
2007
BF200AK1 LA
2007
BF200AK1 XA
2007
BF200AK1 XCA
2007
BF225A2 LA
2002
BF225A2 XA
2002
BF225A2 XCA
2002
BF225A2 XXA
2002
BF225A2 XXCA
2002
BF225A3 LA
2003
BF225A3 XA
2003
BF225A3 XCA
2003
BF225A3 XXA
2003
BF225A3 XXCA
2003
BF225A4 LA
2004
BF225A4 XA
2004
BF225A4 XCA
2004
BF225A4 XXA
2004
BF225A4 XXCA
2004
BF225A5 LA
2005
BF225A5 XA
2005
BF225A5 XCA
2005
BF225A5 XXA
2005
BF225A5 XXCA
2005
BF225A6 LA
2006
BF225A6 XA
2006
BF225A6 XCA
2006
BF225A6 XXA
2006
BF225A6 XXCA
2006
BF225AK0 LA
2007
BF225AK0 XA
2007
BF225AK0 XCA
2007
BF225AK0 XXA
2007
BF225AK0 XXCA
2007
BF225AK1 LA
2007
BF225AK1 XA
2007
BF225AK1 XCA
2007
BF225AK1 XXA
2007
BF225AK1 XXCA
2007
BF250A LA
2007
BF250A XA
2007
BF250A XCA
2007
BF250A XXA
2007
BF250A XXCA
2007
Parts see Honda: