5033541 WATER PUMP REPAIR KIT JOHNSON
BJ115L4SDA, BJ115L4SRC, BJ115L4STS, BJ140CX4DR, BJ140CX4SRS, BJ140L4SDR, BJ140PL4SRS, BJ90PL4SDA, BJ90PL4SRC, BJ90PL4STS, J115PL4SOR, J140CX4SOR, J140CX4STS, J140PL4SOR, J140PL4STS, J140PX4SOR, J90PL4SOR
WATER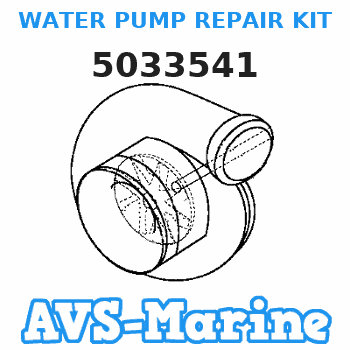 Buy
WATER PUMP REPAIR KIT 5033541 JOHNSON
genuine, new aftermarket parts with delivery
You can buy parts:
As an associate, we earn commssions on qualifying purchases through the links below
Forestity Compatible with Sierra 18-3258 Johnson Evinrude 5033541 Suzuki 17400-90J20 90HP 115HP 140HP 17400-90J11/90J10/90J01/90J00
⛳Reference number: Suzuki 17400-90J20 17400-90J11 17400-90J10 17400-90J01 17400-90J00 Johnson Evinrude 5033541 Sierra 18-3258. || ⛳Accessories: Forestity water pump repair kit is suitable for 90/115/140 HP Suzuki outboard motors DF90, DF100, DF115, DF140 boat parts replacement cooling system. || ⛳Complete Kit includes:Impeller(17461-90J01/5033542),Keystone(09420-05009/5033632),Impeller Plate(17471-92J00/5030724),Gasket (17472-87E10/5030725),Please refer to the pic for package details. || ⛳High-quality materials: preium rubber and stainless steel for maximum durability. || ⛳Features: It can provide higher flow and cooling flow to protect your engine.
17400-90J20 5033541 18-3258 Water Pump Impeller Repair Kit For Suzuki Johnson Evinrude Sierra 90 115 140 HP Outboard 90HP 115HP 140HP DF90T DF100T DF115T DF140T 17400-90J11/90J10/90J01/90J00
????️■OEM#■:Replacing part numbers For Suzuki 17400-90J20 17400-90J11 17400-90J10 17400-90J01 17400-90J00 Johnson Evinrude 5033541 Sierra 18-3258,perfectly match. || ????️■High Quality■:Original level of quality and durability, the impellers are manufactured from high quality rubber and will not be damaged even after long periods of immersion in salt water. || ????️■Buy With Confidence■:Highly rigid cardboard boxes and foam wool packaging ensure that your order is in mint condition before you receive it. || ????️■Inquiry Service■:Check your engine part number before you buy. If you're not sure, send us a message. We'll help you find the right part number for your engine. || ????️■Tips■:We will show more detailed information about the product on the details page below to ensure that we can help you to buy the correct replacement part.
RUIJADE 5033541 Compatible with Johnson Evinrude Sierra 18-3258 17400-90J20 Suzuki 17400-90J11 17400-90J10 Water Pump Impeller Repair Kit Replacement for Suzuki Outboard 4 Stroke
????【17400-90J20】 This is Top Quality Aftermarket Outboard Impeller Water Pump Repair Kit. Fits Suzuki 17400-90J20, Sierra 18-3258. || ????【Kit Includes】 Water Pump Impeller 17461-90J01,17400-90J00, 5033542 Sierra 18-3023 Key 09420-05009, 5033632 Wear Plate 17471-92J00 17471-87E01 5030724 Gasket 17472-87E10, 5030725 as pictures showed. || ????【Applications】 This water pump rebuild kit fits Suzuki outboard 4 stroke 90hp 100hp 115HP 140HP boat motors engine parts model DF90 DF100 DF115 DF140T DF140Z boat accessories cooling system. Also fits Johnson Evinrude OMC outboard 4 storke EFI 90/150/140 HP (2003-2005) 5033541 0778241 778241. || ????【High Quality】 Made to meet or exceed OEM specifications. Extremely high quality metal alloys and modern neoprene which keep a spare in the toughest marine environment. || ????【Fast Shipping】Ship from USA. Orders will be processed under 24 hours.
BRP JOHNSON entire parts catalog list:
BJ115L4SDA, BJ115PX4SDA, J115PL4SDA, J115PX4SDA
2006
BJ115L4SRC, BJ115X4SRC, J115PL4SRC, J115PX4SRC
2004
BJ115L4STS, BJ115X4STS, J115PL4STS, J115PX4STS
2003
BJ140CX4DR, J140CX4SDA
2006
BJ140CX4SRS, J140CX4SRC
2004
BJ140L4SDR, BJ140X4SDR, J140PL4SDA, J140PX4SDA
2006
BJ140PL4SRS, BJ140PX4SRS, J140PL4SRC, J140PX4SRS
2004
BJ90PL4SDA, BJ90PX4SDA, J90PL4SDA, J90PX4SDA
2006
BJ90PL4SRC, BJ90PX4SRC, J90PL4SRC, J90PX4SRC
2004
BJ90PL4STS, BJ90PX4STS, J90PL4STS, J90PX4STS
2003
J115PL4SOR, J115PX4SOR
2005
J140CX4SOR
2005
J140CX4STS
2003
J140PL4SOR
2005
J140PL4STS, J140PX4STS
2003
J140PX4SOR
2005
J90PL4SOR, J90PX4SOR
2005
Parts water JOHNSON:
5037176 WATER PUMP REPAIR KIT
BJ115L4SDA, BJ140CX4DR, BJ140L4SDR, BJ90PL4SDA