0438562 FUEL PUMP ASSY. JOHNSON
BJ10RELEUS, BJ10RHLSDA, BJ10RHLSOR, BJ10RHLSRC, BJ10RHLSTS, BJ15RELEUC, HJ15KCF, HJ15KCLO, J10EECC, J10ELEER, J10ELSIM, J10ELSSA, J10RLSUR, J15EECR, J15ELEEA, J15ELSIB, J15ELSSM, J15RLSDR, J15RLSOC, J15RLSRS, J15RLSTD, J15RLSUA, J15WREES, J15WRLSIR,
FUEL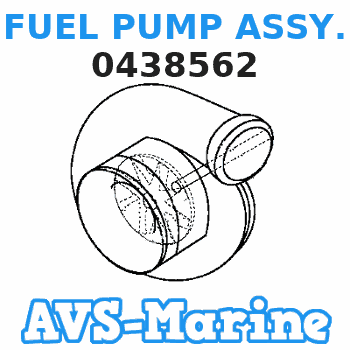 Buy
FUEL PUMP ASSY. 0438562 JOHNSON
genuine, new aftermarket parts with delivery
You can buy parts:
OMGparts 0434728 0438562 Fuel Pump For Johnson Evinrude 9.9 10 15 HP Outboard Sireea 18-7351 1993-2007
✅【OEM】For 434728,438562 || ✅【Replace】For Johnson Evinrude Fuel Pump || ✅【Note】Check manufacturer's recommended part numbers to ensure a proper fit For your application || ✅【Warranty】1-year warranty protects you after your purchase || ✅【Service】If you have a problem,We will take every step to assist you,Contact us and we will respond within 24 hours
Weupup Fuel Pump for Johnson Evinrude Outboard 9.9hp 15hp 1993-06 18-7351 438562 0438562 438562 0434728 434728
OEM:438562 0438562 438562 0434728 434728 || Fuel Pump for Johnson Evinrude Outboard 9.9hp 15hp || High quality:Made of super quality material, exact equivalent part meets the original manufacturer's specifications and features || Package includes: 1 Fuel Pump & 1 Gasket
TOOWGM Fuel Pump OEM 18-7351 434728 0438562 438562 Compatible For Johnson Evinrude Outboard 9.9, 15 hp 1993-06 Rplcs
★OEM/ PART NUMBER:18-7351 434728 0438562 438562 || ★Please carefully check your product OE number or car model. Please check the pictures of product detail, thank you! || ★MATERIAL:We only use the highest grade materials,built to Strict Quality Control Standards, Meets the OEM standards.Every product must take inspected and tested multiple times before the shipment. || ★NOTICE: Please use the year/make/model drop down bar confirm the compatibility before purchasing. And make sure our part number is the same with your existing one before purchase! || ★WARRANTY: We offer a long time warranty, true worry-free shopping experience.
BRP JOHNSON entire parts catalog list:
BJ10RELEUS, J10EEUS, J10ELEUS, J10RELEUS, J10REUS, J10RLEUS, J10SELEUS
1997
BJ10RHLSDA, BJ10RHSDA, J10RLSDC, J10RSDC
2006
BJ10RHLSOR, BJ10RHSOR, J10RLSOS, J10RSOS
2005
BJ10RHLSRC, BJ10RHSRC, J10RLSRD, J10RSRD
2004
BJ10RHLSTS, BJ10RHSTS, J10RLSTE, J10RSTE
2003
BJ15RELEUC, J15EEUC, J15ELEUC, J15RELEUC, J15REUC, J15RLEUC, SJ15BAEUR
1997
HJ15KCF, HJ15KCLF, HJ15RPLW, HJ15RPW, SJ15RPLW, SJ15RPW
1997
HJ15KCLO, HJ15KCO, SJ15RPC, SJ15RPLC
1998
J10EECC, J10ELECC, J10RECC, J10RELECC, J10RLECC, J10SELECC
1998
J10ELEER, J10REER, J10RLEER, J10TEEER, J10TELEER
1999
J10ELSIM, J10EVLSIC, J10RGTSIC, J10RLGTSIC, J10RLSIM, J10RSIM, J10RVLSIC, J10RVSIC, J10TEGTSIC, J10TELSIM, J10TESIM, J10TVESIM
2001
J10ELSSA, J10EVLSSS, J10RGTSSS, J10RLGTSSS, J10RLSSA, J10RSSA, J10RVLSSS, J10RVSSS, J10TEGSSS, J10TELSSA, J10TESSA
2000
J10RLSUR, J10RSUR
2007
J15EECR, J15ELECR, J15RECR, J15RELECR, J15RLECR, SJ15BAECA
1998
J15ELEEA, J15REEA, J15RLEEA, J15TEEEA, J15TELEEA, SJ15BAEEM, SJ15RTEEM
1999
J15ELSIB, J15EVLSIC, J15RLSIB, J15RSIB, J15RVLSIC, J15RVSIC, J15TELSIB, J15TESIB, J15TVESIB, SJ15RTSIR
2001
J15ELSSM, J15EVLSSS, J15RLSSM, J15RSSM, J15RVLSSS, J15RVSSS, J15TELSSM, J15TESSM, SJ15RTSSB
2000
J15RLSDR, J15RSDR, J15RTSDC
2006
J15RLSOC, J15RSOC, J15RTSOS, J15WRLSOB, J15WRSOB
2005
J15RLSRS, J15RSRS, J15WRLSRM, J15WRSRM
2004
J15RLSTD, J15RSTD
2003
J15RLSUA, J15RSUA, J15RTSUR
2007
J15WREES, J15WRLEES
1999
J15WRLSIR, J15WRSIR
2001
J15WRLSSC, J15WRSSC
2000
SJ10RPLT, SJ10RPT
1997
SJ10RPLY, SJ10RPY
1998
Parts fuel JOHNSON: