0385528 IMPELLER ASSEMBLY JOHNSON
115EL77S, 115ESL73M, 115ESL74B, 115ESL75E, 115ETZ78C, 115TXL77S, 135ESL73M, 135ESL74B, 135ESL75E, 140ML77S, 140ML78C, 150TL78S, 175TL77S, 175TL78C, 200TL76S, 200TL77C, 200TL78R, 235TL78R, 85EL76D, 85EL77S, 85ESL73M, 85ESL74B, 85ESL75E, 85ETLR78C, 85T
IMPELLER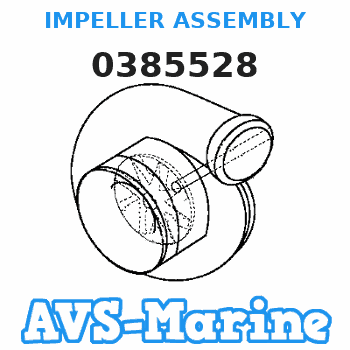 Buy
IMPELLER ASSEMBLY 0385528 JOHNSON
genuine, new aftermarket parts with delivery
You can buy parts:
RUIJADE 389642 777212 385528 for Johnson Evinrude OMC Water Pump Impeller Replacement Sierra 18-3043 Outboard Motors 85 115 135 140 150 175 200 235 HP
????【Part Number】 This is Top Quality Aftermarket Impeller. Evinrude Johnson OMC outboard motors 0777212, 0777823, 0389642, 0385528, 777212, 777823, 389642, 385528. Sierra 18-3043. || ????【Size】 Neoprene Water Pump Impeller Brass Hub Number of Blades: 6 Height:32.40mm External Impeller Overall Diameter:90.50mm Internal shaft Hub Diameter:22.30mm Net Weight: 143g || ????【Applications】 Water pump impeller replacement for evinrude johnson omc outboard 85HP 115HP 135HP 140HP 150HP 175HP 200HP 235HP V4 V6 V8 boat motor engine parts cooling system. || ????【Service】 To ensure this Impeller is suitable for your boat motor, It is VERY IMPORTANT to check your outboard Model or S/N before purchase. Please Message us if you are not sure. || ????【Fast Shipping】Ship from USA. Orders will be processed under 24 hours.
389642 777212 Water Pump Impeller For Evinrude Johnson 85 115 135 140 175 200 HP V4 V6 Outboard Sierra 18-3043 0389642 0777212 0385528 85HP 115HP 135HP 140HP 175HP 200HP 235HP
????️■OEM#■:Replacing part numbers For Evinrude Johnson OMC 0389642 0777212 0385528 0777823 Sierra 18-3043 Mallory 9-45203,perfectly match. || ????️■High Quality■:Original level of quality and durability, the impellers are manufactured from high quality rubber and will not be damaged even after long periods of immersion in salt water. || ????️■Buy With Confidence■:Highly rigid cardboard boxes and foam wool packaging ensure that your order is in mint condition before you receive it. || ????️■Inquiry Service■:Check your engine part number before you buy. If you're not sure, send us a message. We'll help you find the right part number for your engine. || ????️■Tips■:We will show more detailed information about the product on the details page below to ensure that we can help you to buy the correct replacement part.
Eghrer Replacement for Johnson Evinrude Outboard Motor Water Pump Impeller 389642 385528 777212 777823 0389642 0385528 0777212 0777823 18-3043
【Fitment】Eghrer Replacement for Water Pump Impeller : 85HP-235HP Please properly verify the Year/Make/Model before purchasing. || 【Replaces Number】389642 385528 777212 777823 0389642 0385528 0777212 0777823 18-3043 Water Pump Impeller.It could correctly replace the original part. || 【Features】The impeller pumps cold water into your boat's engine to cool it during use. The water pump impeller is very important to your outboard engine. It is recommended to maintain the water pump every 1-3 years. It can help you save time and money || 【Sturdy and Durable】Upgraded materials, The reinforced rubber used in the impeller and This stainless steel used in insert cup are ​corrosion-resistant and scratch-resistant. || 【Package Included】Water Pump Impeller includes all items as pictured. Please make sure the part number before purchase. This water pump impeller is easy to install, but professional installation is always recommended.
BRP JOHNSON entire parts catalog list:
115EL77S, 115ETL77
1977
115ESL73M
1973
115ESL74B, 115ETL74B
1974
115ESL75E, 115ETL75E
1975
115ETZ78C, 115ML78C, 115TXL78C
1978
115TXL77S
1977
135ESL73M
1973
135ESL74B, 135ETL74B
1974
135ESL75E, 135ETL75E
1975
140ML77S, 140TL77S, 140TXL77S
1977
140ML78C, 140TL78C, 140TX78C
1978
150TL78S, 150TXL78S
1978
175TL77S, 175TXL77S
1977
175TL78C, 175TX78C
1978
200TL76S, 200TXL76S
1976
200TL77C, 200TXL77C
1977
200TL78R, 200TX78R
1978
235TL78R, 235TX78R
1978
85EL76D, 85EL76G, 85ETLR76D, 85ETLR76G
1976
85EL77S, 85ETLR77S
1977
85ESL73M
1973
85ESL74B
1974
85ESL75E
1975
85ETLR78C, 85ML78C, 85TXLR78C
1978
85TXLR77S
1977
Parts impeller JOHNSON: