0386084 IMPELLER JOHNSON
10E74G, 10E75C, 10E76G, 10E77A, 10E78M, 10EL79B, 15E74G, 15E75C, 15E76A, 15E77M, 15E78B, 15E79E, BJ10EEDD, BJ10FAEDC, BJ10FAEUR, BJ10FDLECM, BJ10FDLEDR, BJ10FDLEUA, BJ10RELEUS, BJ10RHLSDA, BJ10RHLSOR, BJ10RHLSRC, BJ10RHLSTS, BJ15EEDS, BJ15FAEDR, BJ15
IMPELLER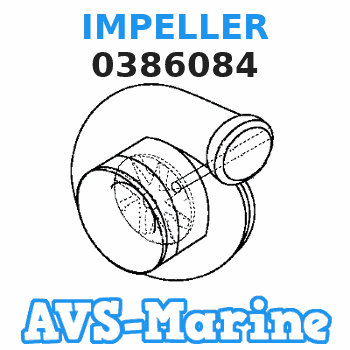 Buy
IMPELLER 0386084 JOHNSON
genuine, new aftermarket parts with delivery
You can buy parts:
Forestity Water Pump Impeller 386084 0386084 with Key Replacement for Evinrude Johnson OMC BRP Outboards 8HP 9.9HP 15HP Boat Motor Accessories Engine Parts Sierra Marine 18-3050

OMGParts Impeller for Johnson/Evinrude/OMC 8hp 9.9hp 15hp Outboard 0386084 Sierra 18-3050 Water Pump 2,4-Stroke 2-Cylinders 1996-2007
✅【Replace】For Johnson/Evinrude/OMC Impeller || ✅【Size】OD: 1.505 Bore: 0.502 Thickness: 0 ROUND Blades: 6 || ✅【Service】Please refer the products detials page or contact our customer service team For specific || ✅【Part Number】For 0386084 18-3050
0386084 0777817 Water Pump Impeller For Evinrude Johnson 8/9.9/10/15 HP 386084 777817 2/4 Stroke Outboard Sierra 18-3050 8HP 9.9HP 10HP 15HP
????️■OEM#■:Replacing part numbers For Evinrude Johnson OMC 0386084 0777817 Sierra 18-3050 Mallory 9-45201,perfectly match. || ????️■High Quality■:Original level of quality and durability, the impellers are manufactured from high quality rubber and will not be damaged even after long periods of immersion in salt water. || ????️■Buy With Confidence■:Highly rigid cardboard boxes and foam wool packaging ensure that your order is in mint condition before you receive it. || ????️■Inquiry Service■:Check your engine part number before you buy. If you're not sure, send us a message. We'll help you find the right part number for your engine. || ????️■Tips■:We will show more detailed information about the product on the details page below to ensure that we can help you to buy the correct replacement part.
BRP JOHNSON entire parts catalog list:
10E74G, 10E74S, 10EL74G, 10ELT4S, 10R74G, 10R74S, 10RL74G, 10RL74S
1974
10E75C, 10EL75C, 10R75C, 10RL75C
1975
10E76G, 10E76H, 10E76R, 10EL76G, 10EL76H, 10EL76R, 10R76G, 10R76H, 10R76R, 10RL76G, 10RL76H, 10RL76R
1976
10E77A, 10EL77A, 10R77A, 10RL77A
1977
10E78M, 10EL78M, 10R78M, 10RL78M, 10SEL78M
1978
10EL79B, 10R79B, 10RL79B, 10SEL79B
1979
15E74G, 15E74S, 15EL74G, 15EL74S, 15R74G, 15R74S, 15RL74G, 15RL74S
1974
15E75C, 15EL75C, 15R75C, 15RL75C
1975
15E76A, 15E76R, 15EL76A, 15EL76R, 15R76A, 15R76R, 15RL76A, 15RL76R
1976
15E77M, 15EL77M, 15R77M, 15RL77M
1977
15E78B, 15EL78B, 15R78B, 15RL78B
1978
15E79E, 15EL79E, 15R79E, 15RL79E
1979
BJ10EEDD, BJ10ELEDD, BJ10REDD, BJ10RELEDD, BJ10RLEDD, BJ10SELEDD, J10EEDD, J10ELEDD, J10REDD, J10RELEDD, J10RLEDD, J10SELEDD
1996
BJ10FAEDC, BJ10FCLEDC, BJ10FWEDC, BJ10FWLEDC, HJ10FDEDC, HJ10FDLEDC, HJ10FELEDC, HJ10FTEDC, HJ10FTLEDC
1996
BJ10FAEUR, BJ10FCLEUR, BJ10FWEUR, BJ10FWLEUR, HJ10FELEUR, HJ10FOEUR, HJ10FOLEUR, HJ10FTEUR, HJ10FTLEUR
1997
BJ10FDLECM, J10FEXECM, J10FRECM, J10FRELECM, J10FRLECM
1998
BJ10FDLEDR, BJ10FPXEDC, BJ10FRELDR, J10FEXEDR, J10FREDR, J10FRELEDR, J10FRLEDR
1996
BJ10FDLEUA, BJ10FPXEUR, BJ10FRELUA, J10FEXEUA, J10FRELEUA, J10FREUA, J10FRLEUA
1997
BJ10RELEUS, J10EEUS, J10ELEUS, J10RELEUS, J10REUS, J10RLEUS, J10SELEUS
1997
BJ10RHLSDA, BJ10RHSDA, J10RLSDC, J10RSDC
2006
BJ10RHLSOR, BJ10RHSOR, J10RLSOS, J10RSOS
2005
BJ10RHLSRC, BJ10RHSRC, J10RLSRD, J10RSRD
2004
BJ10RHLSTS, BJ10RHSTS, J10RLSTE, J10RSTE
2003
BJ15EEDS, BJ15ELEDS, BJ15REDS, BJ15RLEDS, J15EEDS, J15ELEDS, J15REDS, J15RELEDS, J15RLEDS, SJ15BAEDC, SJ15REDS, SJ15RLEDS
1996
BJ15FAEDR, BJ15FDLEDR, BJ15FKEDR, BJ15FREDR, BJ15FRELEDR, BJ15FWEDC, BJ15FWLEDC, J15FKEDR, J15FREDR, J15FRELEDR, J15FRLEDR
1996
BJ15FAEUA, BJ15FDLEUA, BJ15FKEUA, BJ15FRELUA, BJ15FREUA, BJ15FWEUR, BJ15FWLEUR, J15FKEUA, J15FRELEUA, J15FREUA, J15FRLEUA
1997
BJ15FDLECM, BJ15FWECA, BJ15FWLECA, J15FRECM, J15FRELECM, J15FRLECM
1998
BJ15RELEUC, J15EEUC, J15ELEUC, J15RELEUC, J15REUC, J15RLEUC, SJ15BAEUR
1997
BJ8FRBECA, BJ8FRBLECA, J8FRECA, J8FRLECA, J8FRXECA
1998
BJ8FRBEDC, BJ8FRBLEDC, BJ8FRBXEDC, HJ8FREDC, HJ8FRLEDC, J8FREDC, J8FRXEDC
1996
BJ8FRBEUR, BJ8FRBLEUR, BJ8FRBXEUR, HJ8FREUR, HJ8FRLEUR, J8FREUR, J8FRXEUR
1997
HJ10FELECA, J10FOECA, J10FOLECA
1998
HJ15KCF, HJ15KCLF, HJ15RPLW, HJ15RPW, SJ15RPLW, SJ15RPW
1997
HJ15KCLN, HJ15KCN, SJ15RPG, SJ15RPLG
1996
HJ15KCLO, HJ15KCO, SJ15RPC, SJ15RPLC
1998
J10ECCD, J10ELCCD, J10RCCD, J10RLCCD, J10SELCCD
1988
J10ECDB, J10ELCDB, J10RCDB, J10RLCDB, J10SELCDB
1986
J10ECES, J10ELCES, J10RCES, J10RLCES, J10SELCES, TJ10ELCES, TJ10RLCES
1989
J10ECOM, J10ELCOM, J10RCOM, J10RLCOM, J10SELCOM
1985
J10ECSE, J10ELCSE, J10RCSE, J10RLCSE, J10SELCSE
1980
J10ECUE, J10ELCUE, J10RCUE, J10RLCUE, J10SELCUE
1987
J10EECC, J10ELECC, J10RECC, J10RELECC, J10RLECC, J10SELECC
1998
J10EEIR, J10ELEIR, J10REIR, J10RELEIR, J10RLEIR, J10SELEIR, TJ10RELEIR
1991
J10EENA, J10ELENA, J10RELENA, J10RENA, J10RLENA, J10SELENA, TJ10RELENA
1992
J10EEOE, J10ELEOE, J10RELEOE, J10REOE, J10RLEOE, J10SELEOE
1995
J10EERB, J10ELERB, J10RELERB, J10RERB, J10RLERB, J10SELERB
1994
J10EESC, J10ELESC, J10RELESC, J10RESC, J10RLESC, J10SELESC, TJ10ELESC, TJ10RELESC, TJ10RLESC
1990
J10EETM, J10ELETM, J10RELETM, J10RETM, J10RLETM, J10SELETM, TJ10RELETM
1993
J10ELCID, J10RCID, J10RLCID, J10SELCID
1981
J10ELCNS, J10RCNS, J10RLCNS, J10SELCNS
1982
J10ELCRA, J10RCRA, J10RLCRA, J10SELCRA
1984
J10ELCTC, J10RCTC, J10RCTR, J10RLCTC, J10RLCTR, J10SELCTC
1983
J10ELEER, J10REER, J10RLEER, J10TEEER, J10TELEER
1999
J10ELSIM, J10EVLSIC, J10RGTSIC, J10RLGTSIC, J10RLSIM, J10RSIM, J10RVLSIC, J10RVSIC, J10TEGTSIC, J10TELSIM, J10TESIM, J10TVESIM
2001
J10ELSSA, J10EVLSSS, J10RGTSSS, J10RLGTSSS, J10RLSSA, J10RSSA, J10RVLSSS, J10RVSSS, J10TEGSSS, J10TELSSA, J10TESSA
2000
J10FEXEO, J10FRELEOC, J10FREOC, J10FRLEO
1995
J10RLSUR, J10RSUR
2007
J15DLEOC, J15FREOC, J15FRLEOC, J15KEOC
1995
J15ECCS, J15ELCCS, J15RCCS, J15RLCCS
1988
J15ECDE, J15ELCDE, J15RCDE, J15RLCDE
1986
J15ECEC, J15ELCEC, J15RCEC, J15RLCEC, TJ15RLCEC
1989
J15ECIS, J15RCIS, J15RLCIS
1981
J15ECNC, J15RCNC, J15RLCNC
1982
J15ECOB, J15ELCOB, J15RCOB, J15RLCOB
1985
J15ECRM, J15ELCRM, J15RCRM, J15RLCRM
1984
J15ECSD, J15ELCSD, J15RCSD, J15RLCSD
1980
J15ECTR, J15ELCTR, J15RCTA, J15RCTR, J15RLCTA, J15RLCTR
1983
J15ECUD, J15ELCUD, J15RCUD, J15RLCUD
1987
J15EECR, J15ELECR, J15RECR, J15RELECR, J15RLECR, SJ15BAECA
1998
J15EEIA, J15ELEIA, J15REIA, J15RELEIA, J15RLEIA
1991
J15EENM, J15ELENM, J15RELENM, J15RENM, J15RLENM
1992
J15EEOD, J15ELEOD, J15RELEOD, J15REOD, J15RLEOD
1995
J15EERE, J15ELERE, J15RELERE, J15RERE, J15RLERE
1994
J15EESR, J15ELESR, J15RELESR, J15RESR, J15RLESR
1990
J15EETB, J15ELETB, J15RELETB, J15RETB, J15RLETB
1993
J15ELEEA, J15REEA, J15RLEEA, J15TEEEA, J15TELEEA, SJ15BAEEM, SJ15RTEEM
1999
J15ELSIB, J15EVLSIC, J15RLSIB, J15RSIB, J15RVLSIC, J15RVSIC, J15TELSIB, J15TESIB, J15TVESIB, SJ15RTSIR
2001
J15ELSSM, J15EVLSSS, J15RLSSM, J15RSSM, J15RVLSSS, J15RVSSS, J15TELSSM, J15TESSM, SJ15RTSSB
2000
J15RLSDR, J15RSDR, J15RTSDC
2006
J15RLSOC, J15RSOC, J15RTSOS, J15WRLSOB, J15WRSOB
2005
J15RLSRS, J15RSRS, J15WRLSRM, J15WRSRM
2004
J15RLSTD, J15RSTD
2003
J15RLSUA, J15RSUA, J15RTSUR
2007
J15WREES, J15WRLEES
1999
J15WRLSIR, J15WRSIR
2001
J15WRLSSC, J15WRSSC
2000
J8R4SRC, J8RL4SRC
2004
J8R4STS, J8RL4STS
2003
SJ10REDD, SJ10RLEDD, SJ10SELEDD
1996
SJ10RPB, SJ10RPLB
1996
SJ10RPLT, SJ10RPT
1997
SJ10RPLY, SJ10RPY
1998
Parts impeller JOHNSON: