0389589 IMPELLER ASSY JOHNSON
50R79C, 55E79C, J40ECOB, J40ECRM, J50BECIC, J50BECNR, J50BECOB, J50BECRM, J50BECTA, J50ECSR, J55RCIM, J55RLCSA, J55RSLN, J55RWLCOS, J55RWLCRD, J60ECIA, J60ECNM, J60ECSR, J60ECTB, J60ELCOD, J60ELCRE
IMPELLER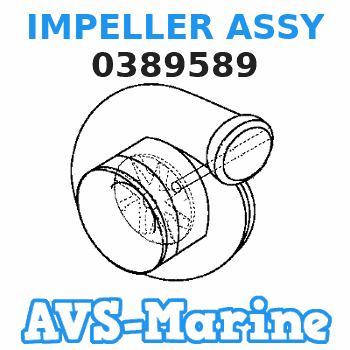 Buy
IMPELLER ASSY 0389589 JOHNSON
genuine, new aftermarket parts with delivery
You can buy parts:
389589 777129 Water Pump Impeller For Evinrude Johnson 40 50 55 60 HP 2 Stroke Outboard Sierra 18-3055 0389589 0777129 0777827 40HP 50HP 55HP 60HP
????️■OEM#■:Replacing part numbers For Evinrude Johnson OMC 0389589 0777129 0777827 Sierra 18-3055 Mallory 9-45202,perfectly match. || ????️■High Quality■:Original level of quality and durability, the impellers are manufactured from high quality rubber and will not be damaged even after long periods of immersion in salt water. || ????️■Buy With Confidence■:Highly rigid cardboard boxes and foam wool packaging ensure that your order is in mint condition before you receive it. || ????️■Inquiry Service■:Check your engine part number before you buy. If you're not sure, send us a message. We'll help you find the right part number for your engine. || ????️■Tips■:We will show more detailed information about the product on the details page below to ensure that we can help you to buy the correct replacement part.
MARKGOO 389589 777129 Water Pump Impeller for Vintage OMC Johnson Evinrude Outboard 40 45 50 55 60 HP Boat Motor Engine Parts Replacement 0389589 0777129 Sierra 18-3055
This water pump impeller replacement for vintage OMC Johnson Evinrude outboard 40HP 45HP 50HP 55HP 60HP boat motor engine parts cooling system. More detailed information please see description below. || Water pump impeller fits OMC Johnson Evinrude Outboard motors OEM P/N 0777129, 0777827, 0389589, 777129, 777827, 389589. Check your outboard motor part number before purchase. Please message us if you are not sure. || Compatible with Sierra Marine 18-3055 Mallory Marine 9-45202 GLM Marine 89690 SEI Marine 96-365-03CE CEF 500345. This water pump impeller makes repair and maintenance of water pumps easy. Professional installation is suggestion. || Water pump impeller dimensions measured that shaft size 16.0 mm, overall diameter 69.0 mm, thickness 22.0 mm, Blades 6. Water pump impeller is made with neoprene and metal alloy as pictures showed, Please see the pictures. || To find the right water pump impeller for your outboard, it is VERY IMPORTANT to verify outboard model or serial number before purchase. You can leave us message e.g. your outboard engine parts model, serial number, horsepower or year if you are not comfirmed this water pump impeller fits your outboard motor or not. We're pleasure to help you.
Eghrer Replacement for Johnson Evinrude Outboard Motor Water Pump Impeller 389589 777129 777827 0389589 0777129 0777827 18-3055
【Fitment】Eghrer Replacement for Water Pump Impeller :40/45/50/55/60HP Please properly verify the Year/Make/Model before purchasing. || 【Replaces Number】389589 777129 777827 0389589 0777129 0777827 18-3055 Water Pump Impeller.It could correctly replace the original part. || 【Features】The impeller pumps cold water into your boat's engine to cool it during use. The water pump impeller is very important to your outboard engine. It is recommended to maintain the water pump every 1-3 years. It can help you save time and money || 【Sturdy and Durable】Upgraded materials, The reinforced rubber used in the impeller and This stainless steel used in insert cup are ​corrosion-resistant and scratch-resistant. || 【Package Included】Water Pump Impeller includes all items as pictured. Please make sure the part number before purchase. This water pump impeller is easy to install, but professional installation is always recommended.
BRP JOHNSON entire parts catalog list:
50R79C, 50RL79C
1979
55E79C, 55EL79C
1979
J40ECOB, J40ELCOB, J40RCOB, J40RLCOB, J40TECOB, J40TELCOB
1985
J40ECRM, J40ELCRM, J40RCRM, J40RLCRM, J40TECRM, J40TELCRM
1984
J50BECIC, J50BELCIC
1981
J50BECNR, J50BELCNR
1982
J50BECOB, J50BELCOB, J50TELCOB, J50TLCOB
1985
J50BECRM, J50BELCRM, J50TELCRM, J50TLCRM
1984
J50BECTA, J50BELCTA, J50TELCTA
1983
J50ECSR, J50ELCSR
1980
J55RCIM, J55RLCIM
1981
J55RLCSA
1980
J55RSLN, J55RSLN-2, J55RSN, J55RSN-2, J55RSYN, J55RSYN-2
1983
J55RWLCOS
1985
J55RWLCRD
1984
J60ECIA, J60ECIH, J60ELCIA, J60ELCIH, J60TLCIA, J60TLCIH
1981
J60ECNM, J60ELCNM, J60TLCNM
1982
J60ECSR, J60ELCSR
1980
J60ECTB, J60ELCTB, J60TLCTB
1983
J60ELCOD, J60TLCOD
1985
J60ELCRE, J60TLCRE
1984