0396725 IMPELLER ASSY. JOHNSON
AM55RSLD, BJ60TLECM, BJ70ELECB, BJ70PLEEE, BJ70PLSIS, BJ70PLSSD, J40JPLEEC, J40JPLSIA, J40JPLSSR, J40WREES, J40WRLSIR, J40WRLSSC, J50DTLECA, J50TTLECA, J55APRL, J55APRLSOM, J55APRLSRA, J55MLSOR, J55MLSRC, J55MRL, J55WRLSIR, J55WRLSSC, J60ELCCR, J60EL
IMPELLER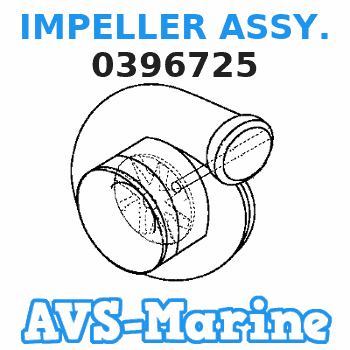 Buy
IMPELLER ASSY. 0396725 JOHNSON
genuine, new aftermarket parts with delivery
You can buy parts:
Forestity 396725 0396725 Water Pump Impeller with Wedge Key Replacement for Evinrude Johnson OMC BRP Outboard 40 45 50 55 60 65 70 75 HP Boat Motor Engine Parts Sierra 18-3053 437080 389557 432954

AMONIDA Water Pump Impeller Replace, 6 Blades 0396725 Durable Easy Installation for Outboard Replacement for Johnson OMC BRP 40‑70HP
Fitment: With replacing part number of 0396725, replacement for Johnson 40‑70HP. || Size: It has 6 blades, 3.56in outer diameter, 0.75in hole diameter and 0.99in thickness. || Premium Material: Quality rubber and brass, and durable, which can withstand harsh marine environment. || Easy Installation: Easy and fast to install, no complicated tools required, convenient to use. || Direct Replacement: Original standard, direct replacement for the old or broken water pump impeller.
396725 437080 18-3053-1 Water Pump Impeller For Evinrude Johnson 40 50 55 60 65 70 75 HP 2/4 Stroke Outboard Sierra 0396725 0777820 0389557 0437080 0432954 40HP 50HP 55HP 60HP 65HP 70HP 75HP
????️■OEM#■:Replacing part numbers For Evinrude Johnson OMC 0396725 0777820 0389557 0437080 0432954 Sierra 18-3053 18-3053-1 Mallory 9-45207,perfectly match. || ????️■High Quality■:Original level of quality and durability, the impellers are manufactured from high quality rubber and will not be damaged even after long periods of immersion in salt water. || ????️■Buy With Confidence■:Highly rigid cardboard boxes and foam wool packaging ensure that your order is in mint condition before you receive it. || ????️■Inquiry Service■:Check your engine part number before you buy. If you're not sure, send us a message. We'll help you find the right part number for your engine. || ????️■Tips■:We will show more detailed information about the product on the details page below to ensure that we can help you to buy the correct replacement part.
BRP JOHNSON entire parts catalog list:
AM55RSLD, J55WREES, J55WRLEES, J55WRYEES
1999
BJ60TLECM, J60TLECM
1998
BJ70ELECB, BJ70TLECB, J70TLECB
1998
BJ70PLEEE, J70PLEEE
1999
BJ70PLSIS, J70PLSIS, J70VLSIS, RJ70PLSIS
2001
BJ70PLSSD, J70PLSSD, RJ70PLSSD
2000
J40JPLEEC
1999
J40JPLSIA, J40JVLSIA
2001
J40JPLSSR
2000
J40WREES, J40WRLEES, J40WRYEES
1999
J40WRLSIR, J40WRSIR, J40WRYSIR
2001
J40WRLSSC, J40WRSSC, J40WRYSSC
2000
J50DTLECA
1998
J50TTLECA
1998
J55APRL
2003
J55APRLSOM
2005
J55APRLSRA, J55APRLSRG
2004
J55MLSOR
2005
J55MLSRC, J55MLSRG
2004
J55MRL
2003
J55WRLSIR, J55WRSIR, J55WRYSIR
2001
J55WRLSSC, J55WRSSC, J55WRYSSC
2000
J60ELCCR, J60TLCCR, J60TTLCCR
1988
J60ELCDS, J60TLCDS
1986
J60ELCUC, J60TLCUC
1987
J60PLEEB
1999
J60PLSID, J60VLSID
2001
J60PLSSE
2000
J60TTLECM
1998
J65RSLZ2, SJ65RSLZ2, SJ65RSYZ2
1997
J65RWLCDR, J65TELCDR
1986
J65WELEES
1999
J65WELSIR
2001
J65WELSSC
2000
J65WMLCDR
1986
J65WMLCUA
1987
J65WMLERS
1994
J65WMLETD
1993
J65WRLEEO, J65WRLEES, J65WRYEEO, J65WRYEES
1999
J65WRLSIR, J65WRYSIR
2001
J65WRLSSC, J65WRYSSC
2000
J70ELCCA, J70TLCCA
1988
J70ELCDC, J70TLCDC
1986
J70ELCUR, J70TLCUR
1987
J75ECDC
1986
J75ECUR
1987
N65WMLM
1988
SJ40RPLT2, SJ40RPT2, SJ40RPYT2
1998
SJ55RSLM2, SJ55RSM2, SJ55RSYM2
1998
SJ65RSLD, SJ65RSYD
1998
SJ65WMLD, SJ65WMYD
1998
SJ65WMLZ2, SJ65WMYZ2
1997
Parts impeller JOHNSON: