5001593 IMPELLER ASSY. - X JOHNSON
BJ115PLSSB, BJ130PLSSS, BJ135PLSIF, BJ175PLSIF, BJ175PLSSC, BJ200CXSSE, BJ200PLSIF, BJ225CXSSR, BJ225PLSIF, BJ90PLSSE, J105WPLSTM, J115GLSDE, J115GLSOB, J115GLSRC, J115GLSTA, J115PLSDA, J115PLSNF, J115PLSOR, J115PLSRC, J115PXSDA, J115PXSOR, J115PXSRM
IMPELLER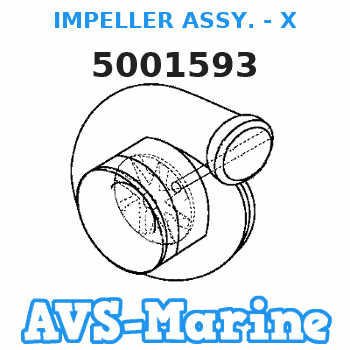 Buy
IMPELLER ASSY. - X 5001593 JOHNSON
genuine, new aftermarket parts with delivery
You can buy parts:
Submersible Pump 5001593 Water Impeller for 90-100-115-130-135-150-170-175 HP V4 V6 1979-Up Outboard Motor 6 Blades Boat Parts Boat Bilge Pump
Material: Impeller(CR), Shaft Sleeve (Brass). Engine: 2 Stroke. || Engine Position: Outboard. Color: Black. || The pump can be widely using used in sewage sampling, large flow rate of liquid transfer and low noise for the workplace; Large and super large aquarium, small swimming pool, and other purposes. || Service: If you have any problem, please contact with us, we will reply you within 24 hours.
5001593 435821 395864 18-3059 Water Pump Impeller For Johnson Evinrude OMC Outboard 65 80 85 88 90 100 105 110 112 115 120 125 130 135 140 150 155 175 185 200 225 235 250 275 300 HP 397131 391538
????️■OEM#■:Replacing part numbers For Johnson Evinrude OMC 0389289 0391538 0394534 0395864 0397131 0435748 0435821 5001593 Sierra 18-3059,perfectly match. || ????️■High Quality■:Original level of quality and durability, the impellers are manufactured from high quality rubber and will not be damaged even after long periods of immersion in salt water. || ????️■Buy With Confidence■:Highly rigid cardboard boxes and foam wool packaging ensure that your order is in mint condition before you receive it. || ????️■Inquiry Service■:Check your engine part number before you buy. If you're not sure, send us a message. We'll help you find the right part number for your engine. || ????️■Tips■:We will show more detailed information about the product on the details page below to ensure that we can help you to buy the correct replacement part.
BODAO 435821/5001593/395864 Boat Engine Water Pump Impeller Key Oring for Johnson/Evinrude 85-300HP Outboard Motor
Water Pump Impeller Dimensions : 【OD】3.47 inch 【Thickness】1.23 inch【Shaft Size】0.90 inch, Blades 6. Because of manual measurement, the data error ±0.02in.Neoprene Water Pump Impeller with Plastic Hub as Pictures Showed, Please see the pictures. || This Water Pump Impeller fits Johnson Evinrude 85-300HP Outboard Motor OEM P/N 435821 5001593 395864. Check your Boat Motor Part Number before Purchase. Please Message us if you are not sure. || Original standard, direct replacement for the old or broken water pump impeller. || To ensure this Impeller is suitable for your boat motor, It is VERY IMPORTANT to check your outboard Model or S/N before purchase. || You can leave us message e.g. your Boat Engine Model, Serial Number, Horsepower or Year if you are not comfirmed this Water Pump Impeller fits Your Outboard Boat Motor or not. Were pleasure to help you.
BRP JOHNSON entire parts catalog list:
BJ115PLSSB, BJ115PXSSB, BJ115VXSSS, J115JPLSSR, J115PLSSB, J115PXSSB, J115SPLSSC, J115VLSSS, J115VXSSS, RJ115PLSSB, RJ115PXSSB, RJ115VLSSB, RJ115VXSSS
2000
BJ130PLSSS, BJ130PXSSS, J130PLSSS, J130PXSSS, J130VXSSS, RJ130PLSSS, RJ130PXSSS, RJ130VXSSS
2000
BJ135PLSIF, BJ135VXSIF, J135PLSIF, J135VLSIF, J135VXSIF, RJ135PLSIF, RJ135VXSIF
2001
BJ175PLSIF, BJ175VXSIF, J175PLSIF, J175VCXSIF, J175VLSIF, J175VXSIF, RJ175CXSIF, RJ175PLSIF, RJ175VXSIF
2001
BJ175PLSSC, BJ175PXSSC, BJ175VXSSS, J175CXSSS, J175PLSSC, J175PXSSC, J175SPLSSC, J175VCXSSS, J175VLSSS, J175VXSSS, RJ175CXSSS, RJ175PLSSC, RJ175VXSSS
2000
BJ200CXSSE, BJ200PLSSC, BJ200PXSSC, BJ200VCSSS, BJ200VXSSS, J200CXSSE, J200PLSSC, J200PXSSC, J200VCXSSS, J200VXSSS, RJ200PLSSC, RJ200PXSSC, RJ200VXSSS
2000
BJ200PLSIF, BJ200VCSIF, BJ200VXSIF, J200PLSIF, J200VCXSIF, J200VLSIF, J200VXSIF, RJ200PLSIF, RJ200VXSIF
2001
BJ225CXSSR, BJ225PLSSR, BJ225PXSSR, BJ225VCSSS, BJ225VXSSS, J225CXSSR, J225HGLSSC, J225HPLSSC, J225PLSSR, J225PXSSR, J225VCXSSS, J225VXSSS, RJ225CXSSS, RJ225HGSSC, RJ225HLSSC, RJ225PLSSR, RJ225PXSSR, RJ225VXSSS
2000
BJ225PLSIF, BJ225VCSIF, BJ225VXSIF, J225HGLSIF, J225HPLSIF, J225PLSIF, J225VCXSIF, J225VLSIF, J225VXSIF, RJ225CXSIF, RJ225HLSIF, RJ225PLSIF, RJ225VXSIF
2001
BJ90PLSSE, BJ90PXSSE, BJ90VXSSS, J90PLSSE, J90SPLSSC, J90VLSSE, RJ90PLSSE, RJ90VLSSS
2000
J105WPLSTM
2003
J115GLSDE
2006
J115GLSOB
2004,2005
J115GLSRC
2004
J115GLSTA, J115PLSTS, J115PXSTS
2003
J115PLSDA
2006
J115PLSNF, J115PXSNF, J115VLSNF
2002
J115PLSOR
2004,2005
J115PLSRC
2004
J115PXSDA
2006
J115PXSOR
2004,2005
J115PXSRM
2004
J115WPLSOC
2004,2005
J115WPLSRS
2004
J150CXSDE
2006
J150CXSNF, J150PLSNF, J150PXSNF, J150VLSNF
2002
J150CXSOB
2004,2005
J150CXSRM
2004
J150CXSSC, J150JPLSSC, J150MXSSD, J150PLSSC, J150PXSSC, J150SPLSSC, J150VCSSS, J150VLSSS, J150VXSSS, RJ150CXSSC, RJ150PLSSC, RJ150PXSSC, RJ150VCSSS, RJ150VLSSS, RJ150VXSSS
2000
J150CXSTA
2003
J150GLSDE
2006
J150GLSOB
2004,2005
J150GLSRM
2004
J150GLSTA, J150PLSTM, J150PXSTM
2003
J150GLSTF
2003
J150JPLSIF, J150PLSIF, J150VCXSIF, J150VLSIF, J150VXSIF, RJ150PLSIF, RJ150VCSIF, RJ150VLSIF, RJ150VXSIF
2001
J150MLSOR, J150MXSOR
2004,2005
J150MLSRC, J150MXSRC
2004
J150MLSTS, J150MXSTS
2003
J150PLSDD
2006
J150PLSOE
2004,2005
J150PLSRB
2004
J150PLSTF
2003
J150PXSDD
2006
J150PXSOE
2004,2005
J150PXSRB
2004
J150WPLSIF
2001
J150WPLSSC
2000
J175CXSDE
2006
J175CXSNF, J175PLSNF, J175PXSNF, J175VLSNF
2002
J175CXSOB
2004,2005
J175CXSRM
2004
J175CXSTA
2003
J175GLSDE
2006
J175GLSOB
2004,2005
J175GLSRM
2004
J175GLSTA, J175PLSTM, J175PXSTM
2003
J175GLSTF
2003
J175MXSOR
2004,2005
J175MXSRC
2004
J175MXSTS
2003
J175PLSDD
2006
J175PLSOE
2004,2005
J175PLSRB
2004
J175PLSTF
2003
J175PXSDD
2006
J175PXSOE
2004,2005
J175PXSRB
2004
J200WPXSIF
2001
J225HPLSIF
2001
J225HPLSSC
2000
J250CXSSS, J250CZSSC, J250PXSSC, J250PZSSC, J250VCXSSS, J250VCZSSS, J250VXSSS, J250VZSSS, RJ250CXSSS, RJ250VXSSS, RJ250VZSSS
2000
J250VCZSIF, J250VXSIF, J250VZSSIF, RJ250VXSIF, RJ250VZSSIF
2001
J90GLSDE
2006
J90GLSOB
2004,2005
J90GLSRM
2004
J90GLSTA, J90PLSTC
2003
J90PLSDM
2006
J90PLSNF, J90VLSNF
2002
J90PLSOA
2004,2005
J90PLSRR
2004
J90PXSDR
2006
J90PXSOC
2004,2005
J90PXSRS
2004
Parts impeller JOHNSON: