5001595 WATER PUMP REPAIR KIT (Includes impeller housing) - V JOHNSON
BJ115PLSSB, BJ130PLSSS, BJ135PLSIF, BJ175PLSIF, BJ175PLSSC, BJ90PLSSE, J105WPLSTM, J115GLSDE, J115GLSOB, J115GLSRC, J115GLSTA, J115PLSDA, J115PLSNF, J115PLSOR, J115PLSRC, J115PXSDA, J115PXSOR, J115PXSRM, J115WPLSOC, J115WPLSRS, J150CXSDE, J150CXSNF,
WATER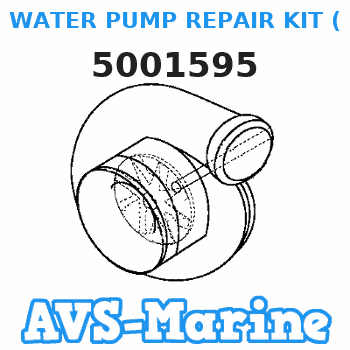 Buy
WATER PUMP REPAIR KIT (Includes impeller housing) - V 5001595 JOHNSON
genuine, new aftermarket parts with delivery
You can buy parts:
5001595 Water Pump Impeller Repair Kit For Johnson Evinrude OMC 777802 435929 75 90 100 105 115 120 125 130 135 140 150 175 200 225 250 300 HP Sierra 18-3315-2 AB AF Model (1994-2010)
????️■OEM#■:Replacing part numbers For Johnson Evinrude OMC 5001595 0777802 0435929 Sierra 18-3315-2 Mallory 9-48200,perfectly match. || ????️■High Quality■:Original level of quality and durability, the impellers are manufactured from high quality rubber and will not be damaged even after long periods of immersion in salt water. || ????️■Buy With Confidence■:Highly rigid cardboard boxes and foam wool packaging ensure that your order is in mint condition before you receive it. || ????️■Inquiry Service■:Check your engine part number before you buy. If you're not sure, send us a message. We'll help you find the right part number for your engine. || ????️■Tips■:We will show more detailed information about the product on the details page below to ensure that we can help you to buy the correct replacement part.
Eghrer 5001595 Water Pump Impeller Repair Kit for Johnson Evinrude 75-250HP435929 V4 V6 V8 Outboard Water Pump Kit with Housing.
【Fitment】Eghrer Replacement Water Pump Impeller Kit for Johnson Evinrude 75-250HP435929 V4 V6 V8 Outboard NOTICE: Please properly verify the Year/Make/Model before purchasing . || 【Replaces OE Number】5001595 , 435929 Water Pump Kit Strokewith Housing .It could correctly replace the original parts. || 【Features】The impeller pumps cold water into your boat's engine to cool it during use. The water pump impeller is very important to your outboard engine. It is recommended to maintain the water pump every 1-2 years. It can help you save time and money. || 【Sturdy and Durable】Upgraded materials, The reinforced rubber used in the impeller and This stainless steel used in insert cup are ​corrosion-resistant and scratch-resistant || 【Package Included】Water Pump Impeller Repair Kit includes all items as pictured. Please make sure the part number before purchase. This JDMON water pump impeller kit is easy to install, but professional installation is always recommended.
BRP JOHNSON entire parts catalog list:
BJ115PLSSB, BJ115PXSSB, BJ115VXSSS, J115JPLSSR, J115PLSSB, J115PXSSB, J115SPLSSC, J115VLSSS, J115VXSSS, RJ115PLSSB, RJ115PXSSB, RJ115VLSSB, RJ115VXSSS
2000
BJ130PLSSS, BJ130PXSSS, J130PLSSS, J130PXSSS, J130VXSSS, RJ130PLSSS, RJ130PXSSS, RJ130VXSSS
2000
BJ135PLSIF, BJ135VXSIF, J135PLSIF, J135VLSIF, J135VXSIF, RJ135PLSIF, RJ135VXSIF
2001
BJ175PLSIF, BJ175VXSIF, J175PLSIF, J175VCXSIF, J175VLSIF, J175VXSIF, RJ175CXSIF, RJ175PLSIF, RJ175VXSIF
2001
BJ175PLSSC, BJ175PXSSC, BJ175VXSSS, J175CXSSS, J175PLSSC, J175PXSSC, J175SPLSSC, J175VCXSSS, J175VLSSS, J175VXSSS, RJ175CXSSS, RJ175PLSSC, RJ175VXSSS
2000
BJ90PLSSE, BJ90PXSSE, BJ90VXSSS, J90PLSSE, J90SPLSSC, J90VLSSE, RJ90PLSSE, RJ90VLSSS
2000
J105WPLSTM
2003
J115GLSDE
2006
J115GLSOB
2004,2005
J115GLSRC
2004
J115GLSTA, J115PLSTS, J115PXSTS
2003
J115PLSDA
2006
J115PLSNF, J115PXSNF, J115VLSNF
2002
J115PLSOR
2004,2005
J115PLSRC
2004
J115PXSDA
2006
J115PXSOR
2004,2005
J115PXSRM
2004
J115WPLSOC
2004,2005
J115WPLSRS
2004
J150CXSDE
2006
J150CXSNF, J150PLSNF, J150PXSNF, J150VLSNF
2002
J150CXSOB
2004,2005
J150CXSRM
2004
J150CXSSC, J150JPLSSC, J150MXSSD, J150PLSSC, J150PXSSC, J150SPLSSC, J150VCSSS, J150VLSSS, J150VXSSS, RJ150CXSSC, RJ150PLSSC, RJ150PXSSC, RJ150VCSSS, RJ150VLSSS, RJ150VXSSS
2000
J150CXSTA
2003
J150GLSDE
2006
J150GLSOB
2004,2005
J150GLSRM
2004
J150GLSTA, J150PLSTM, J150PXSTM
2003
J150GLSTF
2003
J150JPLSIF, J150PLSIF, J150VCXSIF, J150VLSIF, J150VXSIF, RJ150PLSIF, RJ150VCSIF, RJ150VLSIF, RJ150VXSIF
2001
J150MLSOR, J150MXSOR
2004,2005
J150MLSRC, J150MXSRC
2004
J150MLSTS, J150MXSTS
2003
J150PLSDD
2006
J150PLSOE
2004,2005
J150PLSRB
2004
J150PLSTF
2003
J150PXSDD
2006
J150PXSOE
2004,2005
J150PXSRB
2004
J175CXSDE
2006
J175CXSNF, J175PLSNF, J175PXSNF, J175VLSNF
2002
J175CXSOB
2004,2005
J175CXSRM
2004
J175CXSTA
2003
J175GLSDE
2006
J175GLSOB
2004,2005
J175GLSRM
2004
J175GLSTA, J175PLSTM, J175PXSTM
2003
J175GLSTF
2003
J175MXSOR
2004,2005
J175MXSRC
2004
J175MXSTS
2003
J175PLSDD
2006
J175PLSOE
2004,2005
J175PLSRB
2004
J175PLSTF
2003
J175PXSDD
2006
J175PXSOE
2004,2005
J175PXSRB
2004
J90GLSDE
2006
J90GLSOB
2004,2005
J90GLSRM
2004
J90GLSTA, J90PLSTC
2003
J90PLSDM
2006
J90PLSNF, J90VLSNF
2002
J90PLSOA
2004,2005
J90PLSRR
2004
J90PXSDR
2006
J90PXSOC
2004,2005
J90PXSRS
2004
Parts water JOHNSON: