5035036 WATER PUMP REPAIR KIT JOHNSON
BJ200CX4DC, BJ200X4SDC, BJ225CX4DC, BJ225X4SDC, J200CX4SOC, J200CX4SRS, J200PX4SOC, J200PX4SRS, J225CX4SOC, J225CX4SRS, J225PX4SOC, J225PX4SRS
WATER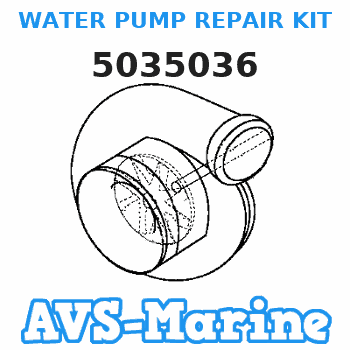 Buy
WATER PUMP REPAIR KIT 5035036 JOHNSON
genuine, new aftermarket parts with delivery
You can buy parts:
MARKGOO 17400-93J04 Water Pump Impeller Repair Kit for Suzuki Outboard 4 Stroke 200/225/250 HP DF200 DF225 DF250 V6 Boat Motor Engine Rebuild Service Parts Replacement Sierra Marine 18-3264
This water pump rebuild kit fits suzuki outboard 4 stroke 200hp 225hp 250HP V6 boat motors engine parts model DF200 DF225 DF300 boat accessories cooling system. It is very important to check your boat motor part number before purchase. please message us engine year, s/n and horsepower if you are not sure. || The water pump impeller repair or service kit for Suzuki outboard OEM p/n 17400-93J00, 17400-93J01, 17400-93J02, 17400-93J03, 17400-93J04. More detailed information please see description below. || Also fits Johnson Evinrude OMC outboard 4 storke EFI 200/225 HP (2004-2005) 5035036 5035037 5035040 0769611. Designed for durability to provide higher flow rates and cooling flow to protect your engine, it makes repair and maintenance of water pumps easy. || Package included: Water Pump Impeller 18-3035 17461-93J00, 5035040. Wear Plate 17471-93J02, 17474-93J01, 5035041. Seal 17416-93J00, 5035039. Key 09420-05009. Gasket 17472-93J00 18-0778, 5035042 as pictures showed. || To find the correct water pump repair kit replacement for your suzuki outboard, it is VERY IMPORTANT to check your outboard model or s/n before purchase. you can leave us messages such as your boat engine model, horsepower or year if you're not sure. we 're pleasure to help you.
Kesoto Impeller Repair Kit Fpr Suzuki 17400-93J02 Evinrude Johnson OMC 5035036
Designed for durability to provide higher rates and cooling to protect your engine. || Kit contains pump housing Assembly, gaskets, plates, impeller, keystone, O-(As the picture shown). || It replaces part #17400-93J02 || Water pump repair kit for Suzuki DF200/DF255/DF250 || 100% Brand NewComplete replacement water pump repair kit.
OVERSEE 17400-95J02 Water Pump Kit Impeller for Suzuki Outboard Motor 4T DF25 for Evinrude Johnson OMC 5035036
This is a brand new Water Pump Impeller kit for Suzuki Outboard Motors Parts 4 stroke DF200/DF255/DF250 || Kit contains pump housing Assembly, gaskets, plates, impeller, keystone, O-ring(As the picture shown). || Ref.Code for Suzuki: 17400-93J02 || Ref.Code for Evinrude Johnson OMC: 5035036
BRP JOHNSON entire parts catalog list:
BJ200CX4DC
2006
BJ200X4SDC
2006
BJ225CX4DC
2006
BJ225X4SDC
2006
BJ200CX4O, J200CX4SOC
2004,2005
J200CX4SRS
2004
BJ200X4SO, J200PX4SOC
2004,2005
J200PX4SRS
2004
BJ225CX4O, J225CX4SOC, J225CZ4SOS
2004,2005
J225CX4SRS
2004
BJ225X4SO, J225PX4SOC, J225PZ4SOS
2004,2005
J225PX4SRS
2004