76214Q 5 ANODE KIT Mercruiser
5120150R1, 5231100LP, 5231100TP, 5232100N1, 5232100TP, 5E31200N1, 5E31200TP, 5E31200TS, 5E31210TP, 5E31210TS, 5E31800TP, 5E31800TS, 5E31810TP, 5E31810TS, 5E31900TP, 5E31900TS, 5E31910TP, 5E31910TS, 5E32200TP, 5E32900TS, 5E36200TP, 5E36200TS, 5E36210T
ANODE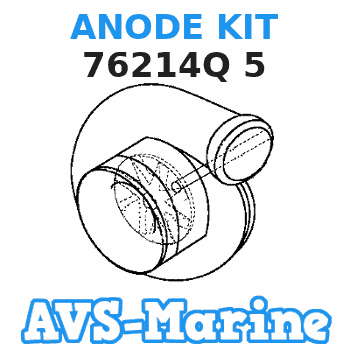 Buy
ANODE KIT 76214Q 5 Mercruiser
genuine, new aftermarket parts with delivery
You can buy parts:
As an associate, we earn commssions on qualifying purchases through the links below
Azingysail 76214Q5 Aluminum Anode Plate for Mercury Force MerCruiser Anti-Ventilation Plate
100% brand new and high quality || Aluminum Anodes can use for all water type applications (SALT/Brackish & Fresh) || Fits for Mercruiser Alpha Sterndrives & Mercury Outboard Applications 35 HP & larger || Replaces OEM Part Numbers: 76214, 76214A5, 76124A 5, 97-76214A5, 97-76214T5 || Fits: Mercruiser TR, TRS, Alpha One & Alpha One Gen II sterndrive applications. Also, most Mercury outboard applications 35 hp & higher.
SEI Marine Products-Compatible with Mercury Mariner Zinc Anode 76214Q5 200 225 250 HP 3.0L V6 1994 1995 1996-2006
This zinc anode replaces OE#: 76214Q5 and fits 3.0L V6 (200, 225, 250 HP) Mercury and Mariner outboard lower units from 1994-2006.
Mercruiser entire parts catalog list:
5120150R1
1998
5231100LP
1998
5231100TP
1998
5232100N1
1998
5232100TP
1998
5E31200N1
1998
5E31200TP
1998
5E31200TS
1998
5E31210TP
1998
5E31210TS
1998
5E31800TP
1998
5E31800TS
1998
5E31810TP
1998
5E31810TS
1998
5E31900TP
1998
5E31900TS
1998
5E31910TP
1998
5E31910TS
1998
5E32200TP
1998
5E32900TS
1998
5E36200TP
1998
5E36200TS
1998
5E36210TP
1998
5E36210TS
1998
5E36800TP
1998
5E36800TS
1998
5E36810TP
1998
5E36810TS
1998
5E36900TS
1998
5E36910TP
1998
5E36910TS
1998
5H41400TP
1998
5H41410TP
1998
5H41410TS
1998
5H41600TP
1998
5H41610TP
1998
5H41610TS
1998
5H42300TP
1998
5H42300TS
1998
5H42400TS
1998
5M41400TP
1998
5M41400TS
1998
5M42300TP
1998
5M42300TS
1998
5T32300TP
1998
5T32300TS
1998
5X32200TS
1998
6211001N1
1998
6311002NZ
1998
6315001N1
1998
6315002NZ
1998
6416003N2
1998
Parts anode Mercruiser: