19543T 1 CABLE KIT, Shift Mercruiser
00019003, 01321017, 01326013, 5000165CE, 5220200AS, 91331015
CABLE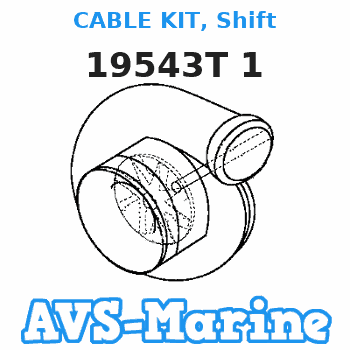 Buy
CABLE KIT, Shift 19543T 1 Mercruiser
genuine, new aftermarket parts with delivery
You can buy parts:
As an associate, we earn commssions on qualifying purchases through the links below
1pc Shift Shifter Cable Bellows Gaskets Kit for MerCruiser R MR Alpha One Gen I II - 865436A03, 18-2603
Manufacturer Part Number: 865436A03, 19543T1, 19543T2, 18-2603, 21450 || Includes Tool Cable with hardware Gasket and o-rings Shift bellow with crimp and clamp || Fits for Alpha One Gen 1, Gen 2, and pre-Alpha 1978 and up || Fitments:Fits for MerCruiser R/MRFits for Serial Range 03780850 -UPFits for Serial Range 0A000000 -UP || High quality material and direct replacement
The ROP Shop | Lower Shift Cable Kit for Mercury MerCruiser 865436A03, 19543T-1, 19543T1 Alpha
The ROP Shop replacement Lower Shift Cable Kit for Mercury MerCruiser 865436A03, 19543T-1, 19543T1 Alpha || Specs - Refer to image 2 for more information || Includes - (1) Lower Shift Cable with Gasket Kit, Bellows Kit & Installation Hardware; comes as shown in the first image || Fits/For: MerCruiser MC-I, R, MR, Alpha One & Alpha One Gen II sterndrives || Please be sure to check your part or model number to ensure this is the correct shift cable kit for your unit. Also, please note this may replace multiple part numbers
RANSOTO Intermediate Lower Shift Cable Kit Compatible with MerCruiser Stern Drives 1978-Up MC-I, MR, Alpha One and Alpha One Gen II Replace 865436A02 865436A03 18-2190
Compatible with:1978-Up MC-1, MR, ALPHA ONE, and ALPHA ONE GEN II || Content:Shift cable, Gasket kit, O-ring, Side, Set screws, Shift Arm, Guide, Anchor, Wrapping, Wire, Bellow Clip, Hose Clamp, Insert. || Replace Part Number:21451 / 9-72157 / 66069A2 / 66065A1 / 73679A2 / 41951A1 / 19543A2 / 19543A4 / 19543A8 / 19543A10 / 865436A02 / 18-2190 / 865436A03 / 19543T2 / 19543T1 / 64543K / 182603 / 182603E || Installation:It is easy that changing the old to new one by in the order common tools. || Warranty:For any reason, if you are not satisfied with your purchase, contact us directly. We offer a one-year warranty, 100% satisfaction guarantee.
Mercruiser entire parts catalog list:
00019003
1983,1984,1985,1986,1987,1988,1989,1990
01321017
1987
01326013
1983
5000165CE
1990,1991
5220200AS
1988
91331015
1985,1986,1987
Parts cable Mercruiser: