70981A 3 EXHAUST BELLOWS Mercruiser
00014332, 01207333, 01402414, 01407333, 01701335, 01851333, 01854335, 02287333, 02602347, 02607333, 02608427, 03307332, 03308333, 04544347, 04707333, 04708004, 04881333, 08986342, 08987343, 228801, 260801, 4V71222ND, 4V71222PD, 4V71222TD
EXHAUST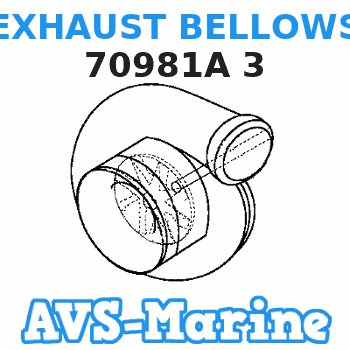 Buy
EXHAUST BELLOWS 70981A 3 Mercruiser
genuine, new aftermarket parts with delivery
You can buy parts:
As an associate, we earn commssions on qualifying purchases through the links below
JINGYU Replace Mercury Marine MerCruiser Exhaust Tube 70981, 70981A3 for Mercruiser Engine
Mercury Marine MerCruiser Exhaust Tube 70981, 70981A3 For Mercruiser Engine || The Parts Include :1* Exhaust Tube ,2*Clamps || You can replace it with a simple tool || Replacement parts are made of high-quality materials and have passed rigorous testing by the manufacturer. || Please check the picture and description for more detailed information, and check the part number and our accessories before placing an order. If you are not sure, you can contact us at any time.
Outboard Motor Spare Parts New outboard Water Pump Exhaust Bellow for Mercruiser 70981A3
IMPORTANT NOTE: Model number just for reference only, Please check item appearance carefuly to make sure you get the right parts. || IMPORTANT NOTE: Please do not order if item does not look the same with your original parts. || If there's any questions, Please feel free to contact us.
Mercruiser entire parts catalog list:
00014332
1982
01207333
1983
01402414
1984,1985,1986,1987,1988,1989
01407333
1983
01701335
1985,1986,1987,1988,1989
01851333
1983,1984
01854335
1985,1986
02287333
1983
02602347
1987,1988,1989,1990,1991,1992,1993,1994,1995
02607333
1983
02608427
1987
03307332
1982
03308333
1983,1984,1985,1987
04544347
1987
04707333
1983
04708004
1984
04881333
1983
08986342
1982,1983
08987343
1983,1984,1985,1986,1987
228801
1981,1982
260801
1981,1982,1987
4V71222ND
1998
4V71222PD
1998
4V71222TD
1998
Parts exhaust Mercruiser: