42725A 3 FUEL PUMP ASSEMBLY Mercruiser
01207333, 01402414, 01407333, 01701335, 04707333, 04708004, 04881333, 4111021L1, 430B00001, 430L000JS
FUEL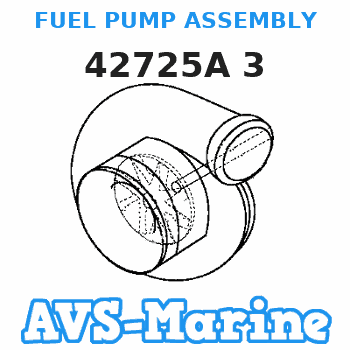 Buy
FUEL PUMP ASSEMBLY 42725A 3 Mercruiser
genuine, new aftermarket parts with delivery
You can buy parts:
As an associate, we earn commssions on qualifying purchases through the links below
3.0 3.7 4.3 5.7 Fuel Pump For Mercruiser For Mercury 120 140 165 170 HP For Volvo Penta 3.0L 3.7L 4.3L 5.7L Fuel Pump Replace 18-7282 18 7282 18-35437 3854858 42725a3 8m0073435
Fits: for Volvo Penta 3.0L 3.7L 4.3L 5.7L Fuel Pump || Fits: For Mercruiser For Mercury 120 140 165 170 HP || Replace Part Number: 18-7282 18-35437 3854858 42725a3 8m0073435 || Installation: Direct replacement for easy installation,Instructions are included with the product || Tips: If there is any quality problem with the product you receive, please contact us in time to solve the problem
Mechanical Fuel Pump Compatible Mercruiser 190 181 180 170 165 120 488 140 470-1 Compatible OMC 3.0L 3.7 2.5L Engine Replaces 8M0073435 3854858 42725A3 18-7282 861676A1 9-35422 509407
Part Number: Mechanical Fuel Pump Replacement Parts 42725A3, 8M0073435, 861676A1, 2725A3, 509407, 3854858, 9-35422, 18-7282, 861676T09, compatible with OMC 509407, compatible with Sierra 18-7282 18-35437, compatible with Mallory 9-35422, compatible with 3854858. || Compatible Models:Compatible with Mercruiser 225 3.7L 1984-1993;Compatible with Mercruiser 165, 180, 181, 170, 190, 470-1, 488 2.5L & 3.0L;Compatible with 181 3.0L 1995-2001.Please check that the part number matches your needs before purchasing a mechanical fuel pump, as this may affect use. ZIQUN fuel pump 8M0073435 is compatible with 2.5L, 3.0L and 3.7L MerCruiser stern drive engines, and the fuel pump is installed with the filter cup facing down. || Package Includes: You will get 1 piece of mechanical fuel pump + 3 pieces of mounting gaskets, the mechanical fuel pump can deliver fuel better, the mounting gaskets included can play a sealing role to protect the mechanical starter fuel pump to run successfully. || High Quality Material: The mechanical 3.0 fuel pump is made of high grade aluminum alloy, which has good electrical and thermal conductivity, good corrosion resistance, etc. You can directly replace the old mechanical fuel pump, which is the best replacement for the original mechanical fuel pump, easy to install and maintain. || Quality Assurance: ZIQUN pays attention to the quality of electrical fuel pump and the feeling of consumers at the same time. If you have any questions after receiving the fuel pump, please feel free to consult me, we will try our best to give you a satisfactory answer.
Ecojoy Mechanical Fuel Pump Compatible with Mercruiser 4 Cyl 2.5L 3.0L 3.7L 861676A1 3854858 77115 Penta Sierra Marine 18-7282 Mercury Marine 42725A3 Lawn Mower Accessories
Directly Replacement: Mounting Gaskets are included, Easy to installation, its perfectly and engine started on first try after installation. Important Notice: It's not for 1985 1986 Compatible With Welcraft Compatible With Mercruiser 3.0, For the installation manual is not included, But you may search some video on tube. || Fitment: Compatible With Mercury Marine 225 (3.7L) 4 Cylinder, MC165/180, MC170/190, MC2.5L/3.0L, MC470-1, MC488 and 1995-2001 Compatible With Volvo Marine for Compatible With Volvo Penta 181 (3.0L) 4 Cylinder || Very important:Many fuel pumps are used on similar engines. In order to identify the correct fuel pump for your application, you must check the "clock" position of the inlet, outlet, and separator fitting (where applicable) in relation to the rocker arm. View the product photos to make sure this fuel pump is correct. || Top Quality mechanical fuel pump Compatible With GM Mercruiser, Compatible With OMC, Compatible With Volvo Penta 2.5L or 3.0L engines, also later model Compatible With Mercruiser 3.7L aluminum block engines. Compatible With Mercury Marine 2.5L 3.0L Compatible With Volvo Penta 3.0L || MPN: Compatible With SIERRA MARINE 18-7282, Compatible With Mercruiser 42725A3, MERCURY MARINE 42725A3, OMC 509407, Mallory 9-35422, Compatible With Volvo Penta 3854858
Mercruiser entire parts catalog list:
01207333
1983
01402414
1984,1985,1986,1987,1988,1989
01407333
1983
01701335
1985,1986,1987,1988,1989
04707333
1983
04708004
1984
04881333
1983
4111021L1
1998
430B00001
1990,1991,1992,1993,1994,1995
430L000JS
1996,1997
Parts fuel Mercruiser: