808505 FUEL PUMP KIT Mercruiser
4454118JT, 4502111FE, 474L118JS, 474L118JT
FUEL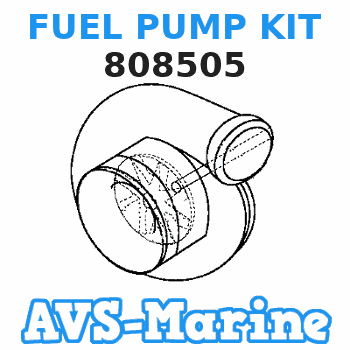 Buy
FUEL PUMP KIT 808505 Mercruiser
genuine, new aftermarket parts with delivery
You can buy parts:
As an associate, we earn commssions on qualifying purchases through the links below
Yezoauto Electric Fuel Pump with install kits for Mercury Marine Outboard 1999-2002 Yamaha Outboard EFI 150-250 HP 1997-2001 808505 808505T 808505T01 66K-13915-00-00 809088T 827682T 814010
【Application & Fitment】- Compatible with Mercury DX, LX, VX 150-300HP EFI Models 1998-2002 Yamaha DX, LX, VX, EFI 1997-2002 || 【Items included】- 1 x Fuel Pump, 1x Install Kit || 【Interchange #】- 808505 808505T 808505T01 66K-13915-00-00 809088T 827682T 814010 814011 14307T 18-7341 SPJET240 8090 66K-13907-00-00 65L-13907-00-00 67H-13907-00-0 65L-14147-00-00 65L-14227-00-00 65L-14194-00-00 66K-13843-00-00 66K-13781-00-00 66K-13844-00-00 || 【Warranty & Quality】- We provide 3-years warranty. Every Yezoauto product is with 100% new durable material meeting or exceeding OE standard. || 【Notice】- Pls double check if the OEM number is same before purchasing. If you are not sure, pls contact us for details.
Aumtoni Marine/Outboard Fuel Pump with Strainer 808505T01 Compatible with Mercury 3.0L Jet Racing Outboard 1994-2002, for Mercruiser Alpha Bravo, Replaces 809088T, 827682, 827682T, 808505
【Fitments 1】 Mariner outboard 150, 225, 250 1998&up. Mercury outboard 150, 225, 250 1998&up. Mercruiser outboard 4.3L, 5.7L, 7.4L, 8.2L TBI and MPI 1995-1997 VST Tank only. Mercury Racing outboard 300 1998&up. || 【Fitments 2】Sportjet outboard 240. Yamaha outboard L225, L250, S225, S250, V200, V225 1997-1999. 1997-2002 DX, LX, VX, EFI. || 【Replace Part Number】814010, 814011, 809088T-1, 808505T01, 809088T, 827682T, 808505T, 827682T, 18-7341 SPJET240, 8090, 66K-13907-00-00, 65L-13907-00-00, 67H-13907-00-0, 8090, 18-7341. || 【Packing】1 x Fuel pump and accessories, as shown in the picture. || 【Service】Lifetime warranty. If aumtoni fuel pump has any issue, support return and refund. Contact us, we'll reply within 24 hours.
HFP-512-T3 Quantum Fuel Pump +Tank Seal/Gasket Replacement for Mercruiser Alpha Bravo / Mercury 3.0L Jet Racing Outboard (1994-2002), Replaces 808505, 808505T01
AFFORDABLE DIRECT FIT FUEL PUMP FOR: Mercruiser 1993 1994 1995 1996 1997 || QUICK & EASY DROP-IN INSTALLATION. DIRECT REPLACEMENT WITH VEHICLE-SPECIFIC KIT: Replace all worn components at once using our comprehensive install kit including fuel pump, tank seal. || THE ULTIMATE IN PEAK ENGINEERING TO GUARANTEE RELIABILITY AND LONGEVITY. Designed and constructed for problem-free operation in excess of 10,000 hours or 100,000 miles. Upgraded polymers, brushes, and commutators guarantee consistent flow, amperage draw, and quiet operation. Durable Viton seal outlasts your original, even in high-ethanol fuels. || The Ideal Fuel Pump Replacement || LIFETIME WARRANTY WITH DEDICATED IN-HOUSE CUSTOMER SERVICE TEAM IN THE USA BASED IN VENTURA, CALIFORNIA. Quantum Fuel Systems has been American-owned and operated since 2009. Se habla Español.
Mercruiser entire parts catalog list:
4454118JT
1996,1997
4502111FE
1993,1994,1995,1996
474L118JS
1996
474L118JT
1996,1997
Parts fuel Mercruiser: