816770 RECTIFIER Mercury
1006201PD, 1006206, 1006211RD, 1008211RD, 1016207PD, 10202014D, 1020201BC, 1035207, 10402139D, 1050312LD, 1100312BD, 11354120D, 1150453JD, 1150625, 1150628, 1175626, 1200628
RECTIFIER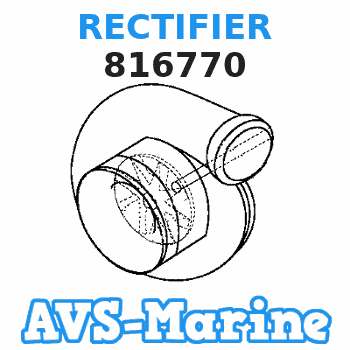 Buy
RECTIFIER 816770 Mercury
genuine, new aftermarket parts with delivery
You can buy parts:
As an associate, we earn commssions on qualifying purchases through the links below
Mercury/Mariner Voltage Regulator Kit 200 Hp Model 16 Amp 6 Cylinder 1985-1990 Serial# 6625221-0C239553 WSM 194-8825K1 OEM# 88825A1, 88825A27, 816770
High Performace Quality OEM Style Voltage Regulator / Rectifier || Regulators / Rectifiers meet OEM standards or higher. || PWC Engine brings Higher Quality for an awesome price!
OCPTY Voltage Regulator Rectifier Fits Mercury Outboard Motors
COMPATIBLE MODELS - Voltage Regulator Rectifier Fit for Mercury Outboard Motors || PRODUCT DETAILS - Replacement part number:62351A1 62351A2 816770 816770T154-6770 18-570762351A1.Output Voltage:DC 12V;Minimum Charging Voltage:14.5V+/-0.5V.Fit for motorcycle and boat motors, DIY engines and so on. || HIGHLY PERFORMANCE - Replace a new regulator rectifier can raised your lights brightness,improve the phenomenon of low-grade driving,the shift more smoothly,improve the ignition efficiency and make the spark plug burn more fully,prevent over-charging battery etc. || WHEN TO REPLACE - When something breaks in your rectifier,you have to replace a new one to maximize battery life and keep your vehicle in good working order || PLEASE NOTE - Please check car make model trim engine,product appearance and part number to make sure this is the right part you need.Any question you have please contact us for a answer
Rectifier Replacement, 816770T 816770 62351A1 Voltage Regulator Rectifier 62351A2 8M0058226 for Maintenance for 1976-1998 6-200Hp Outboard Motor
Replacing OEM numbers for reference: 816770T / 816770 / 62351A1 / 62351A2 / 8M0058226. || Direct replacement installation, can also be used for maintenance, can brings better performance for your outboard motor. || Voltage regulator replacement, perfectly fit for Mariner 1976-1998 6-200hp outboard motor. || Can be easily and quickly installed, no need complicated tools, has long service life. || Made of high quality aluminum alloy and plastic, has super high hardness, wear‑resistant and corrosion‑resistant, can stand seawater environment.
Mercury entire parts catalog list:
1006201PD
1994,1995,1996,1997,1998
1006206
1986,1987,1988,1989,1990,1991,1992,1993,1994
1006211RD
1995
1008211RD
1995
1016207PD
1994
10202014D
1994,1995,1996,1997,1998
1020201BC
1988,1989,1990,1991,1992,1993,1994
1035207
1987,1988,1989
10402139D
1989,1990,1991,1992,1993,1994,1995,1996,1997
1050312LD
1991,1992,1993,1994,1995,1996
1100312BD
1988,1989,1990,1991,1992,1993
11354120D
1990,1991
1150453JD
1990
1150625
1985
1150628
1978,1979,1980,1982,1983,1984,1985
1175626
1976,1977,1978,1979,1980,1985,1986,1988
1200628
1978,1979,1980,1982,1983,1984,1985,1986,1987,1988
Parts rectifier Mercury:
2910A 3 RECTIFIER ASSEMBLY, COMPLETE USE THRU SERIAL #2406034
1115100, 1115503, 1115525, 1135100, 1150503, 1150625, 1500100, 1650100, 1800100, 1850503
62351A 1 RECTIFIER ASSEMBLY
1035204, 1040200, 1040208, 1045217, 1050200, 1050312BC, 1060504, 1070312BC, 1070500, 1070717, 1075524, 1080500, 1080508, 1090520, 1090524, 1090528, 1115503, 1115520, 1115523, 1115525, 1115528, 1135726, 1140520, 1140528, 1140629, 1150453BD, 1150503, 1