76214Q 5 ANODE KIT Mercury
111047JHD, 1115473WD, 1135412WD, 1135473UD, 1135473VD, 1135473YD, 1135D73CD, 1135D73FT, 1135V13ED, 1135V13FB, 1135V13HB, 1150413CD, 1150413FY, 1150413HF, 1150413HY, 1150413ZD, 1150423FG, 1150423FY, 1150423HF, 1150423HG, 1150423HY, 1150424FY, 1150424H
ANODE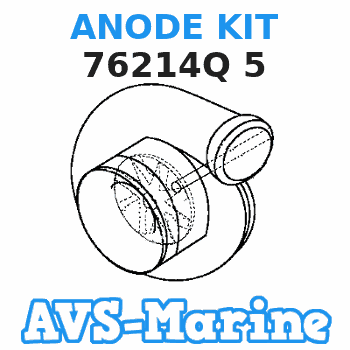 Buy
ANODE KIT 76214Q 5 Mercury
genuine, new aftermarket parts with delivery
You can buy parts:
As an associate, we earn commssions on qualifying purchases through the links below
SEI Marine Products-Compatible with Mercury Mariner Zinc Anode 76214Q5 200 225 250 HP 3.0L V6 1994 1995 1996-2006
This zinc anode replaces OE#: 76214Q5 and fits 3.0L V6 (200, 225, 250 HP) Mercury and Mariner outboard lower units from 1994-2006.
Mercury Anode Zinc Inboard/Outboard WSM 450-00835 OEM# 76214A5, 76214Q5, 76214
High Performace Quality OEM Inboard/Outboard Anodes. || Inboard/Outboard Anodes meet OEM standards or higher. || PWC Engine brings Higher Quality for an awesome price!
Aluminium Anode Plate Kit 76214Q5 97-76214Q5 Replacement for Mercury Mariner 35-300 hp
It's An Aftermarket Aluminium Trim Tab Anode Plate, Providing Additional Clearance for High Rake Propellers || Alternative Part Numbers: 76214A5 76214A1 76214A2 97-762145 || Replacement for Force 90 & 120 hp 1995 and Newer || Replacement for Mercruiser Alpha One Gen II and Bravo I, II, III, X, XR, XZ || Replacement for Sierra 18-6244
Mercury entire parts catalog list:
111047JHD
2006
1115473WD
2000
1135412WD
2000,2001,2002,2003,2004,2005
1135473UD
1998
1135473VD
1999
1135473YD
2001,2002,2003
1135D73CD
2004,2005
1135D73FT
2006
1135V13ED
2006,2007
1135V13FB
2006
1135V13HB
2006
1150413CD
2004,2005
1150413FY
2006
1150413HF
2010
1150413HY
2006
1150413ZD
2002,2003
1150423FG
2006
1150423FY
2006
1150423HF
2010
1150423HG
2006
1150423HY
2006
1150424FY
2006
1150424HY
2006
1175P73HY
2006
1200413FY
2006
1200413HY
2006
1200423FG
2006
1200423FY
2006
1200423HG
2006
1200423HY
2006
1200424FY
2006
1200424HY
2006
1200453CD
2004,2005,2006
1200453EY
2006
1200453HY
2006
1200473WD
2000
1200473YD
2001,2002
1200D73AD
2003
1200D73CD
2004,2005,2006
1200D73ET
2006,2007,2008
1200D73HT
2006
1200E73EY
2006,2007
1200E73HY
2006
1200V13DD
2005
1200V13ED
2006,2007,2011
1200V13ER
2006,2007,2011
1200V13FB
2006
1200V13HB
2006
1200V23ED
2006,2007,2011
1200V23ER
2006,2007,2011
1225412VD
1999,2000,2001
1225413EY
2007
1225413ZD
2002,2003
1225423EY
2007
1225424EY
2007
1225E73AD
2003,2004,2005,2006
1225P73DD
2005,2006
1225P73ED
2009
1225P83ED
2009
1225V13EB
2007,2011
1225V13EF
2007
1225V23ED
2007
1225V33EB
2007,2011
1226P73ED
2010
1250413CD
2004,2005
1250413UE
1998,1999,2000,2001
1250424EY
2007,2009
1250433EY
2007
1250434EY
2007
1250P73ED
2009
1250P83ED
2009
1250V23EF
2007
1250V34EB
2007
1251P73ED
2010
1256413WD
2000,2001,2002
1275V23ER
2006,2007,2011
1275V24EB
2007
1275V34EB
2007
1300V23EB
2007
1300V24EF
2007
Parts anode Mercury: