42038 2 IMPELLER Mercury
1006201PD, 1006201RB, 1006201VB, 1006206, 1006211RD, 1008211RD, 1010207VB, 1016207PD, 1016207RB, 1016207SB, 1F08203VF, 1F08261RF, 1F10203VD, 1F10352VD, 1F15201UD
IMPELLER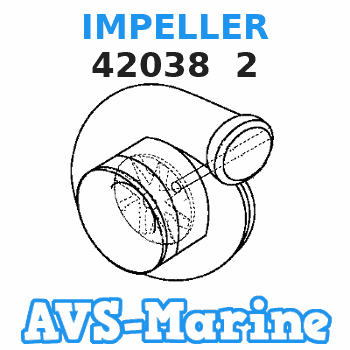 Buy
IMPELLER 42038 2 Mercury
genuine, new aftermarket parts with delivery
You can buy parts:
As an associate, we earn commssions on qualifying purchases through the links below
MARKGOO 46-42089A5 Water Pump Impeller Repair Kit wz Housing for Mercury Mariner Sears Force Outboard 6 8 9.9 10 XD10 15 HP Boat Engine Parts Replacement 42089A4 42089A3 46-42089A 5
42089A5 water pump impeller rebuild kit Replacement for 6hp 8hp 9.9hp 10hp XR10 15HP Mercury Mariner Force outboard 2 & 4 strokeboat engine parts cooling system. More detailed information please see description below. || water pump impeller repair or service kit part number is replaced by 46-42089A5, 42089A4, 42089A3, 46-42040A1, 46-42040A3, 46-42040A5, 46-42040T5, 26-41365A3. It is very important to check your boat motor part number before purchase. please message us s/n, year and horsepower if you are not sure. || Designed for durability to provide higher flow rates and cooling flow to protect your engine, Impeller elastomers provide improved flexibility across broad temperature ranges throughout the boating season,Produced to meet Mercury original equipment manufacturer (OEM)specifications to best protect your older Mercury, Mariner or force outboard. || Package Included: Neoprene Water pump impeller 47-42038Q02, 420382, 47-42038-2, Wear Plate 42200, Gaskets, Pump Base 46-42040T5, Pump Housing 46-42089A2, Retainer, Oil Seals, washers, O-Rings and Screw as pictures showed. || Installation Instructions: Lubricate with silicone grease, glycerin or dish soap when installing. (Not included). This impeller kit makes repair and maintenance of water pumps easy. || VERY IMPORTANT- Same horsepower and year, different model, It may have a totally difference. Please check your outboard model, serial number and year before purchase. You can ask us questions if you are not sure, we would pleasure to help you.
MOTOCEO 46-42089A5 Water Pump Impeller Repair Kits For Mercury Mariner MerCruiser Force Sears Outboard 6 8 9.9 10 XR10 15 HP Boat Motor Parts Replacement# 46-42089A4 42089A3
✡️Fitment - This water pump impeller repair kit for Mercury Mariner Force Sears Outboards Motors OEM p/n 46-42089A5 47-42038-2 47-420382 46-42089A2.This water pump repair kit is made of made of the finest quality metal alloy and neoprene rubber. water impeller, upper and lower pump housing, face plate, gaskets, seals and o-rings. || ✡️Complete Kit includes - Neoprene Water Pump Impeller 47-420382, 42038-2, Wear Plate 42200, Gasket 27-19202 27-19204-3 12-19183 19643, Pump Base 46-420T5, Pump Housing 46-42089A2, Retainer 42375, Oil Sear 26-41365-1, Sear 26-33613 26-42133, Quad Ring 25-822236, Screw 10-48408 || ✡️Time to replace - If your impeller fails, the pump can't pump cool water to the engine causing your engine to overheat.Usually, the impeller has a higher frequency of failure after three years. When the outboard shows signs of overheating or a reduced stream of water at the cooling water outlet, it's time to replace it. If you catch that your impeller is failing early on, you might avoid major problems. || ✡️Outstanding Quality - Made of the strongest Material resistant to marine and chemical corrosion and scientifically designed high-performance neoprene. Created by experienced technicians in a state-of-the-art production facility. || ✡️1-year warranty - Place order with 100% confidence, we provide 1 click refund for our valued customers in 12month.Please feel free to contact us if you have any questions and we are always stand by your side to issue your problems
kipa Water Pump Impeller Repair Kit 46-42089A5 for Mariner Mercury 6Hp 8Hp 9.9Hp 10Hp 15Hp 2 & 4 Strokes Marine Outboard Motor Engines
This is Top Quality KIPA Aftermarket Outboard Impeller Water Pump Repair Kit, Made of high quality metal and plastic, it is durable in use and it's also for a long lasting use in salt water Including Impeller, Housing Gasket, Housing, Plate, O-Ring Etc as pictured. Enables the boat to use the water where the boat is floating in. Either salt water or fresh water are both good to use to cool the engine. The impeller pressurizes the water to allow to circulate || MPN: Water pump repair kit Replace for Mariner Mercury 46-42089A5 42089A 5. Compatible with the Marine Outboards 12051 SEI Marine 96-261-01K. Regular replacement is neccessary to avoid damaging the engine by overheating because of insufficient cooling or because of broken impeller parts being sent to the engine. || Fitment: Water pump impeller repair kit Replace For Mercury Mariner Mercruiser 6hp 8hp 9.9hp 10hp XR10 15HP 2, 4 Stroke Non-BigFoot Magmum Matathon Sea Pro Outboard Motors, Force Sears outboard 9.9 and 15 HP boat parts cooling system || Includes: Neoprene Water Pump Impeller 47-420382, 42038-2, Wear Plate 42200, Gasket 27-19202 27-19204-3 12-19183 19643, Pump Base 46-420T5, Pump Housing 46-42089A2, Retainer 42375, Oil Sear 26-41365-1, Sear 26-33613 26-42133, Quad Ring 25-822236, Screw 10-48408 Bolts and Washer as pictured || This kit can immediately help repair those broken pumps. By fixing the broken water pump, helps to make the water pump work again and keep the engine cool. This kit makes repair and maintenance of water pumps easy. Durable, Easy to install and directly fit, Works like a charm. The manual is not included, You may search the instruction or manual on tube. Thanks
Mercury entire parts catalog list:
1006201PD
1994,1995,1996,1997,1998
1006201RB
1995
1006201VB
1999,2000,2001,2002,2003,2004
1006206
1986,1987,1988,1989,1990,1991,1992,1993,1994
1006211RD
1995
1008211RD
1995
1010207VB
1999,2000,2001,2002,2003,2004
1016207PD
1994
1016207RB
1995
1016207SB
1996
1F08203VF
1999,2000
1F08261RF
1995,1996,1997,1998
1F10203VD
1999,2000,2001,2002,2003,2004,2005
1F10352VD
1999
1F15201UD
1998
Parts impeller Mercury:
85089 3 IMPELLER
10202014D, 1020201BC, 1031203PD, 1031203UD, 1041312UB, 10432037D, 1B25211UF, 1F15201UD, 1F25201UD, 1F25203VD, 1F30203VD, 1F40452YB, 1F50352VD, 1F50412RD, 1F51452YB
85089 10 IMPELLER
1020201DB, 1020201VB, 1031203UB, 1031203UD, 1031207ZF, 1031312DB, 1040213YL, 1043203DD, 1043203VD, 1043213DD, 1043302DD, 1043411DD, 1043412DB, 1043412DD, 1050302DB, 1050302FB, 1050302FD, 1050312FB, 1050411DD, 1050412DB, 1050412DD, 1050412FB, 1050412F
42038Q02 IMPELLER
1006201DB, 1011201DB, 1F10203VD, 1F10352VD, 1F13203FB