14334A 3 PUMP ASSEMBLY, Water Mercury
1055207DB, 1055207VB, 1A40302FD, 1A40302HZ, 1A40303KZ, 1A40311FZ, 1A40311HZ, 1A40403HZ, 1A40412HZ, 1A41412ZB, 1A41452EZ, 1A41452FU, 1A51411HZ, 1A51412HZ, 1A51452EZ, 1A60351EZ, 1A60412HZ, 1A60452EZ, 1A60452HZ, 1A60463EZ, 1A6C411KZ, 1A6C413KZ, 1E41412H
PUMP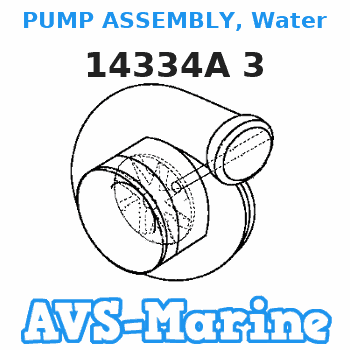 Buy
PUMP ASSEMBLY, Water 14334A 3 Mercury
genuine, new aftermarket parts with delivery
You can buy parts:
As an associate, we earn commssions on qualifying purchases through the links below
SEI MARINE PRODUCTS-Compatible with Mercury Mariner Force Water Pump Housing 14334A3 40 50 60 70 75 HP 2/4 Stroke
This water pump housing replaces OE#: 14334A3 and it fits 40-75 HP 2 & 4 stroke Mercury, Mariner, and Force outboard lower units from 1991-current.
Mercury - Mercruiser 46-812966A12; Pump Kit-Water-
Rebuild and Replacement Kit. || Can be used as Rebuild and Replacement kit for Superseding OEM # 46-812966A11. || Full kit contains Water Pump Kit # 14334A3 and Plate Kit # 19700A2 as well as other components. Please see chart below for full contents of kit.
Mercury entire parts catalog list:
1055207DB
2005,2006
1055207VB
1999,2000,2001,2002,2003,2004
1A40302FD
2006
1A40302HZ
2006,2010
1A40303KZ
2010
1A40311FZ
2006
1A40311HZ
2006
1A40403HZ
2006,2010
1A40412HZ
2006
1A41412ZB
2002,2003,2004,2005,2006
1A41452EZ
2006
1A41452FU
2006
1A51411HZ
2006
1A51412HZ
2006
1A51452EZ
2006
1A60351EZ
2007
1A60412HZ
2006
1A60452EZ
2006
1A60452HZ
2006
1A60463EZ
2007
1A6C411KZ
2009
1A6C413KZ
2009
1E41412HB
2006
1E41452HB
2006
1E51412HB
2006
1E51412HZ
2006
1E60403HZ
2006
1E60412HZ
2006
1E60413KZ
2009
1E60452HB
2006
1F40203FD
2006
1F40203HZ
2006
1F40213FZ
2006
1F40452YB
2001
1F41452YD
2001,2002
1F51452YB
2001
Parts pump Mercury: