43026T11 REPAIR KIT, Water Pump Impeller Mercury
1055207VB, 1075217DD, 1075217FD, 1075217VD, 10752L7DF, 10752L7FF, 1075317DB, 1075317FB, 1075412DB, 1075412DD, 1075412DN, 1075412FB, 1075412FY, 1090412DB, 1090412DC, 1090412DD, 1090412DN, 1090412DY, 1090412FF, 1090412FY, 1090422DY, 1090422FF, 1090472D
REPAIR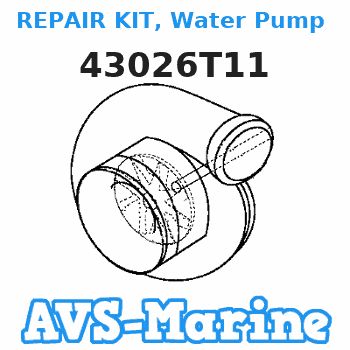 Buy
REPAIR KIT, Water Pump Impeller 43026T11 Mercury
genuine, new aftermarket parts with delivery
You can buy parts:
As an associate, we earn commssions on qualifying purchases through the links below
47-43026Q06,8M0100526,43026K06,43026T11 Water Pump Impeller Repair Kit For Mercury Mariner Mercruiser Alpha One Gen.2 30 40 50 60 65 75 80 90 100 115 125 135 150 175 200 225 250 275 300 HP DFI EFI JET
????️■OEM#■:Replacing part numbers For Mercury Mariner Mercruiser 47-43026Q06,47-8M0100526,47-43026K06,47-43026T11,perfectly match. || ????️■High Quality■:Original level of quality and durability, the impellers are manufactured from high quality rubber and will not be damaged even after long periods of immersion in salt water. || ????️■Buy With Confidence■:Highly rigid cardboard boxes and foam wool packaging ensure that your order is in mint condition before you receive it. || ????️■Inquiry Service■:Check your engine part number before you buy. If you're not sure, send us a message. We'll help you find the right part number for your engine. || ????️■Tips■:We will show more detailed information about the product on the details page below to ensure that we can help you to buy the correct replacement part.
Water Pump Kit Compatible with Mercury 40 45 50 60 75 90 120 HP BigFoot Engines Replaces Sierra 18-3214 Replaces Mercury 47-43026Q06 and 8M0100526
High Quality Aftermarket Product / Made to Meet or Exceed OEM Specifications || New High Quality OEM Spec Aftermarket Replacement Water Pump Kit || Ships From The U.S.A. || Fits The Following Mercury Models: Mercury Force 75 HP 90 HP 120 HP --- Also For Mercury Outboard 40, 45, 50, 60, 65, 70, 75, 80, 90, 100, 115, 200, 225, 250 HP & Stern Drive || Replaces Mercury OEM Part Number(s): 47-43026Q5, 43026Q5, 47-43026Q06, 43026Q06, 47-43026T11, 43026T11, 47-8M0100526, 8M0100526, 47-43026T10, 43026T10, 47-43026T6, 43026T6, 47-43026T7, 43026T7, 47-43026T8, 43026T8, 47-43026T5, 43026T5, and 46-01811. Also fits Replaces Sierra 18-3214 and 18-3265. Also Replaces Mallory No.: 9-48313.
The ROP Shop | Impeller Pump Rebuild Kit for Mercury & MerCruiser 43026T11, 4743026T11 Engines
The ROP Shop replacement Impeller Pump Rebuild Kit for Mercury & MerCruiser 43026T11, 4743026T11 Engines || Specs - Refer to images 2 & 3 for more information || Includes - (1) Impeller, (1) Face Plate (2) Gaskets, (2) Grommets, (2) O-Rings & (3) Seal Rings; comes as shown in the first image || Please be sure to check your part or model number to ensure this is the correct impeller pump rebuild kit for your unit
Mercury entire parts catalog list:
1055207VB
1999,2000,2001,2002,2003,2004
1075217DD
2005
1075217FD
2006
1075217VD
1999,2000,2001,2002,2003,2004
10752L7DF
2005
10752L7FF
2006
1075317DB
2005
1075317FB
2006
1075412DB
2005
1075412DD
2005
1075412DN
2005
1075412FB
2006
1075412FY
2006
1090412DB
2005,2006
1090412DC
2005
1090412DD
2005
1090412DN
2005
1090412DY
2005,2006
1090412FF
2010
1090412FY
2006
1090422DY
2005
1090422FF
2010
1090472DD
2005
1090472FF
2010
1090472FY
2006
1090D73CD
2004,2005
1100412VB
1999,2000,2001,2002,2003,2004
1115F13CC
2004,2005
1115F13YD
2001,2002,2003
1200473VD
1999
1200473WD
2000
1200473YD
2001,2002
1200D73AD
2003
1200D73CD
2004,2005,2006
1225412VD
1999,2000,2001
1225413ZD
2002,2003
1225E73AD
2003,2004,2005,2006
1250413UE
1998,1999,2000,2001
1256413WD
2000,2001,2002
1A41412ZB
2002,2003,2004,2005,2006
1F30203VD
1999,2000,2001
1F30203ZB
2002,2003,2004,2005
1F40452YB
2001
1F41452YD
2001,2002
1F51452YB
2001
1F75411WD
2000,2001,2002,2003
Parts repair Mercury: