5772A 1 SWITCH BOX ASSEMBLY Mercury
1080500, 1080508, 1500206, 1850506
SWITCH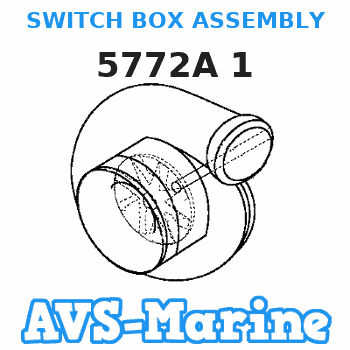 Buy
SWITCH BOX ASSEMBLY 5772A 1 Mercury
genuine, new aftermarket parts with delivery
You can buy parts:
As an associate, we earn commssions on qualifying purchases through the links below
Caltric compatible with Switch Power Box Mercury Force Outboard 30-125 Hp 4Cyl 332-5772A1 5772A1
Order Includes: 1x Power Box || Compatible with Mercury models: 332-5772A1 5772A1 || We strongly suggest comparing the posted picture to the unit(s) that needs to be replaced.
332-5772A5 Replacement CDI for Mercury/Mairner Outboard 40-125hp 4 Cylinder Switch Box Power Pack A3- A7 332-5772 332-5772A7(J750), for Mercury Switch Box, 332 5772A1 for Mercury Cdi Box
For Mercury Marine part numbers: 332-5772A1, 332-5772A2, 332-5772A3, 332-5772A4, 332-5772A5, 332-5772A7, 114-5772 and 18-5881 || 332-5772A7 Fits: 40 HP (4 cyl) Serial # C159200-G589999, 45-50 HP (4 cyl) Serial # 5531630 and higher , 75 HP (4 cyl) Serial # 6432901 and higher , 80 HP (4 cyl) Serial # 4831999-6432900 , 80 Jet Serial # D283222-6437999 ,85 HP (4 cyl) Serial # 4366802-4831998 , 100 HP (4 cyl) Serial # B209468-6437999 , 115 HP (4 cyl) Serial # C100000-G437999 , 125 HP (4 cyl) Serial # D283222-G437999 || Switch Box Power Fit for Many 4 Cylinder Outboard 45 to 125 HP 1976-1997.mercury switch box 5772,mercury switch box 332-7778a12,mercury 332-5772a5 fit for cdi box 332-4911,cdi mercury outboard,mercury cdi switch box,332-5772,332-5772a7 mercury switchbox,332-5772a7 cqyd,332-5772a4,332-5772a4. || CDI Switch Box 332-5772A7 332-5772A5 For Mercury Mairner 40-125hp 4 cyl (J750).5772a7 ,for mercury 332-5772a1 332-5772a1 ,for cdi switch box 332-5772 mercury ,332-5772-c ,332-5772a5 replacement cdi for memory ,for mercury 5772a7 ,144-5772 cdi ,332-5772a5 for 1989 mercury 4 cyl switch box replacement ,for mercury 4cy switch box ,for mercury marine switch box ,for 1985 50 hp cdi pack mercury outboard ,cdi for mercury/mainer outboard 40-125 hp,45-50hp mercury outboard 332-5772a1. || 332-5772A5 for mercury mariner 50 hp outboard cdi ,for mercury outboard cdi module ,for mercury switch box 332-572a6 ,for 94 mercury 40 hp outboard switch box,for mercury 125hp outboard switch box ,cdi switch box for a 50 horse mercury ,for 1986 mercury 50hp 4 cyl cdi box ,for cdi box for 85 mercury 50hp outboard ,for mercury 115 4 cylinder cdi box ,for mercury switch box ,for mercury 332-5772a7 ,for mercury part 332-5772a7 ,for 332-5772a7 mercury switchbox ,cdi for mercury outboard.
Mercury entire parts catalog list:
1080500
1980,1982,1983
1080508
1978,1979
1500206
1976,1977,1978,1979
1850506
1976,1977
Parts switch Mercury:
45326A 2 SWITCH ASSEMBLY, CUT-OUT LIMIT SWITCH
1035204, 1045217, 1050200, 1060504, 1070500, 1080500, 1090520, 1090528, 1115100, 1115503, 1115520, 1115523, 1115525, 1115528, 1140520, 1140528, 1140629, 1150503, 1150538, 1150625
58124A20 SWITCH ASSEMBLY, MERCURY
1045217, 1050200, 1500206