43024A 7 WATER PUMP REPAIR KIT Mercury
1050302SD, 1050312LD, 1055207DB, 1055207UD, 1055207VB, 1075217DD, 1075217FD, 1075217PD, 1075217VD, 10752L7DF, 10752L7FF, 1075317DB, 1075317FB, 1075412DB, 1075412DD, 1075412DN, 1075412FB, 1075412FY, 1075D73FY, 1075D73HY, 1090412DB, 1090412DC, 1090412D
WATER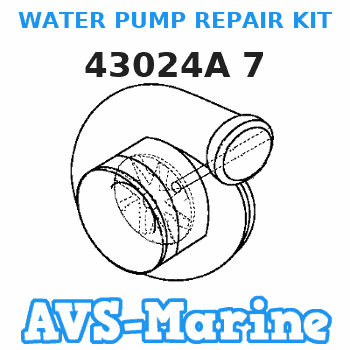 Buy
WATER PUMP REPAIR KIT 43024A 7 Mercury
genuine, new aftermarket parts with delivery
You can buy parts:
As an associate, we earn commssions on qualifying purchases through the links below
Acouto Water Pump Impeller Kit 46‑8M0113799 Replacement for Mercury Mariner 60‑125 HP 43024A4 43024A5 43024A6 43024A7 43026T9 Outboard Boat Impeller Accessories
Fitment---- Water Pump Impeller Kit is suitable for 60 EFI Bigfoot 4 Stroke 0T409000 & up, 75 4 Stroke 0G960500 ‑ 1B366822, 90 4 Stroke 0G960500 ‑ 1B366822, 115 4 Stroke 0T178500 ‑ 1B366822, etc. Please double check the part number of your item, matching information is for reference only || Reference Part Number---- Manufacturer Part Number: 46-8M0113799, 43024A4, 43024A5, 43024A6, 43024A7, 43026T9. This water pump impeller kit is manufactured according to the original production specifications, in line with strict quality standards || Better Performance---- The outboard water pump impeller kit can provide higher flow and cooling flow to protect your engine. Timely replacement of old or damaged water pump impeller kit for better performance || High Quality Rubber---- The boat motor engine water pump impeller is made of scientifically engineered high performance neoprene rubber, which is wear-resistant, durable, seawater resistant, not easy to damage and long service life || Easy to Install---- Small, light in weight and easy to install, can bring you more convenience and better meet your needs. Contains other accessories you need, you don't need to buy them separately, which saves costs and brings you a better applicable experience
Chuury Mercury 46-8M0113799 46-43024A7 Water Pump Repair Kit for Mercury 60-125 HP Outboards
⭐Replacement: Fits Mercury 46-8M0113799, 8M0113799, 46-43024A7, 43024A7, 43024A4, 43024A5, 43024A6, 43026T9. || ⭐What will you get: Please refer to the pic for package details. || ⭐Easy to install: Complete accessories, simple installation, no complicated operation, saving time. || ⭐High quality material: Our water pump repair kit adopts marine grade stainless steel and rubber, durable to use. || ⭐Ship from USA: Orders will be processed under 24 hours.
EOONI 46-8M0113799 Mercury 46-43024A7 Outboard Water Pump Kit replacement for Mercury Verado Outboards 135 HP Through 200 HP, 4-Cylinder
????FITS: Mercury Mariner 40 hp through 125 hp 4-stroke outboards. || ????REPLACES: for Mercury Mercruiser 46-8M0113799, 46-43024A7, 43024A4, 43024A5, 43024A6, 43024A7, 43026T9. || ????NOTE: Please verify your exact HP, serial number range & motor year uses one of the part numbers above before ordering as many look similar. || ????PREMIUM QUALITY: Extremely high quality metal alloys and modern neoprene which keep a spare in the toughest marine environment. || ????ENSURE: If there is any problem with the product, please do not hesitate to contact us, we will help you solve the problem.
Mercury entire parts catalog list:
1050302SD
1996,1997
1050312LD
1991,1992,1993,1994,1995,1996
1055207DB
2005,2006
1055207UD
1998
1055207VB
1999,2000,2001,2002,2003,2004
1075217DD
2005
1075217FD
2006
1075217PD
1994,1995,1996,1997,1998
1075217VD
1999,2000,2001,2002,2003,2004
10752L7DF
2005
10752L7FF
2006
1075317DB
2005
1075317FB
2006
1075412DB
2005
1075412DD
2005
1075412DN
2005
1075412FB
2006
1075412FY
2006
1075D73FY
2006
1075D73HY
2006
1090412DB
2005,2006
1090412DC
2005
1090412DD
2005
1090412DN
2005
1090412DY
2005,2006
1090412FF
2010
1090412FY
2006
1090422DY
2005
1090422FF
2010
1090472DD
2005
1090472FF
2010
1090472FY
2006
1090D73CD
2004,2005
1100412PD
1994,1995,1996,1997,1998
1100412VB
1999,2000,2001,2002,2003,2004
1115412DB
2005,2006
1115F13CC
2004,2005
1115F13FF
2006
1115F13YD
2001,2002,2003
1115P73HY
2009
1115P73HY
2006
1A41452EZ
2006
1A41452FU
2006
1A51411HZ
2006
1A51412HZ
2006
1A51452EZ
2006
1A60412HZ
2006
1A60452EZ
2006
1A60452HZ
2006
1B75412CF
2004,2005
1B75413DF
2005,2006
1E60452HB
2006
1F30203VD
1999,2000,2001
1F40452YB
2001
1F41452YD
2001,2002
1F50352VD
1999,2000
1F50412RD
1995,1996,1997,1998
1F51452YB
2001
1F75411WD
2000,2001,2002,2003
1F75413HD
2006
Parts water Mercury: