38410-94552 PTT RELAY ASSEMBLY Suzuki
DF100, DF100, DF115, DF115, DF115TL, DF140, DF140, DF140T, DF140T, DF140Z, DF140Z, DF140Z, DF140Z, DF40, DF40, DF40QH, DF40TL, DF50, DF50, DF50QH, DF50TL, DF60, DF60HL, DF60TL, DF70, DF70THL, DF70TL, DF90, DF90TL, DT150SSH, DT150SSJ, DT150SSK, DT150S
PTT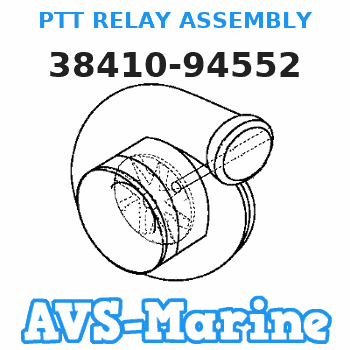 Buy
PTT RELAY ASSEMBLY 38410-94552 Suzuki
genuine, new aftermarket parts with delivery
You can buy parts:
Aramox Outboard Trim Tilt Relay, Power Trim Tilt Relay 38410‑94550 38410-94551 38410-94552 Replacement for Suzuki Outboard DF40‑DF140 DT55‑225HP
Fitment: Replacement for Suzuki outboard Motorized Trim Tilt Relay. For DF40-DF140 4 stroke Motorized Trim Tilt Relay. For DT55-225HP 2 stroke Motorized Trim Tilt Relay. || High-quality Material: Power trim tilt relay is made of high-strength ABS and metal material, which is high temperature resistant, has higher wear resistance, maximum stability, and is durable. || Advantage: Trim tilt relay is well produced, superior and stable performance, and high work efficiency, improve the starting performance. || Easy to Operate: The outboard trim and tilt relay is small in size, light in weight, easy to install, no complicated steps are required, and it is convenient and reliable to use. || Perfect Replacement: Older equipment can be replaced directly, reference part numbers are 38410-94550, 38410-94551, 38410-94552. Please double check your OE number before ordering.
Auntoo for Outboard Motors Trim Tilt Autocar Relay 38410-94550 38410-94551 38410-94552
Item Type: Car Relays || Condition: 100% New. High Performace Quality Style trim motors. || Model Name: for Outboard Motors || Part Number: 6E5-8195B-01 38410-94552 38410-94550 38410-94551
Power Trim tilt Relay, Fit for Suzuki Outboard Machine DT55-225HP 2-Strokes DF40-DF140 4-Strokes for Yamaha 115-200 HP, Replacing 38410-94551, 38410-94552
1.Power trim tilt relay fit for Suzuki outboards,for DF40-DF140 4-strokes & DT55-225HP 2-strokes. || 2.The relay plays the role of automatic adjustment, safety protection, and conversion circuit in the circuit.this Replace Solenoid Relay assembly Better by controlling the current of low-voltage line to control the current of high-voltage line, play the role of current switch,improved power and smooth start-up. || 3.This product contains an electric fine-tuning tilt relay with replacement numbers of 38410-9455238410-9455 and 38410-9550. || 4.Power trim tilt relay made of high-quality materials. It is wear-resistant and corrosion-resistant. It has a long service life and will accompany you for a long time. || 5.This product is perfectly replaceable and can be installed directly without cutting your car. Of course, please firmly fix your connecting harness during installation.
Suzuki entire parts catalog list:
DF100
2009
DF100
2010
DF115
2001,2002,2003,2004,2005,2006,2007,2008,2009
DF115
2010
DF115TL
2001,2002,2003,2004,2005,2006,2007
DF140
2002,2003,2004,2005,2006,2007
DF140
2008,2009,2010
DF140T
2002,2003,2004,2005,2006,2007,2008,2009
DF140T
2010
DF140Z
2002,2004,2005,2006,2007,2009
DF140Z
2003
DF140Z
2008
DF140Z
2010
DF40
1999,2000,2001,2002,2003,2004,2005,2006,2007,2008,2009
DF40
2010
DF40QH
1999,2000,2001,2002,2003,2004,2005,2006,2007
DF40TL
1999,2000,2001,2002,2003,2004,2005,2006,2007
DF50
1999,2000,2001,2002,2003,2004,2005,2006,2007,2008,2009
DF50
2010
DF50QH
1999,2000,2001,2002,2003,2004,2005,2006,2007
DF50TL
1999,2000,2001,2002,2003,2004,2005,2006,2007
DF60
1998,1999,2000,2001,2002,2003,2004,2005,2006,2007,2008,2009
DF60HL
1998,1999,2000,2001,2002,2003,2004,2005,2006,2007
DF60TL
1998,1999,2000,2001,2002,2003,2004,2005,2006,2007
DF70
1998,1999,2000,2001,2002,2003,2004,2005,2006,2007,2008,2009
DF70THL
1998,1999,2000,2001,2002,2003,2004,2005,2006,2007
DF70TL
1998,1999,2000,2001,2002,2003,2004,2005,2006,2007
DF90
2001,2002,2003,2004,2005,2006,2007,2008
DF90TL
2001,2002,2003,2004,2005,2006,2007
DT150SSH
1987
DT150SSJ
1988
DT150SSK
1989
DT150SSL
1990
DT150SSM
1991
DT150SSN
1992
DT150STCLP
1993
DT150STCLR
1994
DT150STCLS
1995
DT150STCLT
1996
DT150TCLH
1987
DT150TCLJ
1988
DT150TCLK
1989
DT150TCLL
1990
DT150TCLM
1991
DT150TCLN
1992
DT150TCLP
1993
DT150TCLR
1994
DT150TCXGM
1991
DT150TCXGN
1992
DT150TCXGP
1993
DT150TCXGR
1994
DT150TCXGS
1995
DT150TCXGT
1996
DT150TCXH
1987
DT150TCXJ
1988
DT150TCXK
1989
DT150TCXL
1990
DT150TCXM
1991
DT150TCXN
1992
DT150TCXP
1993
DT150TCXR
1994
DT150TCXS
1995
DT150TCXT
1996
DT55CLF
1985
DT55CRLG
1986,1987
DT55CRLJ
1988
DT55CRLK
1989
DT55CRLL
1990
DT55CRSG
1986
DT55CRSH
1987
DT55HTCLH
1987
DT55HTCLJ
1988
DT55HTCLK
1989
DT55HTCLL
1990
DT55TCLG
1986
Parts ptt Suzuki: