55321-90J01 ANODE, GEAR CASE Suzuki
DF100, DF100, DF100, DF100A, DF115, DF115, DF115, DF115A, DF115TL, DF140, DF140, DF140, DF140A, DF140T, DF140T, DF140Z, DF140Z, DF140Z, DF140Z, DF60, DF60HL, DF60TL, DF70, DF70THL, DF70TL, DF90, DF90TL
ANODE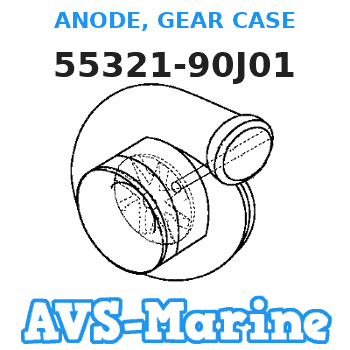 Buy
ANODE, GEAR CASE 55321-90J01 Suzuki
genuine, new aftermarket parts with delivery
You can buy parts:
As an associate, we earn commssions on qualifying purchases through the links below
A.A Zinc Gearcase Anode Replacement for Suzuki Outboard 60HP-100HP, 4T DF60-DF140-55321-90J01, 55321-90J00
Replaces Part #'s: 55321-90J00, 55321-90J01 || Includes: 1x Zinc Anode || For Use On: Suzuki Outboards 60HP-140HP, DF60-140DF -- DF60, DF70, DF90, DF100, DF115, DF140, up to 2010 Models || See Full Fitment Lise Below
55321-90J01 Zinc Anode for Suzuki Boat Engine 4T 60HP-140HP DF60-DF140 55321-90J00 55321-90J01-000

Funtasica Anode Kit Direct Replaces Accessories Aluminium 55321-87J00 55321-90J01, 1 Set for Suzuki 90-140,Professional,Premium High Performance
Product Type: Replacement Aluminium Anode Kit. || Replace Part: Perfect fitment, directly replacement. || Package Contains: 4pcs 55321-87J00, 1pc 55320-94900, 1pc 55321-90J01. || Fitment: For Suzuki DF90-DF140. || Material: Made of high reliable quality Aluminium material.
Suzuki entire parts catalog list:
DF100
2009
DF100
2010
DF100
2011
DF100A
2011
DF115
2001,2002,2003,2004,2005,2006,2007,2008,2009
DF115
2010
DF115
2011
DF115A
2011
DF115TL
2001,2002,2003,2004,2005,2006,2007
DF140
2002,2003,2004,2005,2006,2007
DF140
2008,2009,2010
DF140
2011
DF140A
2011
DF140T
2002,2003,2004,2005,2006,2007,2008,2009
DF140T
2010
DF140Z
2002,2004,2005,2006,2007,2009
DF140Z
2003
DF140Z
2008
DF140Z
2010
DF60
1998,1999,2000,2001,2002,2003,2004,2005,2006,2007,2008,2009
DF60HL
1998,1999,2000,2001,2002,2003,2004,2005,2006,2007
DF60TL
1998,1999,2000,2001,2002,2003,2004,2005,2006,2007
DF70
1998,1999,2000,2001,2002,2003,2004,2005,2006,2007,2008,2009
DF70THL
1998,1999,2000,2001,2002,2003,2004,2005,2006,2007
DF70TL
1998,1999,2000,2001,2002,2003,2004,2005,2006,2007
DF90
2001,2002,2003,2004,2005,2006,2007,2008
DF90TL
2001,2002,2003,2004,2005,2006,2007
Parts anode Suzuki:
55321-99E00 ANODE, PROTECTION
DF15, DF15, DF15, DF15S, DF60, DF60HL, DF60TL, DF70, DF70THL, DF70TL, DF9.9, DF9.9R, DF9.9RL, DF9.9S, DF9.9TH, DF9.9TH, DF99R, DF99TH
55321-87J10 ANODE (MAGNESIUM)
DF100, DF100, DF100, DF100A, DF115, DF115, DF115, DF115A, DF115TL, DF140, DF140, DF140, DF140A, DF140T, DF140T, DF140Z, DF140Z, DF140Z, DF140Z, DF150, DF150, DF150, DF150TX, DF150ZX, DF15A, DF175, DF175, DF175, DF175TX, DF175ZX, DF200, DF200, DF200,
55321-94910 ANODE (MAGNESIUM)
DF140, DF150, DF150, DF150, DF150TX, DF150ZX, DF175, DF175, DF175, DF175TX, DF175ZX, DF200, DF200, DF200, DF200T, DF200Z, DF225, DF225, DF225, DF225T, DF225Z, DF250, DF250, DF250, DF250A, DF250T, DF250Z, DF300, DF300, DF300A, DF70A, DF70A, DF70A, DF8