362-65231-0 CHROME PLATED WATER PUMP KIT Tohatsu
M15D2, M18E2, M9.9D2, MFS15B2, MFS15B2, MFS15C, MFS15C, MFS18B2, MFS18B2, MFS20C, MFS20C, MFS9.9B2, MFS9.9B2, MFS9.9C
CHROME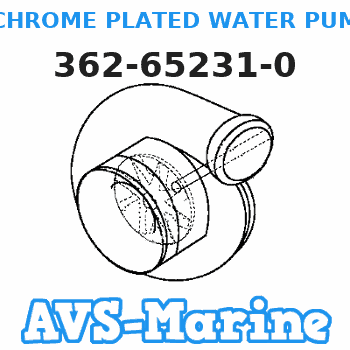 Buy
CHROME PLATED WATER PUMP KIT 362-65231-0 Tohatsu
genuine, new aftermarket parts with delivery
You can buy parts:
As an associate, we earn commssions on qualifying purchases through the links below
MARKGOO 362-87322-1 Water Pump Impeller Repair Kit Replacement for Nissan Tohatsu Outboard 9.9 12 15 18 20 HP MFS15 MFS18 MFS20 Boat Motor Engine Parts 2 & 4 Stroke 362873221M
362-87322-1 water pump impeller repair kit Replacement for Nissan Tohatsu Outboard 9.9HP 12HP 15HP 18HP 20HP boat motor engine parts cooling system. More detailed information please see description below. || The water pump impeller repair or service kit part number is replaced by 362-87322-1, 362873221, 362873221M, 362-87322-0, 362873220, 362873220M, 362-65231-0, 362652310, 362652310M, 362-65231-1, 362652311, 362652311M. It is very important to check your boat motor part number before purchase. please message us s/n, year and horsepower if you are not sure. || Compatible with Johnson Evinrude outboard 15 HP (2012-AB), mercury 4 stroke outboard 15 hp 803748Q02, 803748K02, 803750A05, 803750A06, 8M0122064. Lubricate with silicone grease, glycerin or dish soap when installing. (Not included). This impeller kit makes repair and maintenance of water pumps easy. Professional installation is suggestion. || Package Included: Water Pump Impeller 334-65021-0, Key Driveshaft 350-65022-0, Wear plate stainless steel 350-65025-0, Cup liner stainless steel 350-65011-1, Gasket and bolts with Washer as pictures showed. || Designed for durability to provide higher flow rates and cooling flow to protect your engine, Impeller elastomers provide improved flexibility across broad temperature ranges throughout the boating season,Produced to meet original equipment manufacturer (OEM)specifications to best protect your older Nissan, Tohatsu, Mercury Mariner, Johnson and Evinrude outboard. || VERY IMPORTANT- Same horsepower and year, different model, It may have a totally difference. Please check your outboard model, serial number and year before purchase. You can ask us questions if you are not sure, we would pleasure to help you.
Tohatsu entire parts catalog list:
M15D2
2003
M18E2
2003
M9.9D2
2003
MFS15B2
2003,2004,2005,2007,2008
MFS15B2
2006
MFS15C
2008,2009,2011,2012,2013,2014
MFS15C
2010
MFS18B2
2003,2004,2005,2007,2008
MFS18B2
2006
MFS20C
2008,2009,2011,2012,2013,2014
MFS20C
2010
MFS9.9B2
2003,2004
MFS9.9B2
2006
MFS9.9C
2008,2011