346-01005-0 GASKET, CYLINDER HEAD Tohatsu
M25C3, M30A4
GASKET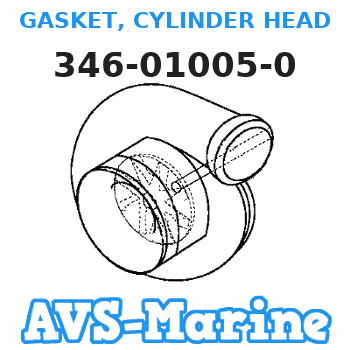 Buy
GASKET, CYLINDER HEAD 346-01005-0 Tohatsu
genuine, new aftermarket parts with delivery
You can buy parts:
As an associate, we earn commssions on qualifying purchases through the links below
HCO-YO Gasket Cylinder Head Fit for TOHATSU Fit for Nissan Boat Engine 2 Stroke 25HP 30HP Outboard Motor 346-01005-1 346-01005-0 346-01005
Fitment:Gasket Cylinder Head for the following engines:Gasket Cylinder Head for Mariner 25-30hp 2 Stroke 2002-2018(Suits models with serial #starting with 0N.)(For detailed applicable models,please slide down to view the "details"description) || Born for performance: excellent Outboard Head Gasket Cylinder, with strong reliability, can make your equipment run in excellent condition. || Strict control: We have established strict quality control standards and tested Cylinder Head Gasket before leaving the factory. || Fast installation: Cylinder Head Gasket Easy installation and disassembly, no complicated operations are required, which can provide you with convenience and save your time. || Best service: You can contact me if you have any questions, I will definitely provide you with the most professional service.
Gasket Cylinder Head 346-01005 for TOHATSU Nissan Boat Engine 2 Stroke 25HP 30HP Outboard Motor 346-01005-1 346-01005-0
Cylinder head gasket for Nissan Tohatsu OEM number:346-01005-2, 346-01005-1, 346-01005-0 || Gasket Cylinder Head for Nissan Tohatsu Models: M25, M30, NS25, NS30 2 stroke || High quality || Boat Motor for Outboard Engine
Gasket 346-01005-0 For Fitting For Nissan For Tohatsu For Mercury 25Hp Outboard Engine
THE BEST PRICE & QUALITY: Reasonable price with excellent quality, saves you hundreds of dollars from car dealership. RELATED SEARCH:[for Nissan Universal, 2018 Fashion Jewelry For Women Butterfly, Designer Wallets Famous Brand Women Wallet , One X10, Wine Charms Women, Mercuri, Boat Motor, 18hp for tohatsu, Motor for tohatsu, for tohatsu, For Mercury for Regulator, 25hp Boat Motor, for Nissan Mini] || The car & motorcycle accessorries category include: Protective Gear, Frames & Fittings, Brakes, Engines & Engine Parts, Exhaust & Exhaust Systems, Fuel Supply, Ingition, Seat Covers, Electrical System, Wheels & Rims, Bumpers & Chassis Filters, Bags & Luggage. RELATED SEARCH:[Opel, Outboard for tohatsu, Black For Mercury, Boat Motor Outboard, 25hp Outboard Motor, for tohatsu] || FREE SHIPPING: 99% conventional orders will be delivered within 15-20 days. Please make sure to buy this product from S-GODEN brand. Other brand is not reliable. RELATED SEARCH:[Hero Ring, for Nissan Mini, for tohatsu, Bear Beer, Solenoid For Transmission, for tohatsu, Outboard for tohatsu, Opel, 25hp Outboard Motor, for Nissan Universal, 2018 Fashion Jewelry For Women Butterfly] || LIFETIME WARRENTY: Place order with 100% confidence, we provide 1 click refund for our valued customers in 3month. Please feel free to contact us if you have any questions and we are always stand by your side to issue your problems.RELATED SEARCH: [For Mercury for Regulator, One X10, Wine Charms Women, 25hp Boat Motor, 18hp for tohatsu, Motor for tohatsu, for Nissan Mini, D40 for Nissan, Case for Iphone 7 Plus Da] || Don't hesitate, Scroll to the top now and click Add to Cart to take this amazing product today!!! RELATED SEARCH:[2017 Case Soft Tpu, Outboard for tohatsu, Motor Outboard, Foot Mask Peel, for Volvo, for tohatsu, Outboard for Yamaha, 25hp Boat Motor, Solenoid For Transmission, Verna 2013, For Mercury Space, Hero Ring, for Nissan Mini, Bear Beer, for tohatsu]
Tohatsu entire parts catalog list:
M25C3
2003,2005
M30A4
2003
Parts gasket Tohatsu: