3B7-65021-2 IMPELLER, WATER PUMP Tohatsu
M60C, M70C, MD40B2, MD40B2, MD50B, MD50B, MD50B2, MD50B2
IMPELLER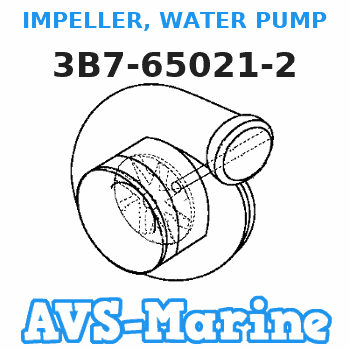 Buy
IMPELLER, WATER PUMP 3B7-65021-2 Tohatsu
genuine, new aftermarket parts with delivery
You can buy parts:
As an associate, we earn commssions on qualifying purchases through the links below
HeuroFosh 3B7650212M Water Pump Impeller for Tohatsu 2-Stroke 40 50 60 70 90 HP Outboard Motor 3B7-65021-2

CM New Water Pump Impeller for Tohatsu Nissan(50/60/70/90hp) 3B7-65021-2 18-8924
It was used for aftermarket Ref: Tohatsu Water Pump Impeller 3B7-65021-2 Nissan Water pump impeller 3C7-65021-1 Sierra:18-8924 CEF 500388 || No. Blades: 6 Depth /Height/ Width: 34.80mm Outer/External impeller diameter: 64.94mm Internal shaft insert/hub diameter: 20.33mm Net Weight:109g || Suitable for the following Tohatsu outboard models: 2-Stroke MD40B2 MD50B MD50B2 M60C M70C M120A M120A2 M140A M140A2 || Nissan outboard motors NSD40B2 NSD50B2 NSF50B NS60C NS70C NSD70B NSD75C2 NSD90A NSD90C2 NSD115A NSD115A2 NS120A2 NS140A2 3C7650211
KIMISS 6 Blades Water Pump Impeller 3B7650212 Outboard Boat Impeller 3B7650212M 3B7-65021-2 Replacement for 2-Stroke outboard models: M60B M60C M70B M70C M80A M90Ac
Application---------Replacement for Tohatsu outboard models: 2-Stroke-M60B M60C M70B M70C M80A M90A,for Nissan outboard models: 2-Stroke-NS60B NS60C NS70B NS60C NS80A NS90A,for Nissan 1996 NS90A-2 Stroke and many more. || Direct replacement--------Water Pump Impeller can perfectly replace OEM: 3B7-65021-2 3B7650212 3B7650212M, serial number 18-8924, repair and upgrade the old or damaged water pump impeller. || Function--------The impeller is used for marine water pumps, such as engine cooling, water delivery, flushing and bilge water pumping, working with fresh water or sea water, and improving the performance of the pump. The total diameter is 2.37 inches and the shaft diameter is 0.80 inches. || Original specifications--------Professional manufacturing, replace the flexible pump impeller at least once a year, or replace it in advance according to the load of the engine. Please be sure to carry a spare impeller on the boat before proceeding with rowing exercises. || Durable -------- Made of high-quality neoprene rubber, it is strong and reliable, resistant to abrasion and collision, and can withstand harsh marine environments. The flexible 6-blade impeller undergoes strict quality procedures to ensure reliability.
Tohatsu entire parts catalog list:
M60C
2003
M70C
2003
MD40B2
2010
MD40B2
2011,2012,2013,2014
MD50B
2003
MD50B
2006
MD50B2
2010
MD50B2
2011,2012,2013,2014
Parts impeller Tohatsu:
3C8-65021-2 IMPELLER, WATER PUMP
M40D2, M40D2, M40D2, M50D2, MD40A, MD40B, MD40B, MD40B2, MD40B2, MD50A, MD50B, MD50B, MD50B, MD50B2, MD50B2