353B64106-0 PROPELLER ASSEMBLY 14" Tohatsu
MD40B2, MD40B2, MD50B2, MD50B2
PROPELLER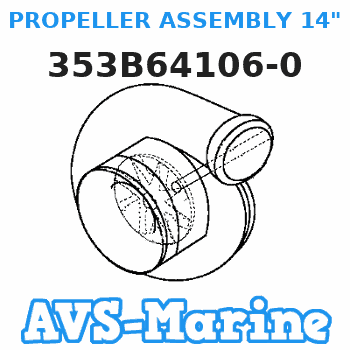 Buy
PROPELLER ASSEMBLY 14" 353B64106-0 Tohatsu
genuine, new aftermarket parts with delivery
You can buy parts:
As an associate, we earn commssions on qualifying purchases through the links below
CAPTAIN Propeller 12x13 Fit Tohatsu Outboard Engine 35hp 40hp 50hp 13 Tooth Spline 353B64106-0 Stainless Steel
Propeller Specifications: Size of the Prop:13 Diamater ,13 Pitch, 13 Tooth Spline ; Right Rotation; 3 Blade; adopt high quality stainless steel material resists rust from salt water and increases the stability of the propeller blades. || Superior Quality: Strict quality control, no compromise on original parts, added proper cupping and curvature, full fuel speed, offer excellent fuel economy for offshore boats,saving you money || Widely used for: Used for Tohatsu Outboard Engines 35hp 40hp 50hp,You can easily find the engine details in the product description || Propeller performance: Captain propeller needs to go through 8 procedures including dynamic balance test, CNC machine debugging and 4 layers of paint before leaving the factory, so that the engine has a smooth, durable, high-precision overall performance || After sales service: We guarantee performance and quality, accept free returns, if you have any questions about the propeller please contact us, you can buy with confidence!
POlAFLEX Aluminum Outboard 3 Blades Cupped Propeller Boat Prop 11 1/4X14 Pitch Compatible for TOHATSU 35-65HP,OEM 353B64106-0
APPLICATION: The best buys after market prop. Fits TOHATSU outboard DT35B/40/MFS40HP, 50HP(All except 50C) with 13 spline tooth shaft. Please check your engine shaft before purchasing and refer to product description area for Detailed Engine Application. || INSTALLATION: Always shift engine into the neutral position and turn ignition off before servicing the propeller and it is important to refer to your Engine's Owner Manual for important safety precautions. Install the new propeller with exist thrust washer, spacer, nut of engine lower unit shaft. Prop comes with new split pin. Please feel free to contact us for installation guideline. || MATERIAL: Made of high-strength aluminum. Boasting hybrid casting of strontium, aluminium and titanium that are far stronger and durable than ever before. || EXTREME ANTI-CORROSION: Props are robotic powder-coated using AkzoNobel patented anti-corrosive coating powder. More important that it is environmentally safe. || EXCELLENT PERFORMANCE: Props are designed based on OEM blade geometry, with appropriate cupping and camber added. Excellent bow lift, acceleration and top speed as well reducing slip,increasing bite.
Yoofosun Boat Propeller 12x13 Fit for Tohatsu/Nissan Engine Stainless Steel 3 Blade 13 Tooth 35-50HP SS Prop OEM No 353B64106-0 RH
Application: 35-50HP 3-1/4" Gearcase 35hp...thru 1984 40hp...1984-newer 50hp(All except 50C)...1992-newer || After market product. Diameter and Pitch are identical to original OEM ones. We guarantee the performance and quality. || Please check your Diameter, Pitch and Spline Tooth before ordering. If you are not sure about that, please feel free to contact us. || Service: All your messages will be answered within 12 hours. We supply return and exchange service after you order.
Tohatsu entire parts catalog list:
MD40B2
2010
MD40B2
2011,2012,2013,2014
MD50B2
2010
MD50B2
2011,2012,2013,2014
Parts propeller Tohatsu: