3R0B64518-0 PROPELLER ASSEMBLY 9" Tohatsu
MFS25B, MFS25B, MFS30B
PROPELLER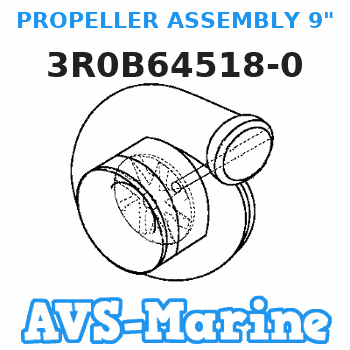 Buy
PROPELLER ASSEMBLY 9" 3R0B64518-0 Tohatsu
genuine, new aftermarket parts with delivery
You can buy parts:
As an associate, we earn commssions on qualifying purchases through the links below
Aluminium Alloy Marine Propeller 3R0B64518-0 for Tohatsu Outboard 20-30HP 3 Blades Diameter 9.8" Pitch 9"
Manufacturer Part Number: 3R0B64518-0 || Material: Aluminium alloy || Applicable model: For Tohatsu Outboard 20-30HP 3 blades diameter 9.8" Pitch 9" || Diameter(in.): 9.8" || Pitch(in.): 9"
ARKDOZA Boat Propeller 9.8x9 Fit for Tohatsu Outboard 20HP-30HP 3 Blades Aluminum Prop 10 Tooth Propel RH OEM NO: 3R0B64518-0 9.8x9
Diameter:9.8. Pitch:9. Rotation:Right. Spline tooth:10. Fits for outboard engine:Tohatsu || Please note this is after market product. || Please check your previous propeller dia, pitch and tooth number before ordering. || Contact us if you meet any proplem. We are ready to help you.
Captain Propeller 9.9x9 Fit Tohatsu Outboard Engine 25hp 30hp MFS25 MFS30 NSF25 NSF30 3R0B64518-0 10 Tooth Spline
1. DIRECT LEVERING, OEM-KWALITEIT. Our propellers make your installation process easier. || 2. Model Description: OEM performance for Tohatsu Outboard Engines 25-30 HP || 3.Size & Material:9.9 Diamater ,9 Pitch, 10 Tooth Spline ; Right Rotation; 3 Blade ;adopteer Hoge kwaliteit Aluminium materiaal || 4. Outstanding Quality: Based on fine raw material, superb manufacturing process and strict quality control, our propellers are more durable. || 5. After-sale Promise: If the products have any quality problem, we can offer unconditionally return.
Tohatsu entire parts catalog list:
MFS25B
2010
MFS25B
2011,2012,2013,2014
MFS30B
2010
Parts propeller Tohatsu: