369-65016-0 PUMP CASE UPPER Tohatsu
M4C, M5B, M5BS, MFS4A2, MFS4B, MFS4B, MFS4C, MFS5A2, MFS5B, MFS5B, MFS5C, MFS6A2, MFS6B, MFS6B, MFS6C
PUMP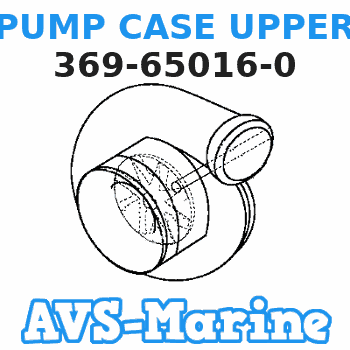 Buy
PUMP CASE UPPER 369-65016-0 Tohatsu
genuine, new aftermarket parts with delivery
You can buy parts:
As an associate, we earn commssions on qualifying purchases through the links below
Durable Water Pump Housing - Replacement for Tohatsu Outboard 4HP, 5HP, 6HP 2 & 4 Stroke Engines (369-65016-1) - Improve Your Engine's Performance
OEM Number: This water pump housing is a replacement part for Tohatsu and Nissan outboard engines. It is also compatible with Mariner engines. The OEM numbers for reference are 369-65016-0 M, 369-65016-1, and 46-16156, 16156. || Fitment: This water pump housing is a replacement for Tohatsu M MFS NS NSF 4HP, 5HP, 6HP 2 & 4 stroke outboard engines, as well as Mercruiser F 4HP, 5HP 2/4 stroke engines. It is a perfect fit for these models. || High Quality Materials: This outboard water pump housing set is made of ABS and stainless steel, which are strong and durable materials. They are not easy to break or damage, ensuring long-lasting performance. || Stringent Production: This case kit is professionally produced and meets or even exceeds standard factory specifications. It is designed for excellent performance and a long lifespan. || Easy to Install: This outboard water pump case is designed with a plug and play mounting system, making it easy to install without any wire splicing or modification. It is a direct replacement part and will save you time.
OVERSEE Outboard Pump Case (Upper) 369-65016-0 for Replacing Tohatsu Outboard Engine Motor
OVERSEE Outboard Pump Case (Upper) 369-65016-0 for Replacing Tohatsu Outboard Engine
D-Simpleapparel- Outboard Pump Case (Upper) 369-65016-0 For Replacing For Tohatsu Outboard Engine Motor
Excellent quality, fast delivery, simple after-sales. We make every effort to provide customers with satisfactory service. [2018 Fashion Jewelry For Women Butterfly, 4 Stroke Outboard, for tohatsu, Boat Motor, Motor for tohatsu, 8 Ahd Camera 1080p, for tohatsu, Outboard for Yamaha, 220v Dc Motor Speed Control, Case for Iphone 7 Plus Da, 6b4, Engine for tohatsu] || The car & motorcycle accessorries category include: Replacement Parts Tools & Equipment, Motorcycle Brake System, Exhaust Filters Fuel Ignition Shocks Lighting Chassis Wiper Blades. [Outboard for tohatsu, Boat Motor Outboard, X80, 2 for tohatsu, Case for Iphone 7 Plus Da, Hangkai Outboard Motor, Engine for tohatsu, 25hp Engine, Camera Gs, Cdi Outboard, for tohatsu, Motor Outboard for tohatsu] || FREE SHIPPING: 99% conventional orders will be delivered within 15-17 days. Please make sure to buy this product from D-Simpleapparel brand. Other brand is not reliable. [for tohatsu, Camera V8, 220v Dc Motor Speed Control, Motor Outboard for tohatsu, Worm, Motor Boat Outboard 2 Stroke Gasoline, for tohatsu, Motor for tohatsu, 2018 Fashion Jewelry For Women Butterfly, 4 Stroke Outboard, Boat Motor] || Worry-free Service: If you don't like this product or receive defective one, you can contact us! Your email feedback will help us get it solved at the first time. Every product guaranties 1 year warranty!!! [for tohatsu, Motor for tohatsu, 8 Ahd Camera 1080p, 220v Dc Motor Speed Control, Case for Iphone 7 Plus Da, 6b4, Engine for tohatsu, Outboard for tohatsu, Boat Motor Outboard, X80, 2 for tohatsu] || Don't hesitate, Scroll to the top now and click Add to Cart to take this amazing product today!!! [Camera Gs, Cdi Outboard, for tohatsu, Motor Outboard for tohatsu, Outboard for Yamaha, Motor Boat Outboard 2 Stroke Gasoline, for tohatsu, Verna 2013, Outboard for tohatsu, Camera V8, 220v Dc Motor Speed Control, Worm, Motor for tohatsu]
Tohatsu entire parts catalog list:
M4C
2003
M5B
2003
M5BS
2003
MFS4A2
2003,2004,2005
MFS4B
2005,2006,2007,2008,2009
MFS4B
2010
MFS4C
2011,2012,2013,2014
MFS5A2
2003,2004,2005
MFS5B
2005,2006,2007,2008,2009
MFS5B
2010
MFS5C
2011,2012,2013,2014
MFS6A2
2003,2004,2005
MFS6B
2005,2006,2007,2008,2009
MFS6B
2010
MFS6C
2011,2012,2013,2014
Parts pump Tohatsu:
369-03304-0 PUMP BODY
M4C, M5B, M5BS, M8B, M9.8B
369-65017-1 PUMP CASE LOWER
M4C, M5B, M5BS, MFS4A2, MFS4B, MFS4B, MFS4C, MFS5A2, MFS5B, MFS5B, MFS5C, MFS6A2, MFS6B, MFS6B, MFS6C